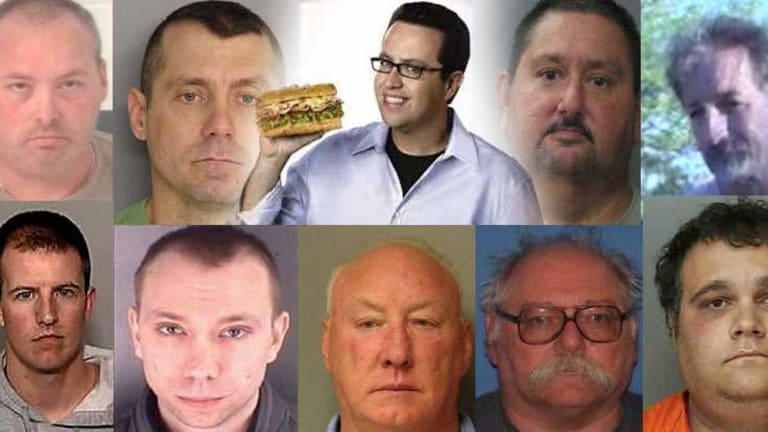 As MSM Focuses on the Subway Man, They are Silent on the Epidemic of Cops Raping Children
Jared Fogle holds no position of authority, yet his face is plastered across TVs, as the MSM ignores the scores of cops caught with child porn and sexually assaulting children.
Jared Fogle made an enviable living as a Subway pitchman, but he may regret that he didn't choose a law enforcement career. Fogle's career provided him with wealth, fame, and connections that allowed him to indulge an appetite for sexual contact with minors. However, because he is not a law enforcement officer he does not enjoy the same "Blue Privilege" that has protected many cops who committed similar offenses from lengthy prison terms, draconian fines, and a life term as a registered sex offender.
Roughly a month after federal investigators raided his home in Indiana, Fogle has reportedly pleaded guilty to a single count of receipt of child porn and distribution of child porn, and one count of interstate travel to engage in illicit sexual contact with a minor. Under the reported terms of his plea agreement, Fogle faces a term of five to 12 years in prison, and must pay $100,000 in restitution to 14 identified victims.
Fogle was targeted by police following the April arrest of his close friend Russell C. Taylor, who operated a children's charity in Indianapolis. Taylor allegedly shared sexually explicit images of children – some of them secretly recorded in his home, others commercially produced. Taylor, who is in federal custody, has not yet been indicted.
Indianapolis police chief Richard Hite describes Fogle as "a celebrity who had access, power, and resources to do whatever he wanted. He used that to … take advantage of children," and said that the high-profile arrest and indictment were intended to "send a message" to sex predators: "You may hide in the confines of your home, on the Internet, your laptop, and your tablet. We will find you. We're looking, we're paying attention, we will find you."
Owing to the Panopticon-like properties of online media, potential sexual predators are relatively easy to find. What is done to them once their found, however, often depends on their status in society – and on many occasions those commissioned to enforce laws against sex offenses are treated quite leniently when caught violating them.
Like Jared Fogle, former Minneapolis police officer Bradley James was a father of young children who used the internet to arrange sexual liaisons with underage girls. The St. Paul Pioneer Press reports that James "used an alias to troll social media sites for young teenage girls. After establishing contact, he began sexually charged conversations with the girls online, often sending them pictures of his genitalia. In two cases, he persuaded teens to have sex with him."
In February 2014, the 34-year-old ex-cop pleaded guilty to five felonies. In an agreement that the Anoka County attorney's office said was "not supported by law," County District Judge James Cunningham imposed a sentence of thirty months in prison, rather than the eight and a half-to-twelve-year term prescribed in sentencing guidelines. James was scheduled to begin supervised release in June.
Former San Diego Police Officer Chris Hayes, who pleaded guilty to sexually assaulting five women while on duty, was released from prison in March after serving just five months of a one-year prison sentence. Under state sentencing guidelines, the maximum penalty for his offenses was five years in prison. However, Superior Court Judge Charles Rogers cited the offender's background in the police and military as justification for handing down a relatively lenient punishment. No official explanation was offered for the decision to release Hayes less than half-way through his radically reduced prison term.
In April, former Las Vegas Metro Police Officer James Henry, who had initially been charged with ten counts of possessing child pornography, was given four years' probation after all but one of the charges were dismissed in a plea bargain agreement. Although he will be a registered sex offender, undergo counseling, and be subject to restrictions on his internet use, Henry will be spared a prison term and – unlike Fogel – won't have to pay restitution to victims.
More than a year ago 60-year-old Ronald Dale Black, a police officer in Gretna, Louisiana, was placed on administrative leave – but not arrested – after being accused of "inappropriate sexual behavior" wit a six-year-old girl. He was reinstated to his job as a part of a court security unit after a grand jury declined to return an indictment against him.
While the evidence against Black might have been insufficient for an indictment, it should have been adequate to justify discharging him permanently from a job in which he carried a gun and was clothed in "qualified immunity." Furthermore, if Black had been a Mundane – that is, a common citizen, rather than one of the state's armed emissaries – he almost certainly would have been arrested and booked on suspicion of child rape.
On August 17, Black – who, once again, was suspected of sexual misconduct with a six-year-old girl – was arrested after he shared a video depicting a kindergarten-age girl engaged in sexual intercourse with an adult man. The recipient of the video was an undercover police detective.
New Orleans Police Officer Michael Thomassie faces a potential life sentence on charges of raping the 7-year-old daughter of a girlfriend more than a decade ago – but he apparently continues to enjoy the support of at least some of his colleagues. Although he remains on the force, Thomassie was placed on "emergency unpaid suspension" following his February 2014 indictment.
Just before Thomassie's trial opened on August 19, prosecutors obtained a warrant to examine his phone for evidence that he had been tampering with witnesses.
"We learned from a family member that [Thomassie] text messaged, `It's not too late for [the accuser] not to show up,' that the state will drop the charges," claimed prosecutor Laura Rodrigue. "This is a rare instance where we are extremely disappointed with someone who has the privilege to be a New Orleans police officer. But our disappointment was doubled yesterday when we see text messages from a fellow NOPD officer saying `the best-case scenario is for [the girl] not to come forward and the state would have to drop the case.'"
The author of that message, Sgt. Bruce Glaudi, is a 30-year veteran of the department. In another exchange, Sgt. Glaudi expressed confidence that Thomassie's "sharp" defense attorney would be able to handle "two dumb females" in court.
One of the most egregious examples of "Blue Privilege"-inspired leniency for a uniformed sex predator is the case of Virginia state trooper Christopher Allen Carson, who faced up to nine years in prison for charges involving forcible sodomy of a sleeping grade school-age child. As the Free Thought Project reported earlier this year, Carson was given a 30-day jail sentence and two years of probation through a plea bargain agreement reached on the day his jury trial was scheduled to begin. In addition, Carson will not have to comply with Virginia's Sex Offender and Crimes Against Minors Registry Act.
Judge Herman A Whisenant, Jr., who presided in Carson's case, imposed a 66-year prison term on Donald Hausen, a 35-year-old Virginia resident who was found guilty of nearly identical charges. Assuming that Hausen survives his imprisonment, he – unlike Carson – will be required to register as a violent sex offender.
Like Jared Fogle, sexual predators in uniform enjoy the "access, power, and resources" necessary to gratify their appetites – often at the expense of unwilling and intimidated victims. Some who are caught and prosecuted for offenses similar to Fogle's do face penalties of comparable severity. A large number, however, continue to benefit from the specially protected status enjoyed by police in our society even after they have contributed to the epidemic of sexual assault by law enforcement officers.
In just the last few weeks, there have been 11 police officers caught with child porn or caught raping children. It is indeed an epidemic.
1. https://theadvocate.com/news/13221682-123/former-sorrento-police-officer-on
2. https://www.katv.com/story/29807583/haskell-police-officer-arrested-on-sexual-assault-child-porn-charges
3. https://www.memphisflyer.com/NewsBlog/archives/2015/08/19/memphis-pastor-and-millington-police-officer-indicted-on-separate-child-porn-charges
4. https://www.nola.com/crime/index.ssf/2015/08/gretna_cop_suspended_child_por.html
5. https://www.baynews9.com/content/news/baynews9/news/article.html/content/news/articles/cfn/2015/8/13/oakland_police_offic.html
6. https://www.wptz.com/news/ogdensburg-police-officer-faces-child-pornography-charges/34710948
7. https://www.wbiw.com/local/archive/2015/08/oolitic-deputy-accused-of-child-molesting-scheduled-to-appear-for-change-of-plea-hearing.php
8. https://www.wyff4.com/news/trooper-arrested-in-child-pornography-investigation-fired/34715552
9. https://www.katc.com/story/29804893/former-rayne-officer-booked-for-sex-crimes-against-children
10. https://www.wwnytv.com/news/local/Veteran-Oburg-Police-Detective--321819932.html
11. https://www.wcnc.com/story/news/crime/2015/08/11/cms-police-officer-charged--indecent-liberties/31505271/