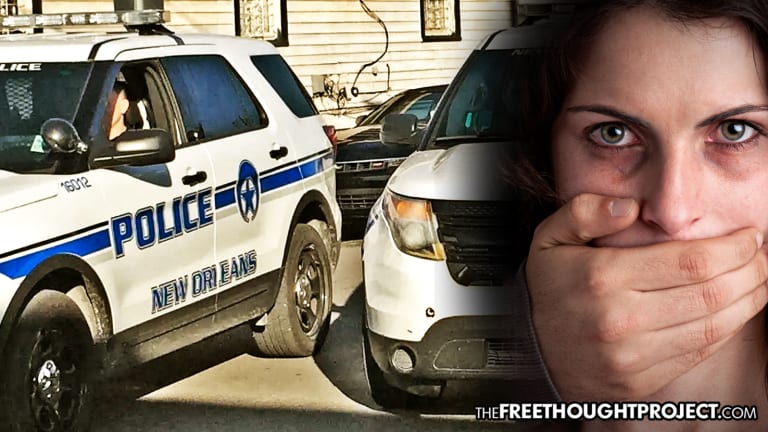 Multiple Cops Ignore Citizens Flagging Them Down to Report a Rape Taking Place on the Sidewalk in Front of Them
Multiple police officers were alerted to an ongoing rape which unfolded in public in front of them, and none of them acted.
New Orleans, LA -- If ever you thought police in the United States were here for your protection, the following case out of New Orleans, Louisiana should remove all doubt. Nearly a dozen eye witnesses flagged down several police officers, pointed them to a rape in-progress and not a single one of them chose to act. New audio footage from the 911 call, illustrates just how utterly incompetent the security force in New Orleans actually is.
Even after one citizen dialed 911, officers continued to ignore the ongoing rape on the sidewalk and by the time one of the officers finally responded, the rapist had fled.
"There's a police officer in front of me now," the woman told the 911 dispatcher.
"He looked at me like I was crazy," the woman told Nola.com, asking to remain anonymous out of fear of police retribution.
In the recording of the 911 call, we can hear the woman approach the officer and tell him that a woman was literally being raped right now and he can stop it.
"I mean, this police officer isn't even moving," she told 911. "He's still just parked here."
"There was no urgency whatsoever," the caller's spouse told Nola.com. "A woman is being raped in public in front of other people — that is unacceptable."
Despite pleading with 911 and the officer — who was reportedly working an approved detail for a film — no one stepped in and stopped the rape and the rapist was able to get away.
The woman took to Twitter after the incident to voice her concern over the lack of response from police.
I just witnessed an unconscious woman being raped at the corner of Toulouse & Royal in New Orleans. Two @NOPDNews officers drove by yet ignored the situation. I called 911 and flagged down a third officer. The officer chose not respond and maintained his place on the next corner.

When I made contact with the woman she was pulseless. As I pulled her into a flat position to begin CPR she regained a pulse and became agitated. Two
@NOPDNews officers responded and refused to administer Narcan despite my insistence & stating I am an ER Respiratory Therapist.

The police officers further stated that they needed the (unconscious) woman to state herself that she was being raped despite more than a dozen bystanders reporting the rape and the victim being physically unable to remember the details of the assault against her.

Myself, my husband, and at least 10 other bystanders left the scene without giving any report, leaving any personal information, or having any officer take any of us seriously. It's not because they don't have the evidence- it's because they simply don't care.
Only after the woman's Twitter posts went viral, and only after the 911 recording was released via a FOIA request, did the NOPD respond and suspend the officer indefinitely without pay pending the outcome of an internal investigation.
"This is not in character with the majority of people in law enforcement, and that includes the NOPD," said Constable Edwin Shorty.
According to a probe by the city's Inspector General, ignoring rapes and child abuse happens and continues to happen hundreds of times. The sex crimes unit has continued to struggle with high case loads and a terrible clearance rate.
"I think they are severely understaffed, afraid to respond in certain situations," the witness said. "It starts at the top and trickles down. New Orleans is known for being a lawless city, but to have officers at a scene refusing to respond [to an ongoing rape] is outrageous to me."
When pressed by media, New Orleans Mayor LaToya Cantrell blamed the lack of response on elected officials, the media, and the general public for criticizing police and contributing to their high attrition rates.
"It feels like service is under attack," she said. "Law enforcement is under attack nationally."
But when multiple officers do nothing as a rape takes place on the sidewalk in front of them, is this really the fault of free speech? In response to the mayor's comments, the witness who called 911 that day responded with an open letter published in the non-profit outlet, The Lens.
"I feel like you were essentially calling me a liar. Wouldn't it be in the best interest of New Orleans to correct the police's actions to protect your citizens?" she wrote.
Indeed, it would. But blaming everyone else is so much easier and consistent with the state's response to most criticisms.