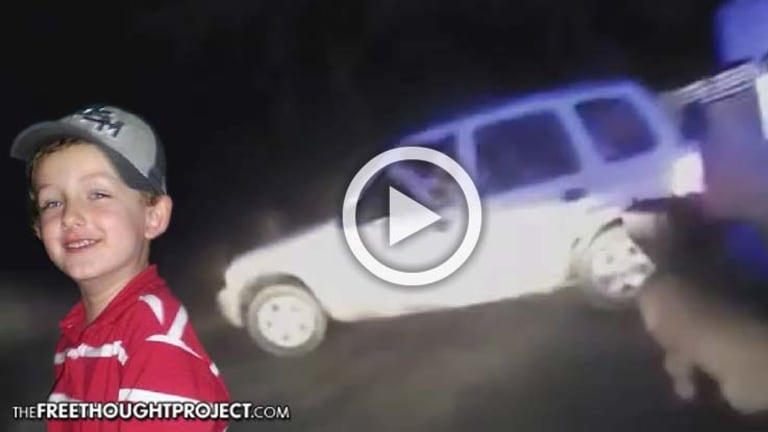 Murder Trial Opens for Cop Who Killed 6-Year-Old Jeremy Mardis on Video
One of the two cops who were seen on video gunning down
Marksville, LA — Sixteen months ago, one of the worst police killings ever to be recorded on video rocked the country. Jeremy Mardis, a 6-year-old boy, was gunned down in cold blood by two bad Louisiana cops — Derrick Stafford and Norris Greenhouse Jr. Now, one of those officers is finally being tried for this horrific act which was caught on a body camera.
In what the head of Louisiana State police called 'the most disturbing thing he's ever seen,' Mardis was murdered as he rode with his father, Chris Few, as he sat strapped into the front seat of the car.
"He didn't deserve to die like that," State Police Col. Mike Edmonson said as he announced the deputies' arrests, less than a week after the shooting.
For almost a year, body camera footage from that fateful night was kept hidden from the public. However, last September it was released showing these two officers murder a boy and attempt to murder his father.
Jury selection for Derrick Stafford's trial began Monday and is expected to last several days.
Prosecutors are going to make the case that the bodycam video proves Few did not pose a threat and was, in fact, surrendering with his hands up when police opened fire.
Defense attorneys, however, will attempt to convince a jury that Stafford and Greenhouse Jr. acted in self-defense — in spite of the fact they had no justification for the stop in the first place — and contradictory to the video evidence.
Despite the testimony to the contrary from a State Police detective, defense attorneys are going to try to convince a jury that Few was attempting to ram Greenhouse's vehicle.
One of Stafford's attorneys, Jonathon Goins, said his client "feared for his life" when he opened fired on a 6-year-old boy and his surrendering dad.
"My client wanted to go home and be with his family that night, just like any officer wants to go home and be with their family," Goins said.
Members of Mardis' family have since filed a federal lawsuit against several Louisiana law enforcement agencies.
An exact motive for the original traffic stop — given the fictitious claim of a warrant and that Few did not have a weapon — has yet to be publicly released by officials. Attorneys for Greenhouse and Stafford stated during court proceedings Few had been standing in the road, blocking traffic, ignored officers' commands, and then fled the scene.
But the lawsuit contends there had been no clear reason for police to pursue the vehicle Few was driving, and when he ultimately did pull over, the vehicle, "even if it were moving forward or backwards — did not and could not have presented an imminent threat of death or great bodily harm to any of the officers at the scene or innocent bystanders."
Police had claimed Few was armed and posed an imminent deadly threat — so Officers Greenhouse and Stafford opened fire — emptying 18 rounds at the vehicle, critically injuring Few and killing the 6-year-old, who had autism.
In actuality, no warrant had been issued for Few, and both father and son were unarmed — indeed, as video evidence shows, Few had his hands in the air when he received "two or three" bullets to the head and chest, while Jeremy suffered "four or five" shots to the head and neck.
Appallingly, Jeremy languished in agony, still holding onto life for over five minutes after being shot multiple times — but officers failed to even check for a pulse or render assistance.
"During this time, Jeremy was bleeding profusely and suffered immensely due to the gunshot wounds," the lawsuit states.
"It was not until approximately some seven and one-half to eight minutes or so after the hail of gunfire, that an officer at the scene, believed to be Parnell, finally checked Jeremy for a pulse and discovered that he was still alive, despite having been shot multiple times including in the head and neck," it reads.
"However, none of the officers at the scene, including Stafford, Greenhouse, Brouillette and Parnell initiated or rendered any form of first aid, nor did they undertake any other measures in an attempt to stop Jeremy's bleeding or otherwise alleviate or mitigate Jeremy's suffering, or made any attempts to save his life.
"Sadly, Jeremy was left to suffer — and die — while the officers casually searched for 'gloves.'"
Both Stafford and Greenhouse, likely due to their connected statuses and blue privilege, were allowed to remain officers in spite of their past atrocities — which allowed them to be in those patrol cars that night.
As WCBI reported, before the shooting, Stafford and Greenhouse both had been sued over claims they had used excessive force or neglected their duties as police officers. The Marksville Police Department suspended Stafford after his indictment on rape charges in 2011, but reinstated him after prosecutors dismissed the charges.
[author title="" image="https://tftpstagingstg.wpengine.com/wp-content/uploads/2016/03/magorist-e1456948757204.jpg"]Matt Agorist is an honorably discharged veteran of the USMC and former intelligence operator directly tasked by the NSA. This prior experience gives him unique insight into the world of government corruption and the American police state. Agorist has been an independent journalist for over a decade and has been featured on mainstream networks around the world. Agorist is also the Editor at Large at the Free Thought Project. Follow @MattAgorist on Twitter, Steemit, and now on Facebook.[/author]