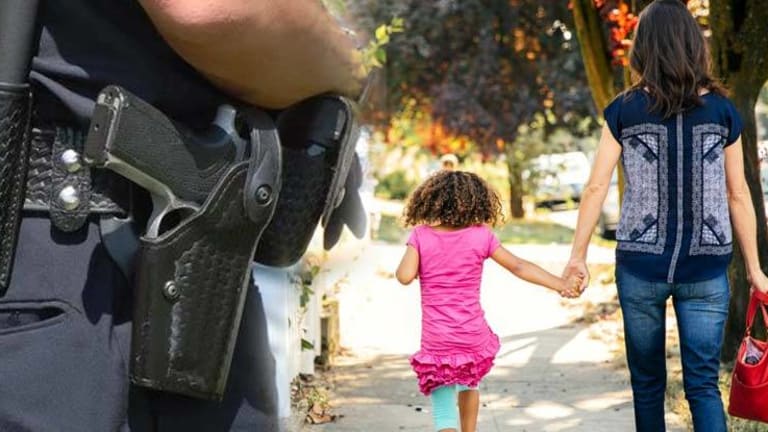 Nanny State Run Amok -- Cops Now Arresting Parents for Walking Children Home From School
In a testament to just how far the police/nanny state has progressed, parents now face arrest for walking their kids home from school.
Magnolia, TX -- In a testament to just how far the police/nanny state has progressed in the last decade, parents are now being told they will be arrested for walking their children home from school.
Parents in the Magnolia Independent School district are furious after being threatened by police for picking up their kids from school -- on foot. Multiple mothers within the ISD say they have been threatened by police with trespassing charges if they attempt to walk their kids home again.
"My parental rights are being violated," Heather Burke told Magnolia ISD trustees on Monday night. "The district is saying that they have authority over my children."
"I am requesting the freedom, which is my parental right, to walk my children home from school at the time of dismissal," said Lindsey Simmons, who was next to appear at the podium.
According to Fox 26 News, Burke and Simmons live 0.2 and 0.1 miles from the school, respectively, but after they walked their children home from school on March 30, a Montgomery County constable delivered a legal warning to their home.
"The constable explained that if I attempted to walk my children home from Bear Branch Elementary again, I could be arrested for criminal trespassing," Burke told trustees.
"This has happened to many parents," Mom Wendy Jarman said. "They have been cited. They have been threatened, if they step one foot on school property, they will be arrested and charged with who knows what."
The school is refusing to let parents, who are on foot, pick up their children when school is out. Instead, they want the pedestrian parents to wait until all the car riders have left before dismissing the walking children. Anyone who attempts to get their child before waiting 45 minutes to an hour is then considered a criminal apparently.
"Mrs. Ray's policy is implying that a parent doesn't have the ability or capability to decide what is safest for her children and that the school district does. I disagree," said dad Frank Young in a Fox 26 interview. Young has since pulled his kids from the school after getting hundreds of parents to sign a petition to change the policy.
"Section 8542 of the Every Student Succeeds Act clearly states the school can not prohibit a child from traveling to and from school on foot, car, bus, or bike, when the parents of the child have given permission," Burke said.
The idea that parents aren't responsible enough to walk their children home at the same time that cars are picking up kids is asinine. Couple the fact that this foolish rule is enforced with a badge and a gun and we have the makings of a terrible situation.
What this case illustrates is the tendency of schools to rely on police force to solve their problems. Instead of talking with the parents who want to walk their children home at the same time as everyone else, police are called to enforce some arbitrary edict.
Until we can solve disputes like rational adults by communicating, we can expect this type of response from government entities more often.
[author title="" image="https://tftpstagingstg.wpengine.com/wp-content/uploads/2016/03/magorist-e1456948757204.jpg"]Matt Agorist is an honorably discharged veteran of the USMC and former intelligence operator directly tasked by the NSA. This prior experience gives him unique insight into the world of government corruption and the American police state. Agorist has been an independent journalist for over a decade and has been featured on mainstream networks around the world. Follow @MattAgorist[/author]