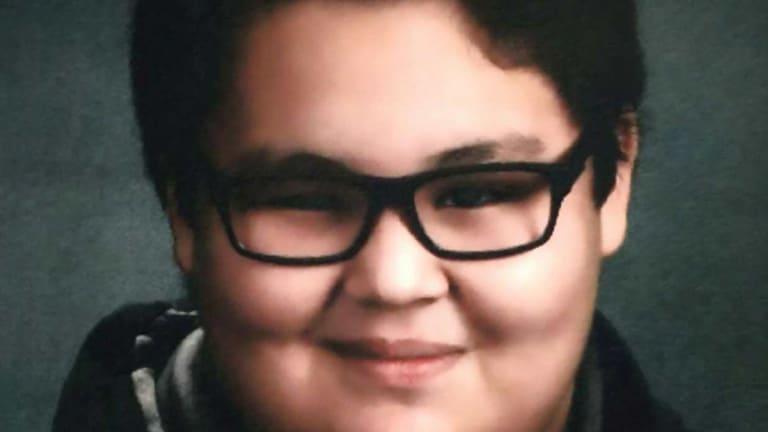 Police Just Killed a 14yo Native American Boy Who Witnesses Say Was Holding a Phone
Police are refusing release any details after killing a 14-year-old boy on the Bad River Indian Reservation -- his family wants answers.
ODANAH, WI -A 14-year-old boy was shot and killed on Bad River Indian Reservation in northern Wisconsin by a sheriff deputy this week. The shooting happened shortly before noon on Wednesday in a killing surrounded in mystery -- with the victim's family desperate for answers.
In typical police fashion, they have circled the wagons and are keeping a grieving family in the dark as to the events that led up to the killing of the 8th-grade boy by a sheriff's deputy.
The Ashland County Sheriff's Office, in a press release, claimed the shooting happened after deputies responded to a call about a male subject "walking around Maple Street carrying a knife," curiously never stating that the victim – identified as Jason Ike Pero – was actually carrying weapon.
https://www.facebook.com/AshlandCountySheriffsOffice/photos/a.345660332247189.1073741828.338482842964938/1280415122105034/?type=3&theater
Subsequently, investigators say a knife was found at the scene -- but family members say nothing can justify shooting a 14-year-old boy.
The boy's mother, Holly Gauthier, says there is, "no reason you can justify shooting a 14-year-old boy," noting that her son "was a big teddy bear", and "everybody loved him."
Additionally, witnesses have come forward to dispute the police assertion that Pero was holding a weapon and claim that the teen was simply holding a cellphone, according to Native News Online.
Pero's grandfather, Alan Pero, told WDIO that Jason was someone who, "never had one mean bone in his body."
Pero's mother says authorities have refused to give the family any information surrounding the events that led up to police shooting and killing the middle schooler.
Gauthier told WDIO that she is confused about the circumstances that led to the killing of her son, as Pero was sick that day, so his dad picked him up from school and dropped him off at his grandparents' house.
The grief-stricken mother does not know why her son was outside or why he was shot and says authorities have refused to tell her anything.
Jason was the oldest of her three children and the only one she saw before she went blind, according to WDIO.
"You never think it's going to hit so close to home especially my 14-year-old son," Holly Gauthier said through tears, adding that "He wasn't a troublemaker."
"He loved his family and we loved him very much. He was a big part of our family," Gauthier said.
Family members say they just want the truth about what happened to Jason and why.
"I can't think of any scenario worst case that would necessitate this kind of action for anybody, especially a 14-year-old. We're supposed to be safe in our own neighborhoods," Andy Gokey, Jason's grandfather told WDIO.
"They're not telling us nothing," said Gauthier.
"Think of that as your nephew, as your child," said Gokey."It's got to stop so if that awareness comes out of this then it will mean something."
The Bad River Band of Lake Superior Chippwa Tribe's tribal council released a statement that read, in part:
"The Tribal Council is deeply saddened and troubled by today's event, and they offer their condolences to the family at this time. This is an extremely hard day for everyone; in times like this the community must come together, and help each other heal."
Bad River Chairman Robert Blanchard condemned the killing of the middle school boy:
"This is a tragedy that should not have happened. There's other ways to do things than to pull out a gun and shoot him," Blanchard said.
The police are trained and operate under the conceptual framework of Maslow's Hammer. The concept operates under the premise that:
If the only tool you have is a hammer, you treat everything as if it were a nail.
Sadly, this is how law enforcement often operates in America.
Please share this heartbreaking story to help force the Ashland County Sheriff's office to release more information surrounding the police killing of Jason Pero!