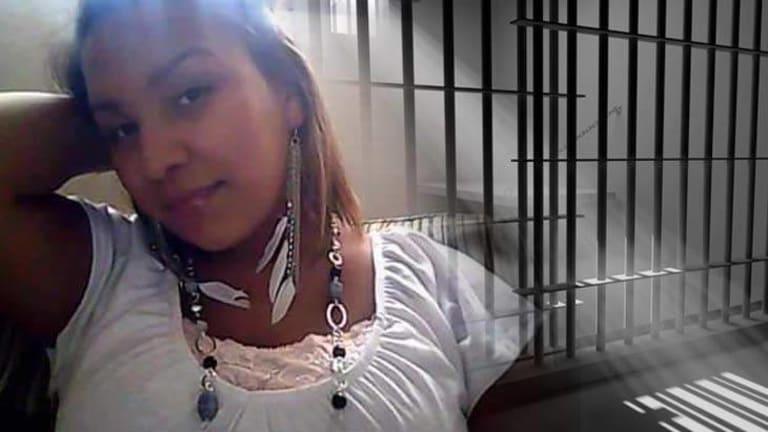 Native American Woman Dies in Jail, Begging for Help. Officers Told Her to "Quit Faking"
Earlier this month, a Lakota woman, was jailed on an alleged bond violation over a driving infraction. Her pleas for help allegedly fell on deaf ears and she died in jail.
Aberdeen, SD -- Earlier this month, Sarah Lee Circle Bear, a Lakota woman, was jailed on an alleged bond violation over a suspected DUI charge. Circle Bear was booked into jail on July 6th, and would not leave alive.
According to authorities, Circle Bear was found unconscious and not breathing in her Brown County holding cell on Sunday, July 12.
According to KELO,
Brown County Coroner Mike Carlsen says the results of an autopsy conducted Monday were inconclusive. He says he's waiting on toxicology and tissue results to determine Circle Bear's cause of death.

Carlsen says Circle Bear had minor injuries after a minor car crash Friday. He says those injuries would not have caused her death.
In a report on Tuesday, a reporter for Indian Country Today, Sarah Sunshine Manning, spoke with the family about the death of their beloved Circle Bear.
According to Indian Country Today, witnesses said that Circle Bear was pleading with jailers that she was in excruciating pain. Manning Reports:
Jail staff responded by dismissing her cries for help, telling her to "knock it off," and "quit faking." Inmates cried out for the jail staff to help Circle Bear, to which they eventually responded by picking her up off of the floor, dragging her out of the cell, and transferring her to a holding cell. Circle Bear was later found unresponsive in the holding cell.
Circle Bear's death comes at a time when special attention is being given to in-custody deaths of inmates. Sandra Bland's unfortunate death has shed light on the brutal reality that exists inside and outside the US justice system.
Another Native American, Rexdale W. Henry, 53, was arrested for failure to pay a traffic fine on July 9. Five days later, on July 14, Henry would be found dead in a Neshoba County, Mississippi jail cell.
The deaths of Henry and Circle Bear haven't gotten near the attention they should. If no one knows about them, justice will likely never be served.
Circle Bear's alleged driving record should not have been a death sentence. Please help to spread this story by sharing it with your family and friends so that we can prevent further similarly tragic deaths in the future.
Justice for Circle Bear