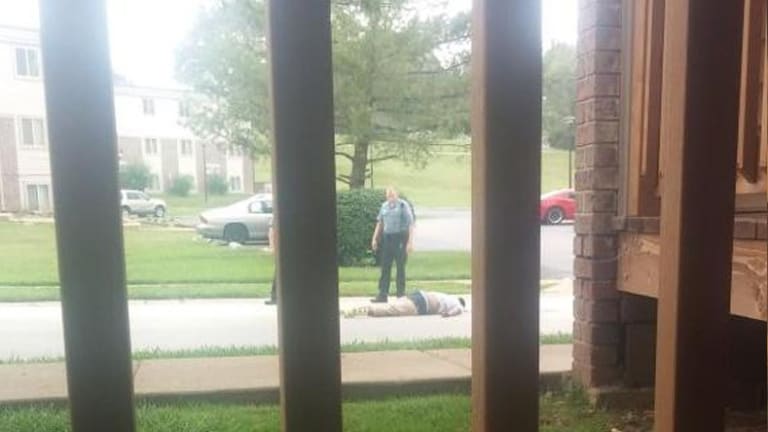 Neighbor Live-Tweeted Brown Shooting; May Be Damning Evidence Against Officer
Warning: the following post may contain disturbing photos and language
A Ferguson, MO man live-tweeted the shooting death of Michael Brown last Saturday with a raw account that contradicts what police reported to the media — Brown was shot twice in the back and five times in the front, according to the witness' tweets.
Ferguson police didn't confirm a specific number of shots fired, but said theofficer at the center of the controversy, Darren Wilson, fired four to six times at the unarmed teen, according toNYDailyNews.
@SLIKK_DARKO the first two was, the next 5 werent, he turned around
— Bruh. (@TheePharoah) August 9, 2014
" target="_blank">Twitter user "Bruh," who goes by the handle @TheePharoah posted on August 9, "I JUST SAW SOMEONE DIE OMFG," followed by a gruesome photo he snapped with his phone of Brown lying face down in the street with two officers standing over his body, just two minutes after his initial tweet.
"Its blood all over the street, n—– protesting ns—," he wrote next. "There is police tape all over my building. I am stuck in her omg."

Bruh provided a real perspective of the shooting that differs from that of the police as well as friends of Brown's, noting that he heard at least seven gunshots that hit the teen with the possibility of a couple other other missed shots.
"Dude was running and the cops just shot.him. i saw him die bruh," TheePharoah tweeted. "The first two was clear, then it was a barage of them s—-," he said of the gunshots.
Almost three hours after Bruh's tweet of shots fired, Brown's body still remained in the street, "Homie still on the ground tho," he posted.
In a public statement Ferguson Police Chief Thomas Jackson made to the press Friday, Jackson said Wilson shot the teen after he saw the boy and a friend walking in the middle of the road. Police confirmed that moments before the fatal incident, Brown allegedly stole cigars during a strong-arm robbery at a nearby convenience store, but Wilson was unaware of this altercation at the time he shot the teen.