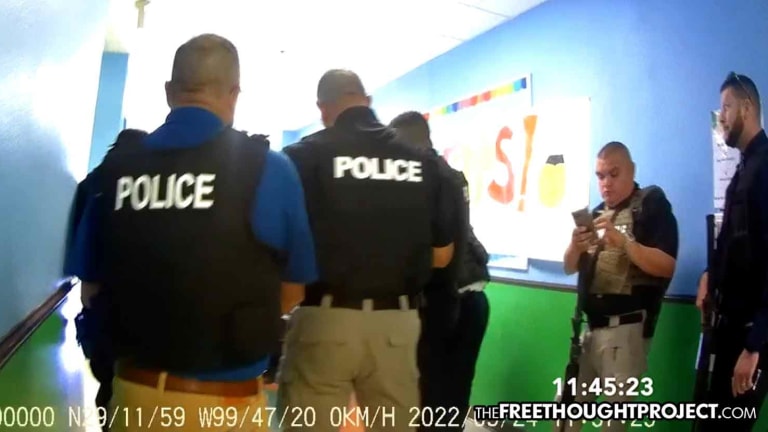 New Body Cam Shows Cops Cowering and Unconcerned as Uvalde Shooter Slaughtered Children
"Sir, if you can hear me, please put your firearm down, sir. We don't want anybody else hurt."
Uvalde, TX — With every new video that comes out from the Uvalde shooting, more outrage is sparked as the inaction and complete lack of bravery displayed by police becomes more and more apparent. Body camera footage released on Sunday adds even more outrage to that fire as is shows the dysfunction, cowardice and failure by first responders.
The video was first obtained and released by CNN on Sunday evening and it shows an infuriating lack of urgency by officers inside the school as the gunman murders children. Cops had the gunman outnumbered 6 to one early on yet they chose to run away, check phones and wait for orders that never came.
Instead of engaging the psychotic child murderer, Uvalde Schools Police Chief Pete Arredondo can be heard politely asking him to surrender as he guns down children inside classrooms 111 and 1112.
"Sir, if you can hear me, please put your firearm down, sir. We don't want anybody else hurt," he said in the footage.
As smoke fills the hallway from the rounds fired by the shooter, Uvalde Police Sgt. Daniel Coronado, who was one of the first on scene, is seen frightened and running away.
Instead of running toward the shooter — as the parents outside were trying to do — Coronado retreats outside where he calls out "We have him contained," identifying the shooter as a "male subject with an AR" at 11:39 a.m.
Coronado then tells other officers arriving on the scene — who are trying to go inside the school and stop the shooter — to act as crowd control, saying "there's plenty of officers."
Those officers would become infamous after they were seen assaulting, handcuffing, and tasering parents who were trying to go inside to get their children.
Highlighting the complete lack of urgency, at one point in the video, one officer expresses his confusion outside the school's door.
"What are we doing here?" he questioned. Clearly, the answer to that question was not "stopping a mass shooter."
Uvalde Mayor Don McLaughlin told CNN on Sunday "that he and others had been told by the district attorney's office "from Day 1" not to release anything, but he considered that as no longer applicable given the leaking of the hallway surveillance in particular."
"I'm tired of the families getting dumped on," he said.
"The families have suffered more than anybody already with the loss of their children. And they have been slapped in the face at every turn. Enough's enough," he continued.
"We've asked for transparency. We've asked for it from the investigation. I don't think we're still getting it, but at least whatever we have, we're going to release and we're going to be transparent."
As TFTP reported last month, the Uvalde shooter was able to fire off rounds outside the school building for 12 minutes, unobstructed and unchallenged by law enforcement before he entered the school and murdered children. He then entered the school where he was allowed to remain unhindered for 1 hour and 17 minutes before a tactical unit with Border Patrol showed up, disobeyed the order not to go in, and finally took him out.
As we reported, parents were thrown to the ground, tasered, and handcuffed outside the school for trying to save their children, while heavily armed officers — with the proper gear to take out a shooter — were inside the school just 19 minutes after the gunman arrived.
They would not enter the classroom for another 58 minutes.