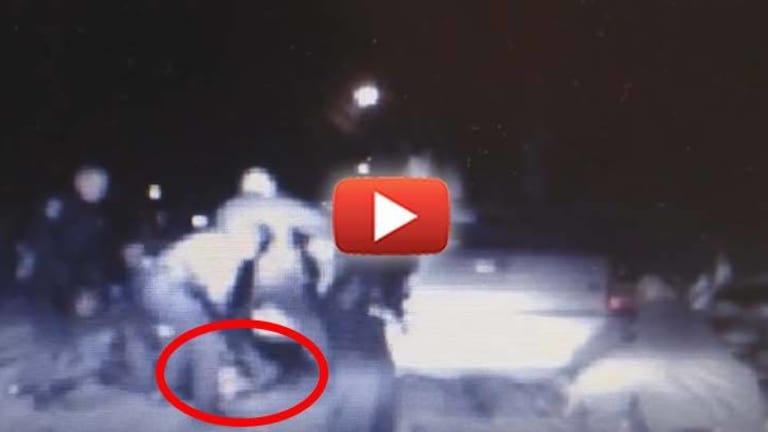 Video Shows Cop Accused of Executing Jamar Clark Savagely Beat a Man for Not Wearing a Seat Belt
This cop was never punished for brutally beating a passenger in a car over a seat belt violation, and now he's accused of executing a handcuffed man.
Richfield, MN — Accused of executing Jamar Clark while restrained in handcuffs, a Minnesota police officer was also caught on video assaulting an unarmed man for a seatbelt violation. Although the vicious beating occurred four years ago, the dashcam video was only released earlier this week as a result of the victim's lawsuit.
Around 2:30 a.m. on December 11, 2011, Richfield police officers pulled over a vehicle because one of the occupants was not wearing a seatbelt. While asking the driver to participate in a field sobriety test, the officers reportedly lost their temper when the passengers stood up for his rights.
After frisking the driver on dashcam video, the officers ordered him to squat beside the snow-covered curb while Officer Dustin Schwarze threatened a passenger on cellphone video. Moments before officers ordered passenger Nathaniel Hanson out of the vehicle, Officer Schwarze reportedly threatened to "beat the shit out" of Hanson if he stepped out of the car.
"Step out of the car and see what happens," Schwarze threatened.
"Is that a threat?" Hanson asked.
"That is a threat. Fuck yeah, it is," Schwarze responded.
"If I get out of the car, you what, are you going to beat me up?" Hanson asked.
"I'll beat the shit out of you," Schwarze responded right before his fellow officers ordered Hanson out of the car.
"He was legitimately confused about whether this was sort of like a dare — come on, get out, we'll see what happens — or was it a different order from a different officer," said Tim Phillips, Hanson's attorney. "So he hesitates, and right after he hesitates one of the officers punches him in the face."
Officer Nate Kinsey reportedly punched Hanson in the face before officers pulled him out of the car and brutalized him. Dashcam video recorded Kinsey incessantly punching Hanson, while Officer Aric Gallatin continuously kicked the nonviolent suspect as Schwarze repeatedly used his Taser to drive-stun the unarmed passenger shrieking in pain.
Schwarze also reportedly struck a fellow officer in the leg. At the end of the video, an officer dragged Hanson face-first down the snow-covered road for seemingly no reason.
Although the dashcam video does not show Hanson resisting, Schwarze claims that Hanson tried to knock the Taser out of his hand. Initially charged with disorderly conduct and kicking an officer in the face, the charges against Hanson were eventually dropped. However, he was convicted of a seatbelt violation.
Earlier this week, Hanson sued the city and the officers involved for use of excessive force. Schwarze has previously been sued for coercing a man to become an informant through threats and intimidation. The case was settled in 2011.
On November 15, Minnesota police officers Mark Ringgenberg and Dustin Schwarze were involved in the shooting of 24-year-old Jamar Clark. According to witnesses, Clark was lying on the ground in handcuffs and not resisting when the officers killed him.