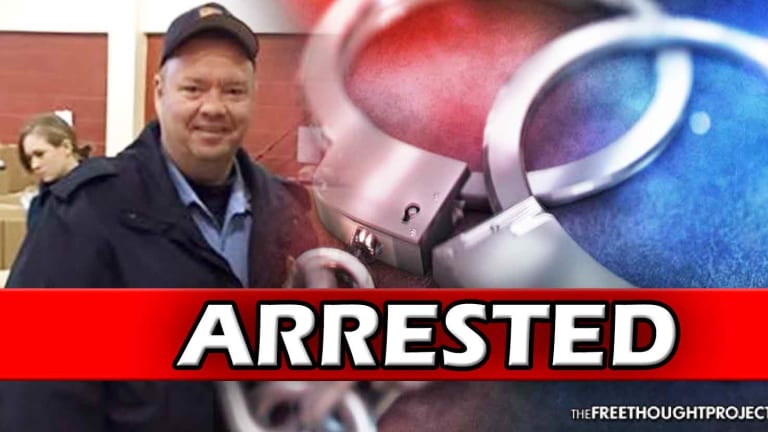 Former New Jersey Cop Busted in FBI Sting, Charged with Child Sex Trafficking
A former New Jersey cop who was considered a fugitive from justice has been captured and arrested following an FBI sting on multiple counts related to child sex trafficking.
Hazlet, NJ — A retired NJ police officer who was drawing nearly $80,000 a year in pension has been arrested on child sex trafficking charges. James Keenan, 47, was arrested this week for sex trafficking a teenage girl.
Keenan was indicted for the following crimes: Sex Trafficking of a Child, Attempted Sex Trafficking of a Child and Attempted Enticement. Considered a fugitive from justice, Keenan was apparently on the run when his fellow boys in blue caught up with him in NJ.
According to the Beaverton Police Department bulletin on the case:
The indictment and arrest follow a month long investigation by detectives from the Beaverton Police Department and the FBI Child Exploitation Task Force. This is an ongoing investigation. The underage victim is being provided services to help during her recovery process.
While few details concerning the victim in the case have emerged, the arrest was a collaborative effort involving the FBI and several state and local law enforcement agencies. According to the bulletin:
Portland FBI's Child Exploitation Task Force, CETF, is a law-enforcement partnership that is dedicated to identifying and arresting child predators, recovering minor victims of sex trafficking and on-line exploitation, and addressing sexual exploitation. The CETF consists of FBI agents, detectives, and officers from Portland-area agencies that have a firm commitment in addressing child exploitation. The member agencies are Beaverton Police Department, Portland Police Bureau, Tigard Police Department, Hillsboro Police Department, and the Clackamas County Sheriff's Office.
How the alleged child sex trafficker was caught remains a mystery. However, as TFTP has reported extensively, the FBI allegedly maintains a child pornography website for those purposes.
According to the Dallas News Daryl Pawlak was caught up in the FBI's sting operation. His attorney cried foul when he learned the FBI was the purveyor of the images his client was accused of downloading. In court documents his attorney decried the entrapment scheme:
Not only was the government the largest distributor of child pornography ... it was also the largest exploiter of children...This conduct is the essence of outrageousness, and a serious need for deterrence exists.
Few victims of pedophiles and child-sex predators and traffickers will likely have any sympathy for neither Keenan nor Pawlak, but the overarching question remains. Should the FBI be in the business of exploiting children to catch online predators and pedophiles, or should they be shutting down such sites?
TFTP's Justin Gardner addressed the question with more facts about the FBI's operations. The agency ran a kiddie porn site for two weeks in 2016, disseminating disgusting child pornography to over 215,000 individuals. Later, the agency only arrested 25 people on child porn charges. Are the number of arrests valuable enough to warrant the federal government's involvement in distributing child pornography?
In 2017, TFTP uncovered a loophole some lawyers are using to allow their clients, accused of possessing child pornography, to walk free. Jay Michaud's lawyers successfully argued in court their client should not be held accountable for his child pornography possession charges since it was the FBI which was running the sting operation.
When Michaud's lawyers asked the federal government to turn over its Network Investigative Technique (NIT), judge Bryan then suppressed all evidence the government presented using the NIT and Michaud was allowed to walk away a free man.
When it comes to pedophilia and child pornography, there are absolutely zero scenarios where the exploitation of a baby, child, or adolescent is tolerable under natural law. At the same time, under no circumstances should the FBI be in the business of disseminating child pornography to American citizens in the hopes of luring someone, tempting someone into giving in to their sick curiosities.
Keenan now becomes one of countless other government agents and former government agents to be arrested for crimes against children.