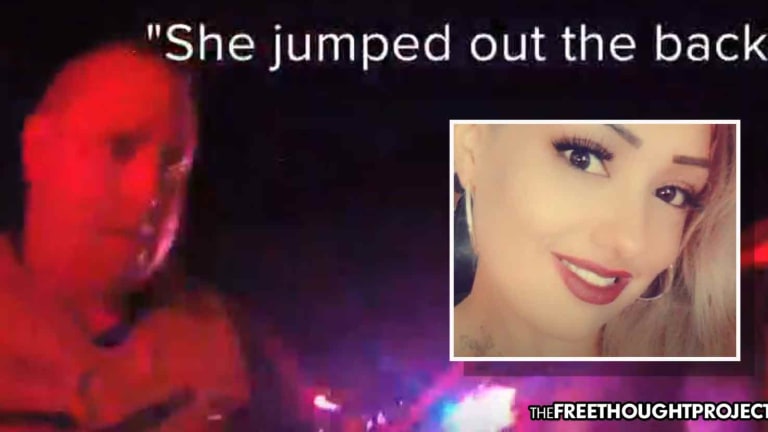 No Charges for Cops After Family Says Woman Jumped From Police Cruiser to Avoid Rape
Jorden Simms claimed she was sexually assaulted by two officers before somehow leaping to her death from the back of a police cruiser.
Safford, AZ — Earlier this year a bombshell revelation came to light in the case of Jorden Simms who died in police custody after being hurled from the back seat of a police cruiser while handcuffed, shackled, and belt-chained. The officer who stood accused of raping Simms admitted to turning off his body camera at the time of the alleged assault. This revelation made the claims of a cover up by the victim's family hold even more water. Sadly, however, it was announced this week that the officer who allowed the handcuffed, shackled woman to jump to her death out of the back of the police car, will face no charges.
"It hurts so much because my little girl deserved more," Deborah Sanchez, Jorden Simms' mother, said.
As KVOA reports, the case started with a shoplifting call. Documents from the Safford Police Department obtained by 12 News say Simms had been previously arrested for shoplifting. However, when Safford Police officer Jeremiah French arrived, there was no evidence of shoplifting. French arrested Simms anyway, based on a warrant from a neighboring county.
The warrant was reportedly over failure to appear for a drug charge. After her arrest, according to the documents, Simms complained of stomach pain and was taken to the hospital. Despite the hospital visit lasting nearly two hours, French made little mention of it in his report.
According to the report, French met with staff, Simms refused medication, and was then released back into his custody. However, a few days later, Simms told authorities something far more sinister happened at the hospital — French raped her.
An easy way to prove French's innocence in the matter would be to review his body camera footage from his interaction with Simms, so investigators went straight to it. However, during the time Simms told police she was left alone with French, the cop turned off his body camera.
French would tell investigators that he turned the camera off while in the hospital, allegedly because the hospital had concerns over patient privacy. However, there was no mention of hospital staff telling French to turn off the camera in the report. Nurses only reported that Simms was at the hospital for two hours with French.
"He just kept telling me, 'It's going to be OK, it's going to be OK, just don't make me look stupid," Simms said while describing the events during a forensic interview on Dec. 26, just hours before she allegedly jumped out of police transport.
"He starts just rubbing on my body, on top of my clothes and then he put his hand down farther and in my pants and he starts fingering me," Simms said.
According to 12 News, Simms would then break down during the forensic interview.
"I don't want to talk about it no more, I don't want to talk about it no more," Simms said in the video that can be seen below.
As TFTP reported in January, Simms mother, Deborah Sanchez began speaking out, telling anyone who will listen that she doesn't believe the official story from police on how her daughter died in police custody. Sanchez claims police silenced her daughter to keep her from ousting officers who raped and attacked her.
"They silenced my daughter, they wanted to make sure she never came forward," Sanchez said.
As TFTP reported at the time, the Graham County Sheriff's Office had one job to do: transport Simms from their county to Mt. Graham Regional Hospital and then back to jail. But instead of arriving safely at the hospital, Simms somehow removed her handcuffs, opened the door to the police Ford Explorer and jumped out of the vehicle while it was going down the road.
The impact left Simms with closed head injuries to her brain, leaving her brain dead. She later died.
It was announced this week that the officer driving that car — who was at the very least, partially responsible for Simms death — will not face charges.
"They should at least charge them with endangerment or negligence." Benjamin Taylor, the family's attorney said.
"Both these officers have been in this field a very long time. A very long time. And you're going to sit back and tell me they don't know how to operate a vehicle," Sanchez said.
"She was a ray of sunshine when she wanted to be...Her life meant something," Simms' aunt said. "We want to know how this happened. We want to know what she suffered prior to this event...It's been incredibly challenging. We are just waiting for the process to get started. We want answers, we know that something is not right with the whole scenario. Jorden was in the grips of addiction, but under that addiction was a kind, loving, funny woman."
Addiction or no drug problem at all, what Simms alleged before her death has the family as well as media asking questions.
Video obtained by 12 News shows Simms attempt to run away from French once she was brought to jail. She would later tell investigators during an interview that "I ran away from the officer that molested me."
French has been on paid leave since the incident as authorities continue their investigation. What's more, Simms also alleged while she was in jail, a female officer sexually assaulted her with an unknown object.
According to numerous reports, Simms reported her alleged sexual assaults to the Graham County Sheriff's Office and both were supposedly investigated by trained forensics nurses. As 12 News reports, after the initial examination and rape kit, police claim a medical professional told them to go to another hospital because they lacked a piece of equipment. Simms would never make it to the next hospital.
According to the video obtained by 12 News, Simms was walked by the female officer into a shower room where the door was closed and minutes later, the door opens and the officer leaves. Simms would be given another exam in this instance.
According to 12 News, the examiner said there was additional bruising from her first exam but no evidence of sexual assault by the female officer.
However, she would call back and note a tear in the genital region had not healed from a previous visit.
The female officer was not charged either.
Now, the family's only hope is finding out whether or not French actually sexually assaulted their daughter and that he is brought to justice if he did.