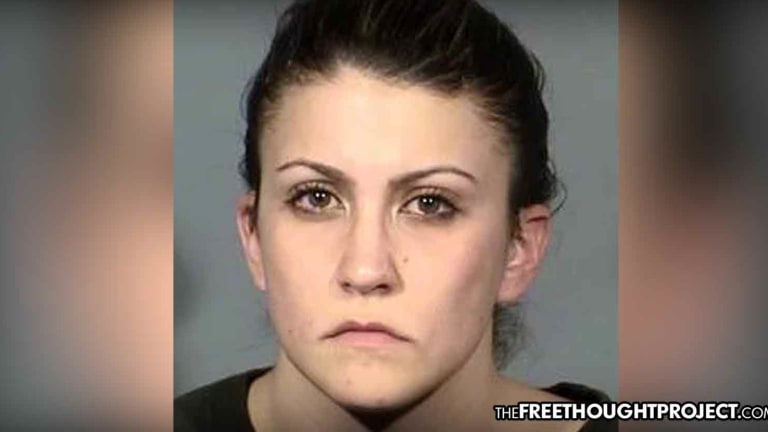 NO JAIL for Cop Who Forced Mentally Ill Man to Show Genitals to Film It, Called People N-Word
This cop was charged with multiple felonies and got off with unsupervised probation for force feeding a mentally ill man, forcing another to dance, and filming genitals.
Las Vegas, NV — A Las Vegas police officer took videos with her cellphone as she forced a mentally ill man to dance for her, taunting a man as a fellow cop force-fed him gummy bears, recorded herself demanding to see a handcuffed man's genitalia, and used every racial slur under the sun. Her conduct was so egregious, that officer Rachel Sorkow was arrested last year on multiple charges. However, because there are two sets of justice systems in this country — one for those connected to the system and one for everyone else — Sorkow escaped with zero jail time and less than a slap on the wrist.
In October of 2019, Sorkow took a plea deal and despite facing multiple counts of felony misconduct, along with "capturing the image of the private area of another person," and indecent exposure, she pleaded guilty to a single count of misconduct of a police officer. When she was sentenced last week, Judicial Officer Mary Kay Holthus ordered Sorkow to 18 months informal probation, meaning Sorkow won't have to regularly check in with a probation officer, according to KVVU.
She was then ordered to voluntarily resign from the department. Whether or not she maintains her law enforcement license is unclear.
As TFTP reported at the time, this deranged and cruel officer would eventually get exposed for her sick actions after she'd proudly share the footage with friends, fellow cops, and family. To officer Sorkow, humiliating innocent mentally ill people while hurling racial slurs was entertainment fit for the whole family.
As the Las Vegas Sun reported at the time:
The videos surfaced as investigators were probing allegations that Sorkow was providing private information to associates from official police systems, police said.

Text conversations and records show that Sorkow searched for information on behalf of her associates that included background information on dating prospects, addresses and a non-redacted report on a child abuse investigation that named the children, police said.

Sorkow, 29, was arrested on five felony counts of misconduct by a public officer, and one gross misdemeanor each of capturing the image of the private area of another person and indecent exposure, Metro said. She was relieved with pay in December and dismissed this week.
Not only was Sorkow involved in a sick racist power trip but this public servant was also pimping out her department's background check capabilities and doing favors for criminals by looking up their status in the system.
Sorkow's sick acts of racism and forced humiliation would have likely been overlooked and dismissed had she not also been caught using the background check system. She was caught abusing the system on at least 19 different occasions.
Only after her phone was searched by police over the officer abusing the background check system, were the humiliating videos discovered.
According to the police report, Sorkow would brag to several people about one of the videos she took of forcing a mentally ill man to dance for her sick pleasure.
"I just want to see you dougie (sic) and twerk and then we're good," Sorkow is heard saying. "Come on!"
The mentally ill man was reportedly wearing a dress and Sorkow would rap while she forced him to dance.
In one of the conversations, according to the Sun, an unnamed Metro officer — who a couple of months later "intentionally" stopped the same man, sends her a message — "bahahaha ran into your boo lol shouted you out hah."
She replied, "I have fun with these f*cks hahaha."
In another incident, also caught on video, Sorkow has a man in handcuffs who is forced by the deranged cop to eat an entire bag of gummy bears.
"Partners with the community, feeding criminals gummy bears," Sorkow is heard saying on the video, which is an apparent reference to the department's slogan.
According to the video, another unidentified officer then begins shoving the gummy bears into the suspect's mouth. "Was that good, bro?" she asks. "Is that scrumptious," the other officer is heard saying.
"Give him another one, give him another one! Open your month, eat it!" Sorkow says as her and her partner force the man to eat the entire bag.
When the department confronted her about the degrading acts caught on video, Sorkow had no problem admitting to them. She even laughed while admitting to it, according to her arrest report. "That's not malicious, again, like … that's just who I am, I like joking, I joke all the time."
In yet another disgusting display, Sorkow is seen forcing a man to expose his genitalia. According to the police report, Sorkow and the same unidentified officer who forced a handcuffed man to eat gummy bears, also forced a man in handcuffs to expose himself.
The man was reportedly in handcuffs when he began kicking a patrol car. When he raised his legs, it would expose the man's penis.
"Do it again," Sorkow is heard telling him. "When (redacted) raises his right leg, his penis is exposed through the rip, making it clearly visible to Sorkow" and everyone else, police wrote.
Sorkow giggles and zooms her camera to the man's groin area. "Do it again!"
After telling the man to expose himself, Sorkow then begins using the racial slurs. "What's up my n****," she is heard telling the black man.
"And what are black people?" she says as she has the man repeat the n-word.
After hoping to have this officer held accountable, the community watched as she was let off with no consequences. The most disturbing part of this officer's actions is the fact that she bragged about it to fellow officers for years before she would be caught.
Dozens of fellow officers and family members all watched the footage of the abuse and racism and none of them said a thing. Only after Sorkow was caught using the background check system did any of her disgusting behaviors come to light.