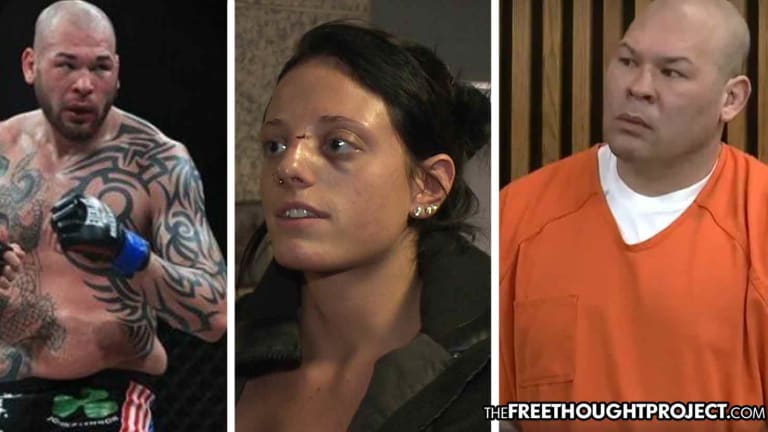 NO JAIL for Former MMA Fighter-Turned Cop Who Broke His Girlfriend's Face
An MMA fighter who changed professions to a police officer didn't stop throwing punches after the change, he just started aiming them at women.
Cleveland, OH — Cleveland officer John Hawk became a cop after spending years fighting in MMA. When he became a cop, however, he didn't stop throwing punches, he just started aiming them at women.
Hawk was a professional MMA fighter from 2009 until 2016 with the nickname "Big," according to multipleMMA websites. When he quite the MMA he later joined the Cleveland police department where he continued doling out punches — this time with the protection of a badge.
Earlier this year, police responded to a domestic abuse call at Hawk's residence. When they showed up, police found Hawk's girlfriend, Kali Ricci, bleeding profusely from her face, having lacerations to, and broken bones in, her face.
Hawk would tell police that he girlfriend "fell to the ground and hurt herself," according to prosecutors. However, that was not the case. During the investigation, Hawk would admit to punching the small woman in the face and breaking her nose.
For savagely beating Ricci, Hawk would be arrested and charged with felonious assault and kidnapping charges. However, because likely due to the fact that he is a police officer, he was given a sweet deal. The felony charges which would have landed him behind bars for years were dropped in exchange for Hawk's resignation from the department and a plea to a lesser misdemeanor charge of assault. He received not a single day behind bars.
Assistant Cuyahoga County Prosecutor Brent Kirvel praised the deal and noted that the state had already gotten "essentially what it's asked for" in the case after Hawk resigned.
"It's significant, we believe, to end a career in law enforcement, and we don't take that lightly," Kirvel said.
By this logic, a Walmart employee who savagely beat his wife, could merely quit his job, never work at Walmart again, and justice would be served, according to Kirvel. Seems legit.
After taking the sweet plea deal, Cuyahoga County Common Pleas Court Judge Deena Calabrese ordered that Hawk complete domestic violence courses, abstain from alcohol and drugs and undergo a mental health evaluation.
"Nobody gets along all the time, but this is beyond anything that would be considered reasonable," Calabrese said of the attack.
Unfortunately, Ricci — like many other battered women — came to the defense of her abuser and told the court that Hawk needed another chance.
According to Cleveland.com, Ricci, told Calabrese during Tuesday's hearing that she and Hawk have a newborn son together, and she wanted to give their relationship another shot.
"I know who he was before then," Ricci said. "It was a sporadic moment and a crazy night."
Despite not sentencing Hawk to any time in jail, Calabrese still said she is afraid of what Hawk might do and kept a restraining order in place that bars Hawk from seeing Ricci or his son.
"I'm afraid for both of you," Calabrese said. "I'm afraid Mr. Hawk that you'll lose your ability to keep yourself under control. I'm trying to craft a resolution that is best for both of you."
No matter that resolution, Hawk certainly got what he wanted, which is staying out of jail.
As TFTP has reported at length, cops are some of the worst abusers.
The fact is that police officers in the United States have an exceedingly higher rate of domestic violence than any other occupation. The average rate of domestic violence among most families in America is around 10%. As the National Center for Women and Policing points out, two studies have found thatat least 40% of police officer families experience domestic violence. That is a four-fold increase.
A simple Google search will illustrate how police officers are arrested for domestic violence on a near-weekly basis. It is also estimated that the incident rate for domestic violence is likely far higher than reported as many women stay silent out of fear of retaliation and the fact that their abuser's brothers in blue will cover for them.
As TFTP has previously noted, a report by a government-appointed watchdog group shows that most of the time, abusive officers who commit these crimes, do so with seeming impunity. Hawk serving no time behind bars is evidence of this.
If you or someone you know is a victim of domestic violence, you can seek help at the National Domestic Violence Hotline website or by calling 1-800-799-7233.