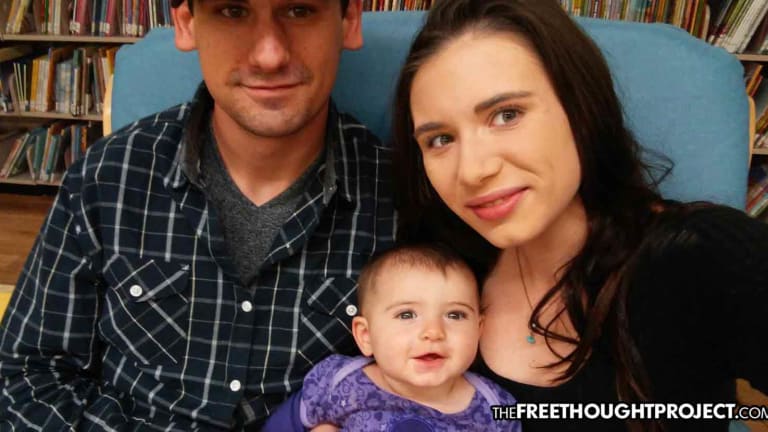 'Nobody Came': Young Mom Suffers Horrific Death in Jail as Guards Ignore Cellmate Begging for Help
A young new mom was suffering from a perforated ulcer in jail and needed medical help, but deputies ignored her and her cellmates pleas until she died.
Oklahoma City, OK -- A 24-year-old mother, with her entire life ahead of her, is now dead after being thrown in a jail cell and ignored by deputies as she died. Even more disturbing is the fact that her cellmate says she begged the officers for help as she watched Sindi Lucille Spray die right in front of her. But she was ignored as well.
Spray was arrested earlier this month on an outstanding warrant for using a computer to voluntarily engage in the act of consensual sex for money -- otherwise known as prostitution. Because Spray didn't plan to film this sex, distribute it on DVD, and pay taxes on it, she was kidnapped and thrown in a cage.
In this cage, Spray would spend her last moments alive in agonizing pain, as police ignored her and her cellmate's pleas for help.
"I can't get her face out of my head," Kim Darling, Spray's cellmate and the last person to see her alive said.
As News 9 Oklahoma reports, Darling, who was picked up on a charge of petty larceny, says she was put in a cell with Spray. Spray was charged with prostitution. Darling says Spray didn't say much. She couldn't. She was in too much pain.
"She would lay on that bed and curl up, moan and groan about how her stomach hurt and her heart was burning," recalled Darling.
Darling said that she thought Spray may have been coming down from heroin and told News 9 that the nurse gave Spray some pills for high blood pressure and told her to relax. Spray seemed to have calmed down temporarily and Darling says she dozed off.
When Darling woke up, however, she said she found Spray lying on the floor, unresponsive. Darling immediately began banging on the cell door to get help, but that help would not come, at least not until after Spray was too far gone.
"I kept saying, 'Hey, hey.' I didn't, you know, she never responded. So, I felt for a pulse. There was no pulse. I started freaking out. And I started banging on the door. For 30 minutes I banged on that door. Nobody came," said Darling.
Darling said deputies should have taken her to the hospital immediately after Spray began complaining of the pain and asking for help. But they did not.
"I'm not a saint. I've done my fair share. I was in there, you know?" said Darling. "But just because you do something wrong, don't mean they have to treat you like that."
As her family would later find out, it was not heroin that was causing Spray so much pain. She was in serious medical distress as the autopsy would later prove. According to the medical report, Spray died from a perforated ulcer and the subsequent lack of care in regard to her condition.
A perforated ulcer is a condition in which an untreated ulcer can burn through the wall of the stomach (or other areas of the gastrointestinal tract), allowing digestive juices and food to leak into the abdominal cavity causing excruciating pain. Left untreated, as Spray's case illustrates, it can and will be horrifically painful and fatal.
Bill Spray, Sindi's dad is now blaming the jail for his daughter's death, noting that if they would have given her the proper care, she would've been okay.
"I just get angry all over, knowing that she was in so much pain. She had to have been telling them, and they just let her lay there until it went septic," said Bill Spray.
As for her cellmate Darling, she says she'll never forget Spray's last words to her.
"The last thing she said to me was she tucked her kids in every night, before she went to bed."
News9.com - Oklahoma City, OK - News, Weather, Video and Sports |
Highlighting the sheer lack of care given to inmates at this jail, Spray is the sixth person to die in the jail this year.
In-custody deaths from lack of care are sadly an unfortunate reality. TFTP is consistently reporting on cases like Spray's. Victoria 'Tori' Herr, 18, suffered a similar fate. Herr died in Lebanon County Correctional Facility after police refused to provide her with medical care for several days. In October, Herr's family was awarded millions for their daughter's death. However, as will likely be the case in Spray's case, no one who ignored Herr was held accountable -- only the taxpayers.