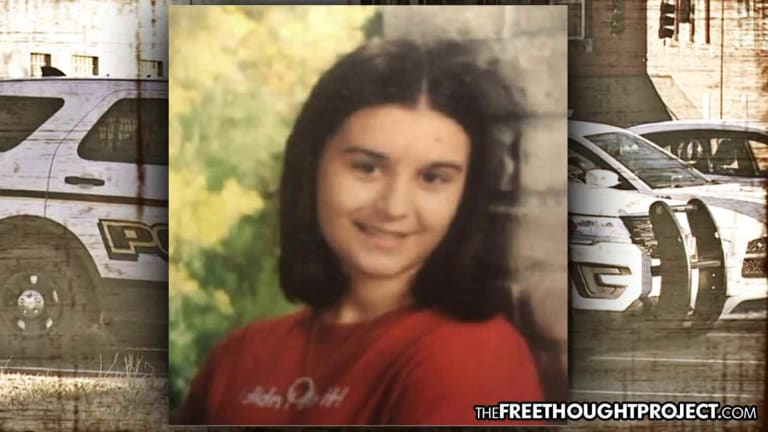 'Nothing Was Done': 12yo Victim Fights for a Decade to Expose Cop She Says Raped Her as a Child
An alleged pedophile cop raped a 12–year-old girl. She's 24 and is only now finally getting her day in court.
Little Rock, AR — Who do you tell when a cop rapes you? The answer to the question can be just as traumatic for someone who's been violated as the actual rape itself. But for one Little Rock, Arkansas woman, the time has come to hold her alleged rapist accountable for what she says he did to her at age 12.
Karen Hollie said when the rape happened she let people know but nothing was done. Now that she's 24, she has decided to wait no longer. She told police at the time and it didn't go anywhere. She spoke to KATV news in an exclusive and said:
I spoke out and nothing was done and that's something I just can't let go.
In April of 2019, Arkansas State Police heard her story and took action. They arrested Sergeant John Tyler Shumard, 45, with the Brinkley Police Department. He was later charged with rape, sexual indecency with a child and sexual assault stemming from an incident which Hollie says happened in 2008. Shumard posted a $15,000 bond and was allowed to leave the Prairie County Jail where he was being held. The case went to trial last week on March 10th and 12th but Shumard has already pleaded not guilty through his lawyers.
At the time of the alleged rape, Shumard was a deputy with the Prarie County Sheriff's Office. The Sheriff offered Shumard the chance to take a polygraph test in order to presumably keep his job and defend himself against the rape accusation but Shumard resigned instead, transforming himself into what TFTP has branded him as a gypsy cop.
Gypsy cops kill, rape, violate citizens' rights, and when they're caught or accused of a crime they're allowed to resign and move on to another police department where, you guessed it, they continue their predatory practices. In 2008, the Prairie County Sheriff's Office claimed there was not enough evidence to arrest and charge Shumard at the time so he simply moved to the Brinkley police department.
Going forward, Hollie's case is an uphill battle for justice with law enforcement officers often given god-like hero status in American society. At any rate, she hopes more victims of rape will come forward and tell their stories.
I definitely hope that it gives people the courage to speak out because going through something tragic like this it affects your life in many ways.
As TFTP has consistently reported, pedophiles gravitate toward positions of authority whereby they may gain access to children. Pedophile teachers, coaches, school resource officers, etc., anyone who presumably has authority, often prey on children and their vulnerabilities. Shumard, allegedly, is no exception. Not only was he a badge wearing authority figure, he supposedly abused a child with which he had access. We do not yet know the alleged circumstances surrounding the case but in our experience, even accusations of rape aren't enough to get police officers fired, let alone put in prison.
Even though my situation isn't over, I feel like I would have a much better relief once it is.
So, imagine this. If what Hollie is saying is true, and she was, indeed raped by Shumard when she was 12, the pedophile cop has been actively employed as a law enforcement officer for 12 years. Let that sink in. Every case he's been involved with, if he's convicted, will have to be overturned or heavily scrutinized because his credibility as a cop will be hopelessly flawed. If I were a Little Rock, AR inmate or defense attorney, I'd be getting my cases in order for a dismissal and preparing to set my clients free. We will keep you posted as more information about the trial becomes available this week.