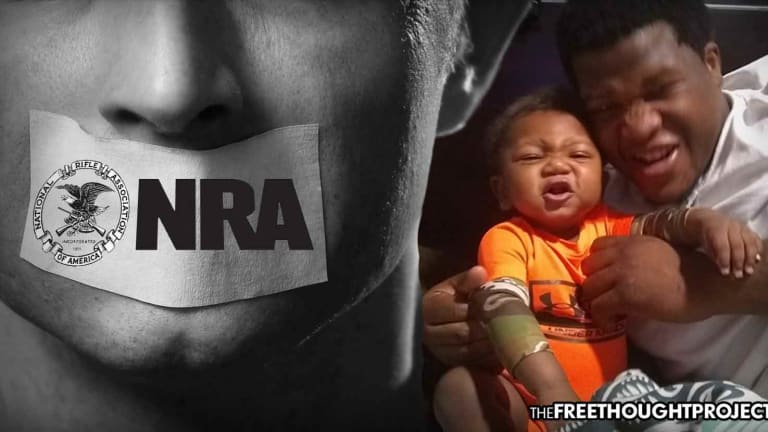 Here's Why the NRA is Silent After Cops Killed a Legally Armed Black Man for Stopping a Mass Shooting
The NRA has a history of ignoring citizens who stop mass shootings or are killed for their second amendment rights—especially if they are black and their killers are the police.
Robbins, IL — As TFTP reported on Tuesday, early Sunday morning, a tragedy took place in Illinois after a hero security guard stopped what was quickly becoming a deadly mass shooting, only to be shot by police moments later. Jemel Roberson, 26, was working security at Manny's Blue Room Sunday morning when his heroism got him killed. He had a permit to carry the legal gun, used it properly to stop a crime, was killed for his pro-Second Amendment actions—by police—and the NRA is dead silent.
The incident began after multiple individuals were asked to leave the bar for being unruly. Witnesses say all the men left and then returned and one came back in with a gun opening fire into the bar. As everyone else ran for cover, Roberson according to witnesses, engaged the shooter with his own gun.
Roberson then apprehended one of the men involved in the shooting and held him at gunpoint as the police showed up. Four people had been shot, but thanks to Roberson, no one else was hit, and those four people were transported to a local hospital and treated for their injuries. Sadly, Roberson would not be so lucky.
At around 4 a.m., police officers from multiple suburban departments responded to the call of shots fired. When they arrived, Roberson was holding one of the men on the ground so he could be apprehended by police.
"He had somebody on the ground with his knee in back, with his gun in his back like, 'Don't move,'" witness Adam Harris said.
"Everybody was screaming out, 'he was a security guard,' and they basically saw a black man with a gun and killed him," witness Harris tells WGN TV.
Roberson—who was licensed to carry a firearm—and is a father of a 9-month-old boy, saved an untold number of lives that night only to be gunned down shortly after.
When a good guy with a gun stops a bad guy with a gun, the NRA is all over it. They tweet out the story, pat themselves on the back, praise the guns and the heroism and justify their existence.
They even tweeted a story out on the day Roberson was killed, praising several citizens who stopped shootings by being armed.

The fact is that the NRA tweets regularly about good guys or gals with guns stopping bad guys or gals with guns. But not Roberson.
The NRA refusing to comment on the tragic death of Jemel Roberson is despicable. However, it is not surprising. Roberson was a black man.

Just like the NRA is silent on Roberson's tragic case, they were silent when Siwatu-Salama Ra, 26, was kidnapped and caged for legally defending her family with a gun.
Ra was a legal gun owner with a concealed carry permit in a state that allows open carry, and when she pulled out her gun, she was defending herself, her mother and her 2-year-old daughter. But she was convicted of felony firearms violations and thrown in prison anyway. The NRA said nothing.
Philando Castile is another tragic case of the NRA choosing to remain silent. Castile was a legal concealed carry permit holder who had committed no crime, was complying with the officer who pulled him over to harass him, and was shot and killed by a cop afraid of his own shadow. Castile had harmed no one, and was killed for practicing his second amendment right. Once again, the NRA said nothing.
On top of being black, Roberson was also killed by police. When cops kill citizens for practicing their second amendment rights, the NRA also chooses to remain silent.
As TFTP reported at the time, Mesa, Arizona police were called over reports of a man with a gun in a legal carry state, and within minutes of their arrival, they opened fire on Daniel Shaver, father of 3 and a husband. Police killed Shaver even though he posed no threat, was complying with their commands to the best of his ability, and was even crying and begging the officers to spare his life. In response, the National Rifle Association remained silent.
The organization's website defines the NRA as "America's foremost defender of Second Amendment rights," and paints the picture of an association that has been committed to educating and protecting Americans' Second Amendment rights since the 1870s. However, the NRA also notes that it is "widely recognized today as a major political force," and it appears that politics are keeping the NRA from defending the Second Amendment rights of Americans who are killed by police as well as being black.
As journalist Radley Balko noted on Twitter after the officer who murdered Shaver was acquitted, "The insanely heavy-handed police response to Daniel Shaver came after someone reported seeing him with a rifle. (it was a pellet gun). Arizona is open carry, including for long guns. So the NRA will denounce this verdict and demand better training for Mesa police, right?"
Wrong. Just like the NRA was silent on Castile, Ra, and Shaver, they will also be predictably silent on Roberson.
The fact of the matter is that Second Amendment protections have often been denied to black citizens. Martin Luther King, Jr. couldn't even get a concealed carry permit after his life was threatened. The NRA has historically not commented on individual or mass shootings. However, the NRA does have a close if fraught relationship with American police forces.
If the NRA actually cared about the Second Amendment and Americans' civil liberties—instead of just how much money can be raised and how much public support can be garnered from powerful politicians—then it would be adamantly speaking out about the unjust killing of Jemel Roberson. But they are not and this exposes their true colors.
"This was going to be my baby's first Christmas with his dad and now he's going to miss out on everything," said Avontea Boose, the mother of Roberson's child.