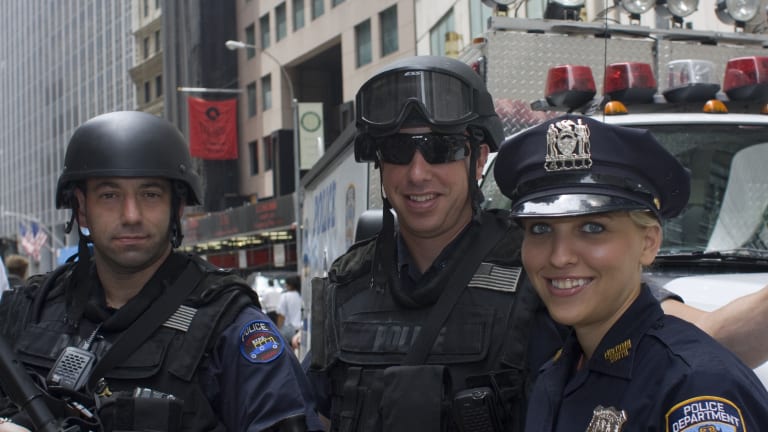 NYPD castrates man's dog after false arrest
July 9, 2014
A Brooklyn man is suing the New York Police Department for neutering his dog after they arrested him on what he says were bogus charges. He is seeking $2 million in the federal lawsuit.
Gregory Drummond and his dog were at the apartment building his girlfriend owns in the Bushwick neighborhood of the borough last September when police were called to the location for a domestic disturbance between two downstairs tenants.
When the police officers arrived, they talked to the second-floor tenant through a gate. "They then grabbed the second floor tenant through the gate and put their hands in his pocket, retrieved keys for the gate and the property, and entered the apartment," the lawsuit said.
Once inside, they proceeded to search the other two apartments in the building, even though the disturbance was limited to the second-floor apartment. In that apartment, they discovered a gun and drugs. The tenant was arrested.
But so was Drummond.
The police charged him with criminal possession of a weapon, criminal possession of a controlled substance and other charges relating to items from the tenant's apartment. In court documents, Drummond accuses the officers of"knowingly, intentionally, willfully, and maliciously" arresting him "without probable cause."
The NYPD also accused Drummond of being a squatter, rather than a tenant in the building. He asked them to contact his girlfriend, and offered her contact information. He said the cops refused.
While inside the third floor apartment, the plaintiff said the police seized his property, including televisions, video game consoles, cell phones and cash. He was not provided a property voucher for any of the items, and can therefore not reclaim them, the lawsuit claims.
They also seized Drummond's dog, despite his pleas to call his girlfriend to come get the dog since he was being arrested, the documents said.
Instead, the officers took the dog to the pound, where they informed the staff that the unaltered male was a stray.
"Because the dog was considered a 'stray' at the representation of the Defendant police officers, the pound neutered the dog," according to the documents.
"The Plaintiff did not wish to neuter his dog."
In May, Drummond was acquitted of all the charges from the September incident.
He is claiming "loss of property, loss of enjoyment to life, loss of liberty, emotional distress, mental anguish, embarrassment and humiliation, shame indignity, damage to reputation, and deprivation of his constitutional rights" in the suit. He is asking for $1 million in compensatory damages, $1 million in punitive damages and attorney's fees.
Republished with permission from Russia Today