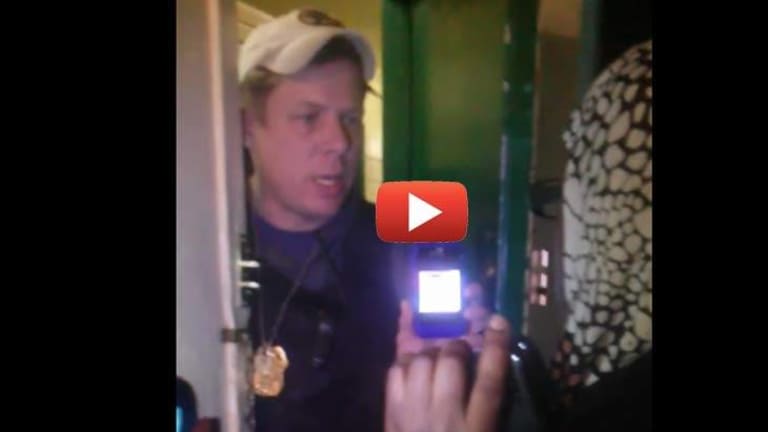 VIDEO: NYPD Barge into Civil Rights Activist's Home, No Warrant, Assault Underage Daughter
Plain clothes NYPD cops barged in without a warrant to a civil rights activist's home and assault her daughter. Proceed to lay waste to the fourth amendment.
New York, NY-- The NYPD is at it again. This time officers were caught in a series of videos documenting them barging into a political and civil rights activist's home without a warrant. The officers claimed that they were looking for a felon who was fleeing from them and therefore did not require a warrant to enter and search the home.
Diane Malikah Moomin Pinkston was at home with her two daughters on Thursday afternoon around 1:30 pm, when NYPD officers began banging on her door. The woman did not trust the police, as they were not in usual uniforms and would not provide a warrant, so she called 9-1-1 and requested uniformed officers to be present. She informed the operator that the officers outside were threatening to take down her door and put her children into foster care.
"You all want to act like f*cking thugs, you all are worse than the thugs on the streets, you all are ridiculous," Moomin Pinkston states before the officers, who refused to identify themselves, barged into her home.
The next video begins with the family continuing to demand that the officers provide a warrant to enter the apartment, as their privacy is violated by the group of police. An officer with a thick Boston accident condescendingly plays nice as he shows the family a photo of a man that they did not recognize and insisted upon violating their Fourth Amendment right. The casually dressed officers were also captured on a camera set up in the bedroom by Moomin Pinkston's quick-thinking daughter.
Shortly after entering the apartment, an officer is seen shoving Moomin Pinkston's underage daughter and threatening the family with arrests.
After the incident, the upset mother stated that she only complied with the officers out of fear that they would shoot her daughter.
"This system must change, they continuously do this to black folks and think that black folks are ignorant, and they think that they're stupid. They are supposed to have a warrant to search my apartment," she stated. "We are political activists, yes; we are activists. We advocate for people all over the world. We advocate on our behalf of ourselves and for people all over the world. These police officers and this system, they really are brutal, as you can see for yourself. The only reason why I backed off of these police officers when they were bombarding their way into my apartment is because I did not want them to murder my daughter, but if it was me alone- god only knows what would have happened."
Moomin Pinkston maintains that there was no reason for the officer to put his hands on her daughter. No arrests were made, and she provided confirmation that herself and her family are safe.