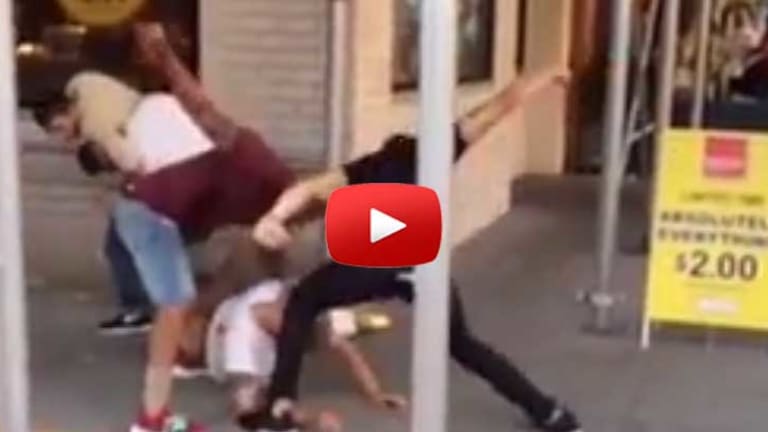 NYPD Cop Caught on Video in Gangstyle Beatdown that Nearly Killed a Man
An NYPD officer has been suspended after involvement in a street fight and failure to identify himself as a cop to responding officers.
New York, NY -- An NYPD officer has been suspended after video of a brutal street fight involving his friends made the rounds on social media. The off-duty cop not only failed to provide assistance to the victim but didn't identify himself as law enforcement to responding officers.
Although Officer Ronnie Velez received the suspension for failing to inform responding officers he was one of their own, ">video shows him forcefully restraining Ray Cordero from assisting as Velez' friends cruelly attack Elliott Ambert — leaving him with multiple facial fractures and bleeding on the brain.
"He never identified himself as a police officer to me," Cordero explained, as the New York Daily News reported. "I don't understand how you can be an officer of the law and still let that happen."
Three of Velez' pals have been charged with felony assault over the alleged beating which occurred around 6 p.m. Sunday, as Ambert and Cordero left the Il Bastardo restaurant in the Chelsea neighborhood of Manhattan.
According to Cordero, a bouncer broke up a brief verbal confrontation between Ambert and another man, but once they left the immediate area, it didn't take long for Velez' friends to pounce.
Cordero says Velez, who can be seen on a bystander's cellphone video in a black shirt and shorts, came up behind him and began throwing punches — striking Cordero in the head.
Reid Koran, Jeremy Gonzalez, and Michael Batista — the now-suspended officer's friends — relentlessly pummeled Ambert while Velez, and then another one of the men, restrained Cordero, as seen in the bystander's video.
Cordero said the second man, who put him in a headlock and pulled him slightly away from the ongoing assault, flashed a police shield. This move, could only be considered a threat, considering the unidentified officer — like Velez — wore street clothes and also failed to either intervene or offer help to Ambert afterward.
"I wasn't going to hit a cop," Cordero said, indicating the police shield likely had its intended effect. "I started to back up."
As the man who had flashed the police shield pulls Cordero away from the beating, Velez can be seen in footage looking around as sirens are heard, backing away, and leaving the scene.
A bystander finally attempts to assist the ailing Ambert as a bevy of patrol cars finally arrive at the scene.
Cordero explained he didn't learn Velez was an officer until Internal Affairs investigators told him.
He also noted investigators said the shield-flashing man may be the son of a police sergeant — though, according to the Daily News, Deputy Chief Edward Mullen "would only say no one was charged with impersonating a police officer."
It's unclear whether the New York City Police obtained a copy of the video, which shows Velez briefly participating in the attack on Ambert, restraining Cordero, and fleeing the scene of a crime — none of which factored into his suspension.
As for the man who whipped out the badge, though investigators told Cordero he was possibly only related to an officer, no explanation has been given concerning the failure to charge him with impersonating a cop.
Ambert's injuries were so extensive, he has yet to be interviewed by investigators.
"He doesn't remember much 'cause literally he received so much head trauma," Cordero explained. "His face is pretty bad."
Although The Free Thought Project reached the NYPD, the appropriate person was unavailable to answer these questions or provide comment.
">