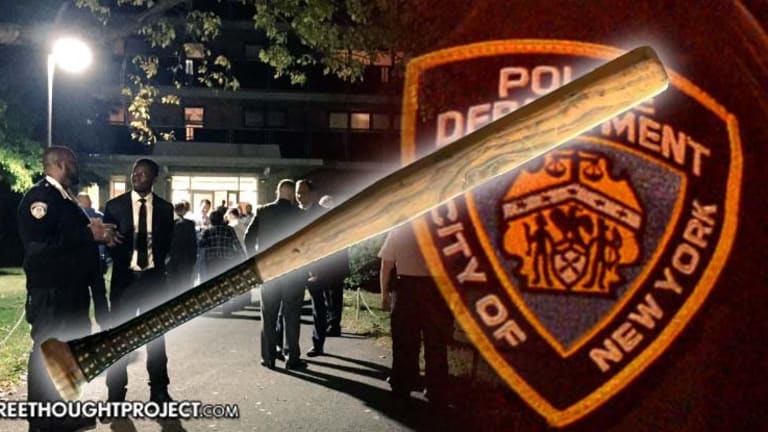 Instead of Using His Taser, Cop Shoots, Kills Mentally Ill Elderly Woman 'Armed' with a Bat
An NYPD police officer shot and killed an "emotionally disturbed" 66-year-old woman, opting for his gun despite having a Taser.
New York, NY -- (RT) An NYPD police officer shot and killed an "emotionally disturbed" 66-year-old woman, opting for his gun despite having a Taser. The woman was armed with a baseball bat. The department says an investigation is under way.
Officers arrived at an apartment in the Bronx after receiving a call about the woman on Tuesday evening. When they arrived, a neighbor complained that she was acting in an "irrational manner," according to a statement by NYPD Assistant Chief Larry W. Nikunin.
When police entered the apartment, the 66-year-old woman was armed with a pair of scissors. An officer was able to persuade the woman to put them down after engaging her in conversation. However, the woman then approached the officer and picked up a baseball bat, attempting to hit him. The officer then chose to fire his handgun at the woman, despite being equipped with a Taser. "As she attempted to strike the sergeant he fired two shots from his service revolver, striking her in the torso," Nikunin said. The woman was taken to a local hospital, where she was later pronounced dead.

It remains unknown why the officer chose to shoot the woman instead of using his stun gun.
"The sergeant was armed with a Taser. It was not deployed and the reason it was not deployed will be part of the investigation and review," Nikunin said, as quoted by New York Daily News.
New York Daily News journalist Andy Mai tweeted that the victim was African-American, although that has not been confirmed. Journalist Gerson Borrero tweeted that the officer involved in the shooting – reportedly a white male who had been on the job for eight years – has been placed on modified duty, citing sources.

The Tuesday incident was not the first time the woman had acted irrationally, and police had been called to the apartment in the past, according to public advocate Letitia James, who has called for the NYPD to "expand the use of non-lethal force"by the department.
Bronx Borough President Ruben Diaz Jr. has called for a full investigation into the shooting, comparing it to the 1984 police killing of Eleanor Bumpurs, a disturbed 69-year-old woman who was killed while brandishing a knife at officers attempting to evict her from her Bronx apartment.
NPYD Emergency Service Unit officers began carrying Tasers shortly after Bumpurs' death.
The NYPD says the shooting is being investigated by the Force Investigation Division, and that a "full review of the facts and circumstances of this incident will be conducted."
The shooting comes as the Black Lives Matter campaign spreads across the US, with protesters staging recent demonstrations against the shooting of unarmed African-Americans by police.