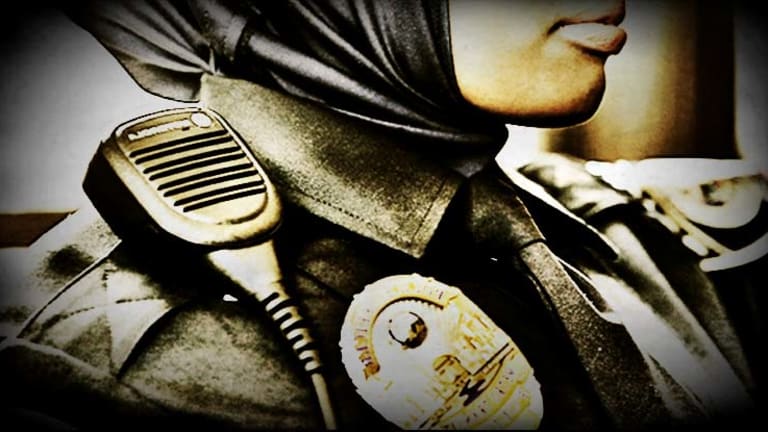 Cop Harassed, Punished and Beaten by Fellow Cops for Being Muslim — Lawsuit
An NYPD Cop has filed a lawsuit after enduring punishing discrimination and was even beaten — because she's Muslim and wears a hijab.
New York City — A female police officer has filed a lawsuit against her New York Police Department colleagues after she endured punishing discrimination and was even beaten — because she's Muslim and wears a hijab.
Thirty-eight-year-old Officer Danielle Alamrani describes years of horrendous verbal abuse — fellow cops called her a "Muslim bitch," regularly referred to her as "the Taliban" and "terrorist," and even refused to work with her, once she began wearing the headcovering on the job.
According to the lawsuit, as paraphrased by Gothamist, "In one particularly disturbing incident [on Christmas Day] December 2012, Alamrani claims that two officers in the precinct tried to rip off her hijab, referred to her as 'a Muslim bitch' and one told her 'I will punch you in the face.' Alamrani's suit says the officers who allegedly did this weren't disciplined and therefore felt empowered to continue harassing her. Two years later, in 2014, Alamrani's suit says she and her husband were arrested after a neighbor made a noise complaint about their children despite a responding officer finding the children asleep when they came to her home. The suit claims that the responding officer also detained Alamrani's children for eight hours 'just to harass her.'"
"During this incident, the responding officer," states the lawsuit, "made numerous comments about Plaintiff Alamrani's religion, including that Plaintiff Alamrani's family were 'Arabs' who 'slept on the floor like animals.'"
Alamrani came to the New York Police Department in 2006, and converted to Islam the following year. Harassment — including violence — coincided with the time she began wearing a hijab, even though she sought and received religious accommodation before doing so.
According to the lawsuit, the bullying eventually became unbearable and Alamrani took a leave of absence in 2015 — but faced even greater discrimination, led by a new supervisor, upon her return.
Gothamistexplains:
"[I]n November 2015, shortly before leaving the 94th Precinct, Alamrani claims that a fellow officer took a picture of her when she was at a gun range for work reasons and then posted the picture to Facebook. Other police officers, including her coworkers, commented on the photo that Alamrani was 'a moving target,' 'a fucking disgrace,' that she was unfit to do her job" — many commenters brazenly threatened violence.
"She has been severely impacted," attorney for Alamrani, Jess Rose, told the Independent. "She had to take a leave of absence. You cannot treat people like this in New York City. You cannot treat people like this in the United States."
Now matter how she responded and whom she complained to, Alamrani did not receive any assistance from the department who'd employed her for years.
NBC Newsreports:
"Alamrani said she reported the harassment to a supervisor, who notified the department's equal employment opportunity office, but it allegedly kept up even after a complaint was filed, court papers said.
"In response to the attack, officers allegedly involved in it were assigned to different shifts, but they all still encountered one another in the station house's common areas, such as the locker room, according to court papers. One of those officers, the lawsuit said, was Alamrani's equal employment opportunity liaison."
In fact, formally complaining or attempting to follow departmental policy appears to have aggravated Alamrani's xenophobic colleagues — worsening their already abhorrent behavior.
Danielle Alamrani seeks an unspecified total in damages from the NYPD and City of New York for allowing a hostile work environment in which religious discrimination and physical violence thrived.
"I think justice," Rose, the attorney, told NBC News, "if there is such a thing in our legal system, would be to hold people accountable for their actions within the NYPD, that there would be at least some disciplinary or other action taken to let people know that you can't treat coworkers this way."
Danielle Alamrani v City of New York, NYPD by Nbc AsianAmerica on Scribd