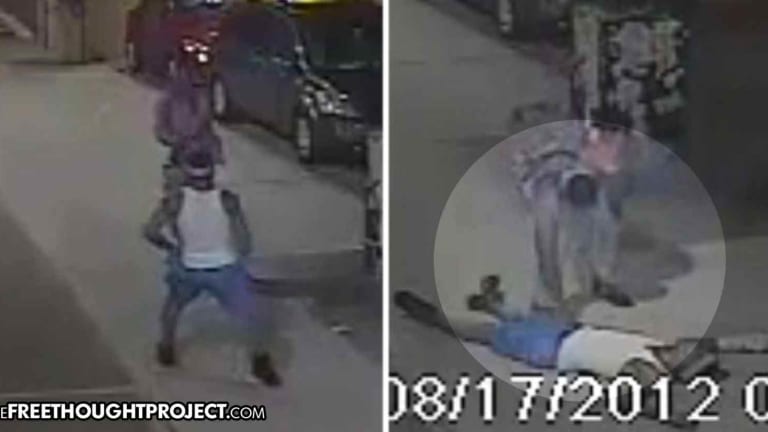 WATCH: Cop Shoots Innocent Unarmed Man in the Face, Plants a Knife—NOT Charged
Despite being seen on video shooting an unarmed, innocent man in the face and planting a knife on him, an NYPD cop has yet to be charged.
New York, NY — A police sergeant in New York was caught on video earlier this month confronting an unarmed 21-year-old man and shooting him at point blank range right in the face and then planting a knife on him. Sgt. Ritchard Blake claims the victim, Thayvone Santana was trying to rob him, but video and family members say otherwise. Now, after investigating the incident, it was reported this week that Blake was fired—but he is still not charged.
According to a report in the NY Times, a spokesman for the office said on Saturday that the episode remained under investigation but declined to comment further.
The police official who disclosed the firing did so on the condition of anonymity because he was not authorized to discuss it. Neither the Police Department nor the Sergeants Benevolent Association responded to questions on Saturday, and efforts to reach Sergeant Blake were unsuccessful.

He had previously told officers that he was worried about the safety of his girlfriend, whose relationship with the two men had been a source of simmering friction between them.
According to police, Blake claimed that Santana was attempting to rob him, so he had no choice but to shoot him in the face. However, police later changed their story and admitted that Santana and Blake knew each other and may have been in a dispute over a girl.
As the video shows, Blake and Santana appear to be having a verbal dispute on the sidewalk. At no time does Santana ever try to attack, pull a weapon, or otherwise physically assault Blake.
However, as the video shows, Blake then pulls a gun from his waistband and fires off three rounds into Santana's face.
After Blake shoots the innocent man, he is then seen on the video bending over his victim and placing a large knife next to his body.
There was only one problem with planting the evidence, however—the surveillance camera. Once Blake seemed to realize he was on surveillance video, he then picked the knife back up and put it in his back pocket.
After he was seen on video shooting an unarmed man in the face and planting evidence, Blake was not arrested. Not only was he not arrested but he was allowed to stay on the force until last week.
"There are certain things that we saw in this investigation that we have questions that we want answered at this point, until we answer that we felt it was best to place him on modified duty," said NYPD Chief of Department Terence Monahan earlier this month, according to WABC.
Adding to the unscrupulous nature of this case is the fact that Blake was already on administrative probation with the department because he had been charged with beating a woman in 2016. In March, the NY Daily News reported that as a result of the assault on a woman, Blake was suspended for 36 days and placed on dismissal probation.
Dismissal probation means that cops who've been charged with crimes can stay on and work, but it allows the police commissioner to fire them without a trial during their yearlong probation. This may be the only reason Blake has been fired as shooting a man in the face and planting evidence on video is likely a violation of this probation. However, it wasn't enough to get him charged.
If you'd like to peacefully voice your concern over the NYPD's lack of charges to their officer shooting an unarmed man on video, you can do so at their Facebook page here.