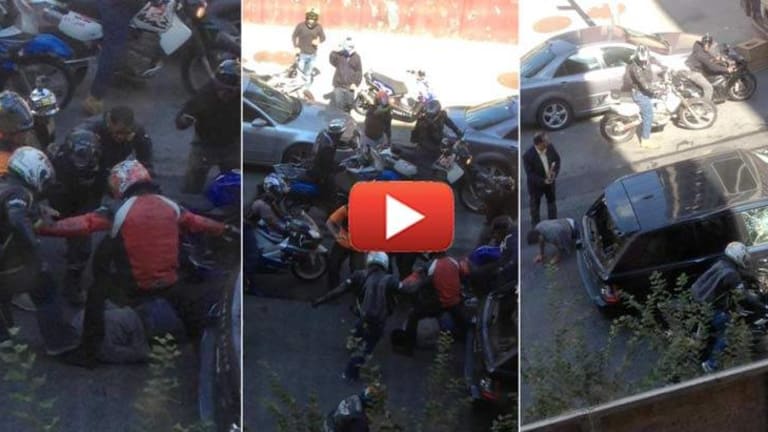 NYPD Cop On Trial for Taking Part in a Brutal Biker Gang Beating Caught on Video
The cop's attorney claims he was forced to terrorize this family in order to maintain his cover.
New York, NY -- Wojciech Braszczok, an undercover New York biker cop, is on trial this week for allegedly participating in a brutal beating caught on camera.
Braszczok is facing charges of gang assault and first-degree assault. He stands to serve 25 years if convicted.
On Sept 29, 2013, Alexian Lien, his wife Rosalyn Ng, and their 2-year-old daughter were confronted on the West Side Highway in New York by a group of bikers.
"We were just kind of shocked and terrified and Alex asked me what to do and I just said, 'Go!' recalled Ng from the stand.
While trying to get away from the bikers, Lien ran over one of them. The bikers then chased down the family in their Range Rover and pulled Lien from the vehicle.
He was severely beaten by up to nine bikers as they kicked, punched, and struck him with their helmets.
"We have a baby! We have a baby! Help! Help!," Ng said as bikers attempted to pull her from the vehicle as well.
Graphic new video footage was released this week showing the assault.
Within this group of bikers was undercover officer Braszczok, who according to Rosalyn, not only did nothing to stop the assault, but actually took part in it by smashing out the rear window of their SUV.
Braszczok's attorney, John Arlia, claims that he did nothing to stop the attack and participated in smashing the window in order to protect his cover.
"There's no claim that (Braszczok) ever laid a hand on Alexian Lien, but he very much terrorized that family," Assistant District Attorney Joshua Steinglass said in his opening statement.
"This defendant's conduct was far more egregious than failing to take police action," he added.
According the New York Daily News,
Prosecutors charge Braszczok, who faces gang assault and related counts, not only failed to follow NYPD protocol in the situation by reporting a crime or intervening if possible, but he engaged in the mayhem "he helped create."