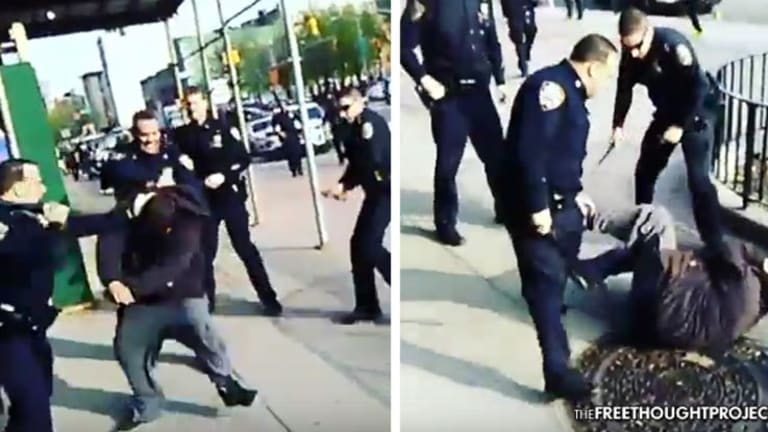 Disturbing Video Shows Cops Smash In Unarmed Mentally Ill Man's Head With Batons
A graphic video was submitted to the Free Thought Project showing the horrifying moment NYPD cops bludgeoned a man's head with their batons.
New York, NY — A disturbing video was submitted to the Free Thought Project this week showing multiple NYPD police officers beating an unarmed and nonviolent man with their batons.
The video was taken by Ryan Rodriguez in April of this year. The man getting severely beaten by NYPD is a regular transient around Rodriguez' neighborhood and appears to have very clear issues with his mental health.
As the video begins, the unidentified man appears frightened and is backed into a corner by multiple officers.
"What'd I say?" asks the man, just before an officer delivers a haymaker blow to his knee cap with his baton.
"Get the fuck down!" screams the officer as he continues doling out the abuse.
All of the sudden, one of the baton blows hits the man directly on his head.
"There is a sickening noise, and the victim grabs his head and falls to the ground," explains Rodriguez. "He is clutching his head in pain on the ground, and gets accused of resisting, then is punched by the same officer."
"Follow directions!" barks the officer as he doles out punishment. "Stay on the ground," he yells as the man writhes in pain on the sidewalk.
"What did I do?" asks the man as cops pile on top of him. "I didn't do shit."
As cops place him in handcuffs, the man, clearly in a delusional state, begins talking in a high pitched voice and asks, "was I doing something?"
According to Rodriguez, the man was handcuffed and brought to Bellevue Hospital for a short stay.
When he got out, Rodriguez asked him what the interaction was about. "[He] does not remember being hit or what he was arrested for," Rodriguez notes. "He has problems."
Being the caring person that he is, Rodriguez is attempting to get this man some help. However, that sounds easier than it actually is.
In a separate video, Rodriguez goes back to talk the man. Concerned for his wellbeing, Rodriguez tries to get him to file a complaint or talk to one of the attorneys who's contacted him. However, likely due to his mental health issues, he wants nothing to do with going after those cops. Or, perhaps, maybe he thinks it will get him more of the same from these abusive officers.
"As you might see, this guy seems to be on heroin, and he says he does not want to pursue it," Rodriguez told the Free Thought Project.
"This is despite the fact that he is constantly begging for change around my apt. He clearly has some serious issues, which makes what the police did to him much worse," he said.
"He seems to fear repercussions for whatever reason, and is reluctant to pursue justice," explains Rodriguez. "We must realize that this could have happened to any of us, and the NYPD needs to learn that this is NOT OK!!!"
Here at the Free Thought Project, we agree that it is not okay for police officers to bludgeon in the heads of defenseless nonviolent human beings in the midst of a mental health crisis.
The Free Thought Project reached out to NYPD's 9th Precinct to ask if they could give us a statement on this video. We have yet to receive a response.
Below is the other video in which Rodriguez tries to get the man help.