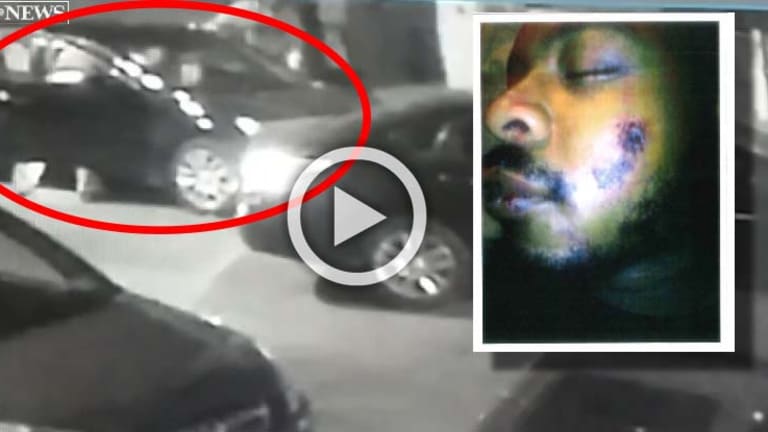 Cops Who Stalked and Severely Beat Innocent Postal Worker, On Video, Cleared of Charges
The NYPD cops charged with the brutal beating of Karim Baker had their charges dismissed in spite of video evidence.
New York, NY — A dangerous precedent has been set in New York this week after two NYPD officers who stalked and beat an innocent postal worker — to the point of hospitalization, leaving him disabled — were let off with zero consequences.
Angelo Pampena, 32, and Robert Carbone, 30, faced up to seven years in prison on charges that they violently assaulted postal worker Karim Baker on Oct. 21, 2015. On Thursday, Queens Supreme Court Justice Michael Aloise cleared both of these cops — in spite of the overwhelming evidence against them — including video. Both of their cases were sealed and dismissed.
Baker had done nothing wrong and was being actively stalked by multiple NYPD cops for simply giving a man, who he did not know, directions.
On Dec. 20, 2014, a deranged lunatic would ask Baker for directions to the Marcy Houses in Bedford-Stuyvesant. Baker did not know this lunatic and had no idea of his intentions. However, he was seen on video giving him those directions. That demented madman was Ismaaiyl Brinsley, who went on to murder two NYPD cops in cold blood — Officers Rafael Ramos, 40, and Wenjian Liu, 32 — before killing himself.
For the next ten months, NYPD officers allegedly set out to make Baker's life a living hell after they found out he gave Brinsley those directions. Baker was stopped around 20 times by NYPD cops, before the final stop, in which they nearly killed him.
"I was being harassed, like cops outside by door and my family members' doors, friends' doors, just everybody. I felt just some type of way," Baker said last year of the stalking.
"Mr. Baker began to be systematically harassed. He was pulled over by the police for various minor traffic infractions approximately 20 times in the span of nine months," said Eric Subin, Baker's attorney.
This final stop was caught on video.
On that fateful October night in 2015, Baker had just finished his shift when officers Pampena and Carbone moved in. Still in his uniform, the officers rolled up on Baker and began demanding he show them his ID. Baker, knowing he had done nothing wrong, refused to give his ID unless the officers could tell him why they needed it.
According to Subin, the officers claimed Baker was too close to a fire hydrant and then they began their attack. According to Subin, Baker, and surveillance footage of the incident, Pampena and Carbone, who were in plainclothes at the time, began striking Baker in the face and body multiple times before dragging him out of the car where they continued to beat him.
"He was a mess," Subin said. "He got the hell beaten out of him."
Baker suffered bruises to his face, tears to ligaments in his knees, and injuries to his spine and has been unable to return to work as a result of these injuries.
Baker was then arrested and charged with resisting arrest and criminal possession of a controlled substance. All charges would later be dismissed as they were baseless.
"We are gratified by the judge's decision," Pampena's attorney, James Moschella, said of Thursday's ruling. "These officers went out there in good faith and we feel the verdict is not only a vindication of their acts, but the brave actions of all New York City police officers day in and day out."
"From the beginning, this appeared to be an overzealous prosecution not supported by the facts, so I appreciate the verdict," Palladino said.
"I took the stand against the officers. I'm definitely worried. I still don't feel comfortable," said Baker of the verdict. "I feel I have to watch over my shoulder, watch my back. I just don't feel secure. I'm just living life like under a rock, trying to be safe and secure."
"It is pretty outrageous," Subin said. "This beating is caught on video. There's audio. The audio has him begging for his life and screaming for help. To have a complete acquittal, even of perjury, it just seems to me to be outrageous. It's a bad day for victims, for justice."
Baker is currently suing the NYPD for $100 million.
[author title="" image="https://tftpstagingstg.wpengine.com/wp-content/uploads/2016/03/magorist-e1456948757204.jpg"]Matt Agorist is an honorably discharged veteran of the USMC and former intelligence operator directly tasked by the NSA. This prior experience gives him unique insight into the world of government corruption and the American police state. Agorist has been an independent journalist for over a decade and has been featured on mainstream networks around the world. Agorist is also the Editor at Large at the Free Thought Project. Follow @MattAgorist on Twitter, Steemit, and now on Facebook.[/author]