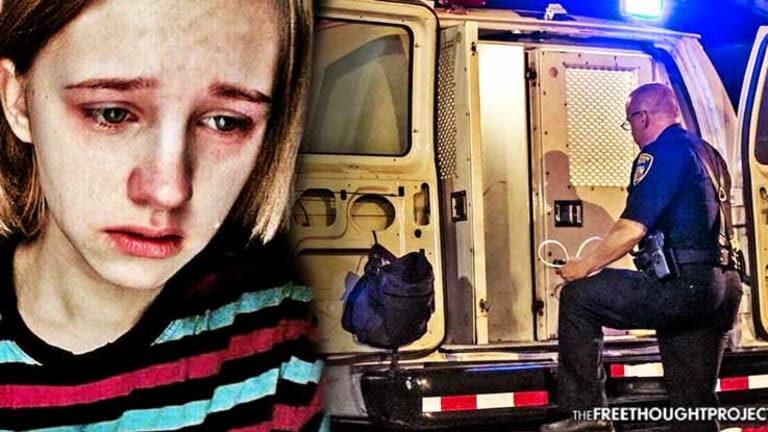 Two NYPD Cops Charged for Kidnapping Teen, Cuffing Her, Then Raping Her in Their Van
Two NYPD detectives are facing first-degree rape charges for arresting a teenage girl and then raping her while she was handcuffed in the back of their van.
New York, NY — The two New York Police Department detectives who were accused of raping a handcuffed teenage girl in the back of their van have reportedly been indicted on first-degree rape charges.
According to a report from the New York Post, officers Eddie Martins and Richard Hall are facing a minimum of 3 years and a maximum of 25 years in prison if they are convicted, and they are expected "to turn themselves in early next week for arraignment in Brooklyn Supreme Court."
Martins and Hall were working as narcotics officers in south Brooklyn on Sept. 15 when they arrested an 18-year-old girl on the allegation that she was illegally possessing cannabis and an anti-anxiety drug. They drove her to a Coney Island Chipotle parking lot, "where Martins raped her and both of the officers forced her to perform oral sex, she has alleged through her lawyer," according to the report.
Not only did the officers not deny that they had sex with the girl while she was handcuffed and in their custody, they had the audacity to claim that it was consensual. In response, the victim's lawyer, Michael David, told the Post, "She just wants everybody to know it's an absolute lie. She was viciously, brutally raped in handcuffs.''
Both detectives were dressed in plainclothes when they pulled over a car the girl was riding in with two male friends. One of the friends told The Post that the officers proceeded to search the car, where they found "his Prozac pills and Klonopin pills inside the young woman's purse."
"They said she's not allowed to have them outside the bottle, they're a controlled substance, and she has to go to the precinct," the friend said. "I saw them put her in cuffs. She was like, 'Are you serious?' "
While the fact that the detectives searched the car in the first place should be called into question, the report claimed that "under New York state law, someone can be charged with a felony they did not physically commit if they acted in concert with a co-defendant who did so." Because the pills were found in the girl's purse, she was the one who was targeted—but the fact that neither of her friends were targeted by the officers raises questions about whether they sought out a reason to justify arresting her, in order to rape her.
According to a report from the New York Daily News, after news of the horrific rape allegation surfaced, Martins and Hall were "demoted from detective to police officer" and placed "on desk duty and stripped of their guns and shields." They were finally suspended after the indictment was announced on Friday.
NYPD Commissioner James O'Neill condemned the officers' actions on Tuesday, saying, "If this case turns out that it actually happened, again, it goes to the trust we've been trying to build over the last three years. I'd be extremely disappointed."
"Not all 36,000 cops deserve to wear their shield around their neck," O'Neill said. "If these two detectives did something wrong, then they'll pay the price."
While it appears that it was not until the story of the gruesome rape allegations began generating media attention that the accused rapists were finally demoted and then later suspended, there is a chance that they will face some form of justice for brutally raping, and forever changing the life of, an innocent teenage girl.