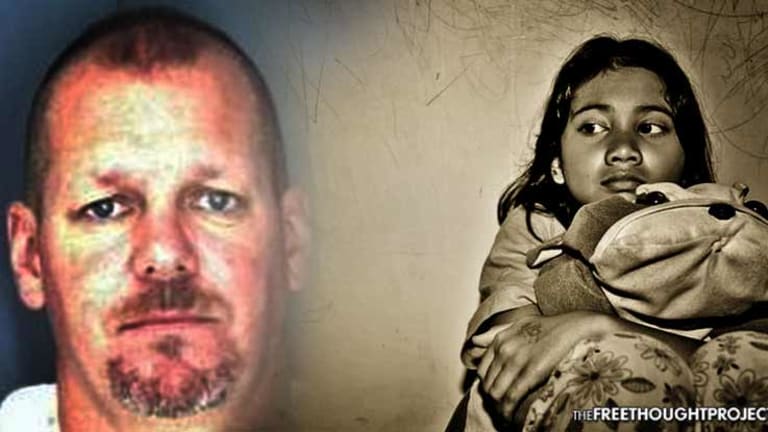 Cop In Charge of Investigating Sex Crimes Charged with 82 Counts of Child Sexual Abuse
A former NYPD detective in charge of Sex Crimes has been charged with 81 counts of sexual abuse against two children he repeatedly attacked.
One of the actual detectives upon which the television series Law and Order - SVU (Special Victims Unit) was based, has been arrested and charged with 82 counts of having sex with minors. The children, who are family members but not his own children said retired NYPD police officer Nicholas McAteer repeatedly raped them.
McAteer, who was arrested on August 22nd after one of the girls came forward, was charged with several felony child sex abuse charges and released after posting $75,000 bond.
But just days later, the second alleged victim came forward and McAteer was then taken back into custody after a grand jury convened and handed down dozens of additional charges. The two say the abuse took place over decades. The girls will not be identified as victims of sexual abuse are not identified by news media organizations even after they're adulthood.
McAteer was a member of the NYPD's Manhattan Special Victims Division. He was also an officer with the Internal Affairs division, the department which is said to be staffed by men of the highest integrity.
At one point in his career, the retired NYPD officer was in charge of investigating the same types of sex crimes he's now charged with.
The girls reportedly told police he would have sex with them after his wife fell asleep, and inside his unmarked NYPD police cruiser. They say the sexual abuse took place when they were 12 and 13 years of age. The arrest of McAteer came just weeks before a San Antonio sex crimes investigator was accused of disgracing his job as well.
Bexar County District Attorney Nico LaHood says San Antonio Police Detective Kenneth Valdez not only did not close the sex crimes cases he was responsible for. Instead, he simply threw them away.
LaHood claims, in essence, Valdez is guilty of dereliction of duty:
One thing I know for sure is this individual had a duty to protect children, and he chose to ignore that duty.
Bexar's DA said he's very rarely shocked by anything any longer, but what Valdez did elevated incompetence to a whole new level:
Not too many things shock me anymore...Of course, it's frustrating. This individual had a duty and we rely on people like him to do their job and to do it ethically and legally, and for me morally.
Charges have not yet been filed against the sex crimes detective, in charge of putting rapists, pedophiles, and molesters away. However, it appears as though prosecutors are looking to bring the detective to justice for the crime of tampering with official police evidence.
To quell the public's fears and possibly regain the trust of his constituents, San Antonio Police Chief W.P. McManus issued the following statement which reads in part:
A recent, self-initiated internal audit of certain cases assigned within the Special Victims Unit (SVU), revealed that numerous assigned cases had not been properly investigated.
He stated the police matter had been turned over to Internal Affairs and that they were in the final stages of investigating the crisis. He also said:
All cases in question have been reassigned to other investigators for proper follow-up. Additionally and after reviewing the facts, a lieutenant and two sergeants were transferred from the unit for failing to properly supervise the unit. To further ensure that no other cases have been mishandled, I have requested a complete, outside review of all SVU cases by city attorneys with expert knowledge in this area.
As TFTP has reported, rape cases often get shelved and DNA processing never takes place. However, attempting to reassure the public, McManus doubled down on his promise to investigate the alleged crimes in question saying:
SAPD's responsibility to investigate reported crimes and assist victims is one of our core missions. This investigation will continue until we are certain that all cases have been properly investigated.
Two cases, separated by over a thousand miles, serve to underscore the sad state of affairs in the United States. Not only are rape allegations not being investigated, the files are simply being destroyed, and those sworn to protect and serve the public from predators, are themselves becoming the very thing they supposedly loathed at one time: criminals.