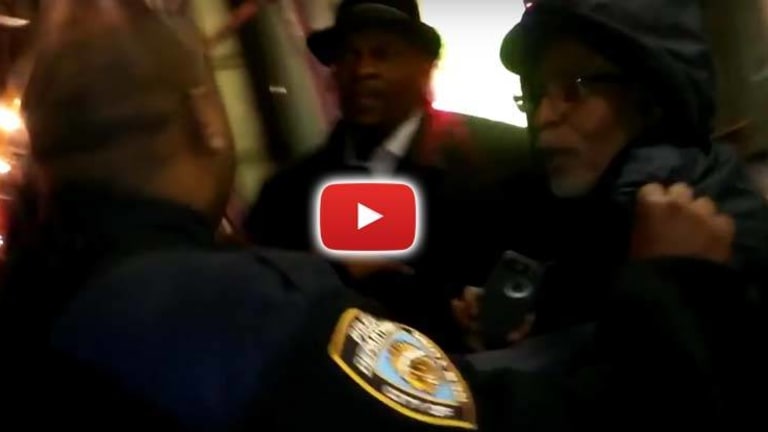 NYPD Ignores 'YouTube Effect' & Free Speech -- Arrest 5 Activists in 3 Days for Filming, Attack 74-yo
NYPD cracked down on activists this week, arrested 5 people in just 3 days, including a 74-yo man who was assaulted for filming.
New York, NY -- (RT) Five high-profile activists have been arrested by the New York City police just this week, prompting speculation about a crackdown. RT caught up with a journalist who has followed the spike in arrests of prominent anti-police brutality demonstrators.
On Thursday, NYPD officers arrested Ramsey Orta once again after he filmed them. Orta is the citizen who filmed the killing of Eric Garner by police trying to arrest him for selling loose cigarettes.
This time, Orta was filming the arrest of a man who was pulled over by police outside of the New York City Housing Authority's (NYCHA) Baruch Houses Wednesday night. Orta claims he had not been not obstructing the work of the officers, but was arrested anyway. He has been repeatedly targeted by the NYPD since his filming of the death of Eric Garner. But the cop-watcher's arrest isn't the only one conducted by the NYPD on an activist this week.
Earlier Wednesday morning, NYC Jails Action Coalition, an activist group, organized a protest around the trial of 10 Rikers Island prison guards accused of brutally beating a detainee for looking at the prison's assistant chief of security the wrong way, according to the New York Times. The corrections officers are also accused of an attempt at a cover-up.
Akeem Browder, the brother of Kalief Browder, was arrested at the protest. Kalief Browder was arrested on suspicion of stealing a backpack and jailed because he was unable to pay his $10,000 bail at the infamously violent Rikers Island. He was held there for three years without ever being charged for a crime. Kalief's case was profiled in the New Yorker because he spent more than 400 days in solitary confinement. After his case was dismissed and he was released, Kalief killed himself.
Josmar Trujillo, a New York City-based journalist, has followed the arrests of activists this week.
"Police are generally aggressive towards cop-watchers and activists who are not as well known," he told RT. "It just so happened that this week there were four ‒ actually five ‒ if you count Akeem Browder ... who was doing an action in the Bronx yesterday morning."
"Part of it may be all the criticism around policing and the issues raised have kind of died down a little bit, in the sense they're not in the media spotlight. So maybe police feel like it's back to business as usual," Trujillo added.
The first arrest of an activist this week came Monday at the hands of NYPD's Strategic Response Group (SRG.) The unit was designed for two purposes: to handle instances involving terrorism and active shooters, and for crowd and protest control.
Activists involved with the weekly People's Monday demonstration, which highlights incidents of police brutality by publicly reading the facts of the cases, were marching as usual. This week, the group was highlighting the case of Barbara Dawson, a Florida woman who died after being arrested and forcibly removed from a hospital where she had gone to seek help for stomach pains.
During the demonstration, Dennis Flores, founder of the Brooklyn cop-watch group El Grito de Sunset Park, was arrested while filming members of the SRG.
NYPD Deputy Inspector Andrew Lombardo, of Camp Bucca and Abu Ghraib notoriety, led the policing of the march, working with the SRG to break it up. After threatening activists with arrest if they crossed the street, Flores was arrested at a pedestrian island over accusations of jaywalking.
"For anyone who is cop-watching, they can tell you there's always been a risk of arrest even though you're not supposed to be arrested for filming the police," Trujillo said.
Tuesday night, NYPD officers arrested Five Omar Mualimm-ak, an activist who was kept in solitary confinement for five years, after a book-launch event where he spoke.
After the event, held at the Open Society Foundations on West 57th Street in Manhattan, Mualimm-ak and fellow activist Joseph "Jazz" Hayden were leaving the building and found New York Police Department officers harassing a homeless man. Hayden filmed the encounter and was eventually arrested. Mualimm-ak was detained for protesting the arrest of a fellow activist.
New York City continues to have many instances of poor relations between communities and the police, despite the fact that Mayor Bill de Blasio ran as a progressive reformer, and has frequently inspired ire from the NYPD. However, the issue may not be so black-and-white, Trujillo said.
"I think in general, he's always said he completely supports the NYPD and reaps praise on them," the journalist told RT. "He's just not as pro-cop as maybe Rudy Giuliani was. That's it."