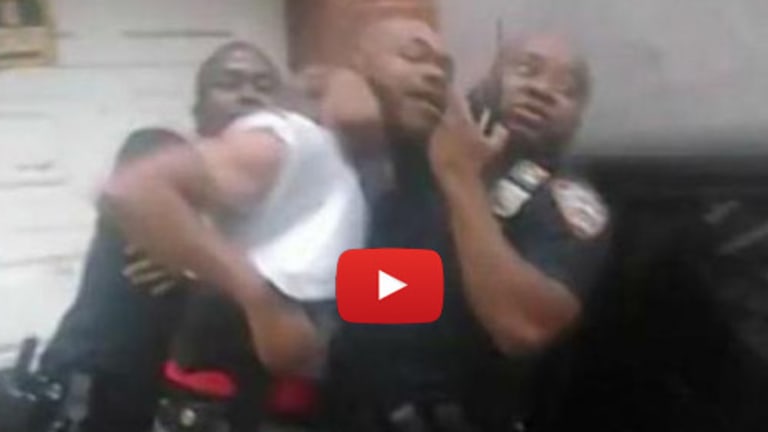 NYPD Officer Stomps on Man's Head
Jay Syrmopoulos
August 1, 2014

New York -- NYPD Officer, Joel Edouard, 36, was placed on desk duty after allegedly stomping on a man's head during an arrest. Jahmil-El Cuffee, 32, was in the process of being arrested on suspicion of marijuana possession and had already been restrained when the officer is seen on video stomping on Cuffee's head.
Cuffee was allegedly seen by officers rolling a joint on the street, which lead to the stop. As a result of the head stomp he was taken to the hospital with head and neck injuries. The police subsequently charged him with disorderly conduct, resisting arrest and possession of marijuana.
In addition to the head stomp an officer can be seen on video pulling a gun and putting it in Cuffee's face as he is being subdued. Edouard was ordered to surrender his gun and badge and put on desk duty similarly to officer Daniel Panteleo who choked Eric Garner, 43, to death by putting him in a chokehold on July 17.
Gary Dormer, a witness who recorded the confrontation on his cell phone, told PIX11,
"He abruptly stomped on the top of the gentleman's head. He lifted his foot with excessive force and came down like he was stepping on an ant or roach or something at the time." He went on to state, "It could've been any of us."
Community Advocate Tony Herbert wants the officer removed from his job. "This officer cannot represent our community and work for us if he's going to violate people's rights," said Herbert.
The NYPD claims they are investigating the video to determine if any excessive force was used.
Jay Syrmopoulos is an investigative journalist, freethinker, researcher, and ardent opponent of authoritarianism. He is currently a graduate student at University of Denver pursuing a masters in Global Affairs. Jay's work has previously been published on BenSwann.com and WeAreChange.org. You can follow him on Twitter @sirmetropolis and on Facebook at†Sir Metropolis.