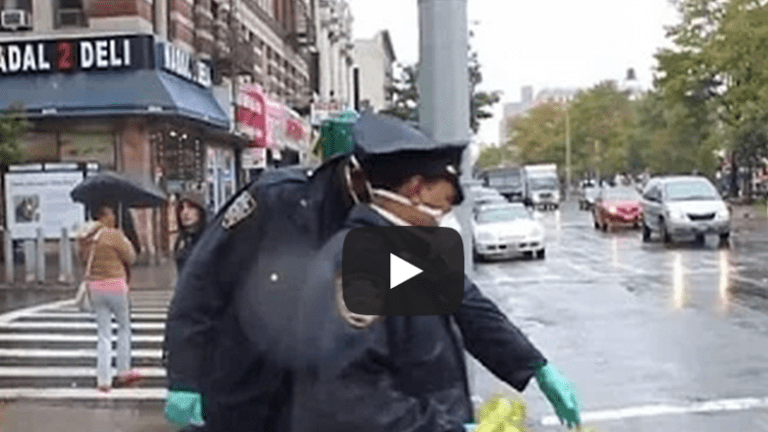 NYPD Officers Throw Away Protective Gear Worn in Ebola Zone in Public Trash Can
New York, N.Y. – A recording of two NYPD officers leaving the area near the Harlem apartment of Dr. Spencer, the fourth confirmed Ebola patient in the U.S., is causing outrage. The officers are seen throwing away their gloves and masks in a public garbage can.
Spencer recently returned to the U.S. after treating Ebola patients in Guinea. There are concerns about potential exposure after it was learned that he had violated his voluntary quarantine to go bowling the day before being admitted to the hospital, taking an Uber cab to and from the location, according to CBS 2.
While it isn't clear if the officers actually entered the apartment, out of an abundance of caution the items should have been put in a biohazard bag and not a public trash can.
While not trying to be an alarmist, a real risk of cross contamination exists when people fail to properly wear personal protective equipment (PPE) or properly dispose of their PPE after use.
To simply throw the equipment in an open garbage can on a public street shows a stunning lack of precautionary training and preparedness in dealing with highly transmittable diseases on the part of the NYPD.
While in no way fear mongering, it is clear that in the most populous city in the U.S., there should be more stringent protocols in place when dealing with situations such as this.
Jay Syrmopoulos is an investigative journalist, freethinker, researcher, and ardent opponent of authoritarianism. He is currently a graduate student at University of Denver pursuing a masters in Global Affairs. Jay's work has previously been published on BenSwann.com and WeAreChange.org. You can follow him on Twitter @sirmetropolis and on Facebook at Sir Metropolis.