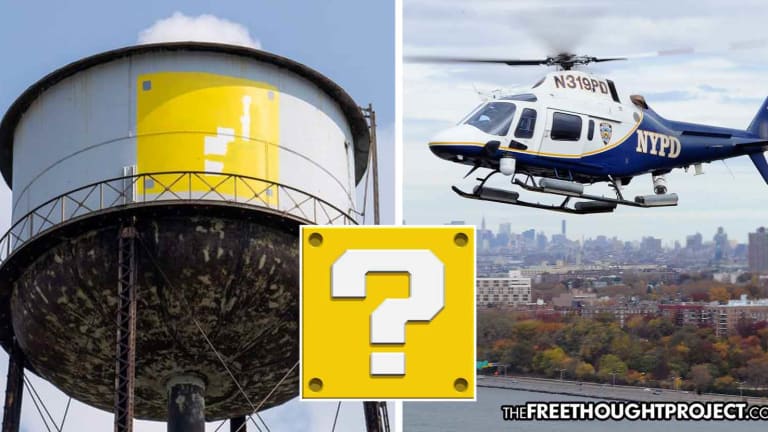 Chopper Dispatched, Dozens of Cops Set Up Road Block to Catch 1 Man Painting Super Mario Graffiti
Massive amounts of resources were squandered by the NYPD as they deployed dozens of cops and a helicopter to catch a graffiti artist painting a water tower.
New York, NY — In 2020, 1,525 shootings took place in New York City. Of those shootings, police made just 483 arrests — a clearance rate of just 31.7 percent, according to the NYPD's own data. That means 70 percent of all shootings in New York City have gone unsolved. According to the New York Police Department's most recent statistics, overall crime is on the rise. The city has experienced a 22% surge in overall index crime compared to the same time last year. As assaults, murders, and robberies go unsolved at an increasing rate, however, massive amounts of resources are being squandered to stop a single man from spray painting Super Mario graffiti.
In what can be described as a flagrant abuse of taxpayer funded police operations, the NYPD deployed a helicopter, set up a massive road block, shut down an entire neighborhood, and deployed dozens of cops — to catch a single graffiti artist tagging a water tower with a Super Mario Bros. 'question block.'
Residents in the area were shocked at what they were witnessing, thinking a manhunt was underway for a killer or mass shooter. However, they quickly learned it was all over a graffiti artist, leading many to question the massive squandering of resources.
As the NY Daily News reports, "cops couldn't find him at first, but an NYPD helicopter shone flood lights on the structure and saw him popping his head through a hatch at the top of the 10-story tower, sources said."
Once the helicopter was deployed, police engaged in a 12-hour standoff with an unarmed graffiti artist marooned on a water tower. The neighborhood was shut down the entire time.
"As officers requested he descend the structure, he retreated inside of it," NYPD Emergency Service Unit commander Assistant Chief Wilson Aramboles told reporters. "After having no contact with the individual for several hours, officers became concerned for his safety and utilized a drone in an attempt to make contact with him."
When reporters questioned the massive squandering of resources over a graffiti artist, police gave them the cold shoulder.
Senior editor at WNYC, Christopher Werth was one of those reporters. "I spoke with a lot of Greenpoint residents who were concerned (not to mention annoyed) at the large police response to this graffiti artist. I asked NYPD to respond to those concerns at a press conference. You can hear DCPI say they're not gonna answer my question," Werth tweeted.
At about 1:30 p.m., the unnamed graffiti artist climbed down from the tower and the charade ended. His charges, which are likely just misdemeanors, have not been released. Given the extreme costs of operating a helicopter for 12 hours, paying dozens of cops to stand around and do nothing, and maintaining a road block, the cost to the taxpayers was likely immense.
As stated above, violence crime is up 22% from last year in New York, with shootings spiking up over 70%. The clearance rates for all crimes are also down, meaning police are solving less crimes. Instead of correcting these numbers, officers with the NYPD would rather waste massive amounts of resources on catching a graffiti artist, whose art would've likely been an improvement to the water tower. Shameful indeed.