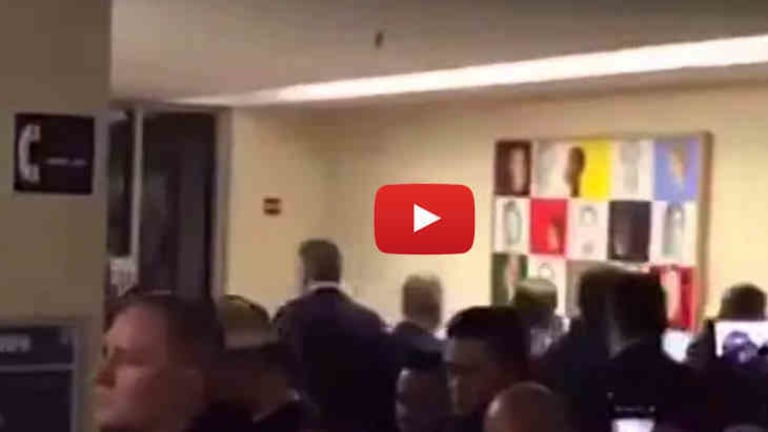 NYPD Turn Their Backs on Mayor in Protest- Blame Him and Protesters for Police Murders
New York, NY-- Tension has been growing in NYC as police unions have been petulantly slinging mud at Mayor Bill de Blasio, a former activist, who has been vocal in supporting activist's rights since the Eric Garner grand jury announcement. On Saturday, following the killing of two police it culminated into a protest by police against the mayor himself.
In early December following the non-indictment announcement in the killing of Garner, de Blasio stated he was "astonished by the decision" and noted that it was a "very painful day for so many New Yorkers." He also stated he had warned his 17-year-old, mixed-race son, Dante, to be careful around police officers.
Patrick Lynch, the president of the New York Patrolmen's Benevolent Association, has been on the attack ever since, despite the fact that no NYPD officers have been tried or convicted for murder since de Blasio has been in office.
He has ranted and raved about Eric Garner causing his own death, asked officer's to sign a petition banning the mayor from their funerals should any deaths occur, and even went so far as to call the protests "stupid s**t."
"If we won't get support when we do our jobs, if we're going to get hurt for doing what's right then we're going to do it the way they want it," he said. "Let me be perfectly clear. We will use extreme discretion in every encounter."

"Our friends, we're courteous to them. Our enemies, extreme discretion. The rules are made by them to hurt you. Well now we'll use those rules to protect us."
Lets not forget he has even accused the mayor of thinking he is running a revolution instead of New York City.
"He is not running the city of New York. He thinks he's running a f**king revolution," Lynch said.
Apparently, even just supporting the first amendment rights of anyone questioning this mob is entirely off limits and turns you into an enemy. Therefore it should come as no surprise that Saturday's temper tantrum would take aim directly at the mayor once again, oh- and anyone else who dare to question why the blood of so many unarmed citizens is pouring into our gutters under the color of the law.
Police officers joined by union leaders turned their backs in silent protest on Mayor Bill de Blasio as he walked into the police press conference at Woodhull Hospital Saturday evening.
Lynch as well as other union leaders then spoke out about their hurt feelings.
"Those that incited violence on the street in the guise of protest, that tried to tear down what New York City police officers did every day. We tried to warn it must not go on, it shouldn't be tolerated. That blood on the hands starts at the steps of City Hall in the office of the mayor." Lynch stated.
By Lynch's logic, any violence brought upon protesters or the community by shaken up cops, should now land squarely on Lynch's mob leading shoulders for his deeply aggressive rhetoric.
This us vs them mentality is exactly the reason why we see so much brutality and why we protest.
https://twitter.com/shaunking/status/546431677992419328