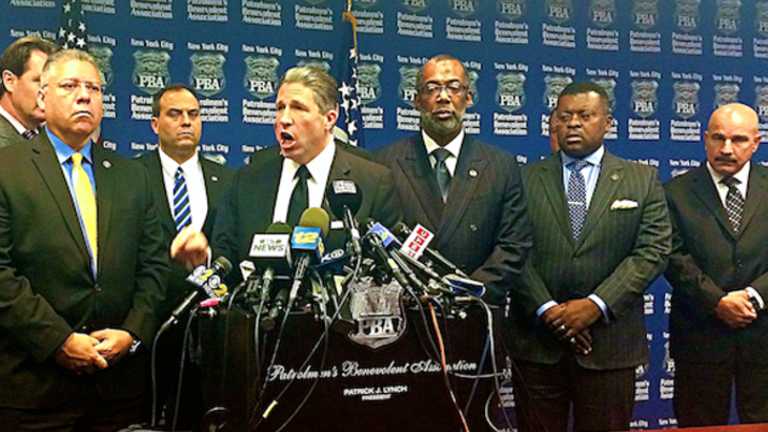 NYPD Union President Says Eric Garner Caused his Own Death
The NYPD did blame one person for the death of Eric Garner, that person was Eric Garner.
New York, NY -- Patrol Benevolent Association President Patrick Lynch spoke at a press conference Thursday and implied that Eric Garner was responsible for his own death.
"We feel Mr. Garner made a choice that day to resist arrest," Lynch said. "You can not resist arrest. It leads to a dangerous confrontation."
During the press conference Lynch went to bat for Officer Daniel Pantaleo, stating that he employed "textbook training." Lynch also disputed the claim that Pantaleo used a choke hold on Garner.
Lynch repeated the phrase that Law Enforcement Officers and those in support of the killing of Garner have been saying ad nauseam since July, "If you can speak, you can breathe."
Police officers nationwide have resorted to this game of semantics, claiming that the maneuver in the photo above, in which Pantaleo's arm was wrapped around Garner's neck while applying pressure, was not a choke hold but actually a carotid restraint; otherwise known as a blood choke hold.
The common carotid arteries are the arteries that supply the head and neck with oxygenated blood. The carotid restraint or blood choke, is supposed to be applied in such a manner as to prevent the blood from flowing through these arteries to the head, in an attempt to render the subject unconscious. The main difference between an air choke hold and a carotid restraint is that one prevents blood flow and the other prevents airflow.
In an ideal setting an officer may be able to differentiate between the two. However, in the above image, we can clearly see that the forearm of Pantaleo is applying heavy pressure to the the upper airway (trachea, larynx or laryngopharynx), of Garner, hence interfering with his breathing, hence the statement, "I can't breathe," hence the New York City Medical Examiner's office ruling the official cause of death a homicide due to "compression of neck, chest and positioning during restraint by police."
The problem here is that the NYPD condones this use of force on a man, who was supposedly innocent until proven guilty. They had accused him of selling "untaxed cigarettes," that's all.
Garner had enough harassment that day and simply expressed these feelings to the NYPD by asking them to leave him alone. Had the NYPD applied any level of discretion in this matter, Garner would be alive today.
You do not have to immediately escalate an otherwise completely peaceful situation into a violent one. Was the state's missing revenue from the possibility of a man selling single cigarettes worth more than the life of another human being? The NYPD thinks so.
This unapologetic response from the NYPD is indicative of a severely inept and violent system.
Exactly one year ago, the country of Iceland grieved because their police force killed someone for the first time in their history. The man they killed was actually shooting at police when they killed him and all attempts to end the situation without deadly force, were exhausted prior to the police officers firing a single shot.
Eric Garner was killed, and the officer subsequently not indicted, because police in America do not have a desire to hold the preservation of life at the precipice of their duty like the police in Iceland. Instead of treating life as sacred, it's merely a speed bump on the way to "upholding the law;" no matter if these laws are obvious extortion tactics or if they are designed to throw people in cages for victimless crimes.
Perhaps one of the most disheartening aspects of America's violent police force is the unquestioning support it receives from members of grand juries. U.S. attorneys prosecuted 162,000 federal cases in 2010, the most recent year for which we have data. Grand juries declined to return an indictment in 11 of them. However, in a matter of just 10 days, not one, but two grand juries broke the overwhelming odds and chose not to indict two officers who killed citizens.
In the video below we see a callous and entitled response from the NYPD union leaders. They think that their violent escalations and killings are simply in line with their policies and are therefore acceptable; they are the heroes in their minds.
Lynch even solidified this assertion by stating that Pantaleo "is literally, literally an Eagle Scout, and I think that story isn't being told. That a New York City police officer went out and did a difficult job, a job where there's no script, and sometimes with that, a tragedy comes."
Apparently the NYPD has a difficult time not escalating situations to violence.
Who is responsible for police having this policy of comply or die? Who is responsible for police forces in America becoming a militarized standing army who continues to play the role of judge, jury, and executioner? Who let this police state get so out of control?
We did, that's who.