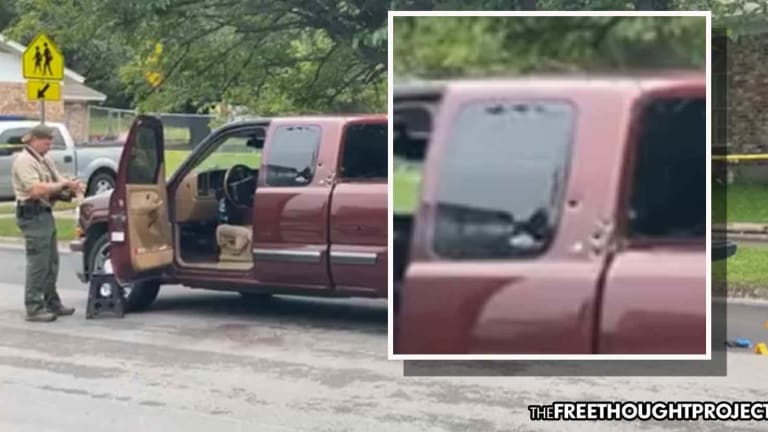 Off-Duty Cop Shoots Innocent Woman on the Way to Hospital and He Was NOT Arrested
In an apparent fit of road rage, an off-duty cop unloaded on an innocent unarmed woman, shooting her multiple times and no arrests have been made.
Copperas Cove, TX — Over the weekend, Lecresha Murray says she began feeling sick so she decided to drive herself to the hospital. Her trip would be dangerously interrupted, however, when a seemingly trigger happy cop decided to dump multiple rounds into her body for no reason. Despite the officer shooting the unarmed woman six times on Sunday, he has yet to be arrested.
"I'm a victim that got shot by an off-duty police officer that did not identify himself," Murray said. "For no reason, I didn't approach him, I didn't threaten him. I don't do anything. He just opened fire for no reason."
According to Murray, she and the off-duty Copperas Cove police officer got into an argument on Sunday as she drove herself to the hospital. She reportedly made a U-turn in front of the cop who decided to launch a pursuit and stalk the woman while off-duty.
Murray says she made the U-turn because she decided she needed to go to the hospital right then.
"I did a U-turn in the middle of the street because I was going to go to the hospital," she said, according KWTX. "I started feeling sick."
After she made the U-turn, Murray says the officer then started to follow her in his personal vehicle. She had no idea he was a cop and his driving was less than professional.
According to Murray, the officer in his silver truck began tailgating her before pulling in front of her and slamming on his brakes and driving slowly. Because the officer was driving slowly, Murray says she drove around him and he began tailgating her once more.
Upset with what was happening, Murray says she stopped at the next stop sign and got out to confront her stalker.
"I got out, jumped out [holding my hip area] like what's your problem bro," she said. "As soon as I did that he pulled a gun."
When she saw the gun, Murray says she took off running back to her car, but it was too late. This cop decided he was going to unload on an unarmed woman who was on her way to the hospital.
"I ran back to my truck to get in and drive out," she said. "He just started shooting, all I could do was lean over and he hit me six times."
As the bullet holes in the video below illustrate, it appears the officer continued shooting Murray as she frantically attempted to flee.
When residents heard the gunfire they came out of their homes and began filming, according to reports. However, we have yet to locate one of the videos. When residents saw the man firing at Murray, they began yelling at him to stop.
"We were not going to have that in this neighborhood because this neighborhood is quiet and cohesive and we were not going to have this mess," one resident who didn't want to be identified said to KWTX.
The resident explained that children were told to go inside as adults confronted the shooter, a Copperas Cove cop.
"If the guy with gun tried to run, he wasn't going [anywhere] because the whole neighborhood would have tackled him because we were all out here," the resident said.
Murray explained that she had no idea the man was a cop as he never identified himself until after the residents confronted him for shooting her.
"At the time, when he's looking back and seeing these guys recording, he turned around, then he took out his badge," she said.
Luckily, the bullets that hit Murray were not life threatening and she was brought to a local hospital where she was treated and then released. As for the officer who opened fire on her, there is no news of an arrest.
Multiple media outlets, including this one attempted to contact the Copperas Cove police department for a comment but we have not heard anything back.