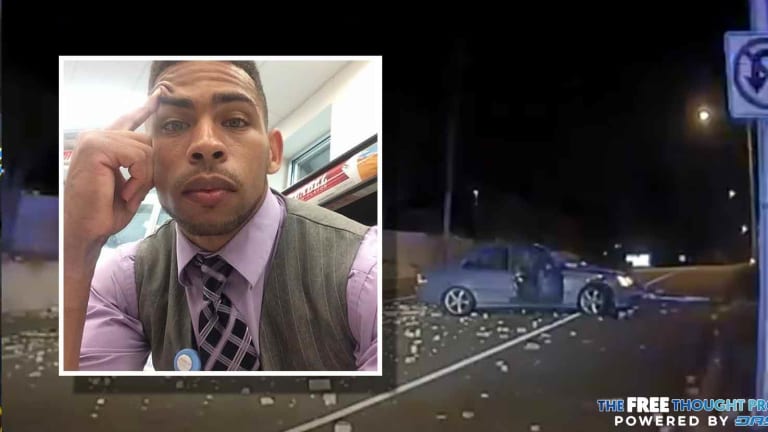 WATCH: Cop Gets In Man's Car, Shoots and Kills Him as They Drive Down the Road—No Charges
"If you don't get out of the car you're going to catch these f—king bullets," an off-duty officer was caught yelling at an unarmed man before she shot him multiple times.
The family of a 28-year-old Walmart manager is calling for justice after they say their beloved family member was murdered by police. James Hartsfield was killed by an off-duty female Little Rock police officer outside of "Local Union" bar on University Avenue.
Officer Brittany Gunn said she was working security at the bar when she saw Hartsfield getting into his car to leave, and she was worried that he was intoxicated. Gunn responded by getting into the car with Hartsfield who reportedly started driving. Instead of giving Hartsfield time to stop, or trying to jump out of the vehicle herself, Gunn pulled out her firearm and shot the young man. He then lost control of the car and it crashed into a brick wall.
Police say the incident started with Hartsfield fighting with officers and ended with one of those officers shooting him several times. Gunn and another unidentified officer were taken to the hospital and treated for their injuries. They have since been placed on administrative leave while the investigation takes place.
The Pulaski County prosecuting attorney's office has ruled the shooting was justified and no charges will be filed against Gunn or any other officer.
Courtesy of LiveLeak.com, we now have a video of the moments leading up to the violent encounter and shooting death of Hartsfield.
"Imma fucking shoot you! What part of that don't you understand," Gunn can be heard telling the young man, adding, "If you don't get out of the car you're going to catch these fucking bullets."
Hartsfield should have complied but he didn't. Nevertheless, as TFTP has reported on numerous occasions, non-compliance often leads to a death sentence with unarmed suspects who are killed by police, and the officers responsible never face charges for their reckless behavior and actions, which seem to escalate the conflicts.
Gunn and another officer struggled with Hartsfield to get him out of the car and in handcuffs. Somewhere along the way, the young man had the idea to flee, a decision which ultimately cost him his life. Officer Gunn also made a decision, which proved to be fatal, for her suspect. She got into the car with him.
As Hartsfield drove away, according to news reports, Gunn tased him, and that is when he apparently began driving towards a brick wall. As they two were approaching the wall, Gunn shot him four times.
Gunn was ejected from the car and nearly run over by the vehicle as a result of her deadly actions. She can be seen laying on the ground immediately following the crash, the images of which were caught by a responding patrol car's dash camera.
With backup being so close, it seems clear Gunn did not use any de-escalation techniques when she immediately began to promise to shoot the young man who, admittedly, did not want to go to jail. It is also unclear whether Hartfield was intoxicated at the time of the shooting.
Now, the family wants justice to be served. They say Gunn did not have to get into the car with Hartsfield and said he did not deserve to be shot to death. James Hartsfield's younger sister, Natasha Hamilton, told reporters, "I feel empty inside...I feel lost...He just finally stopped treating me like a little girl...He was like I was made when you had Jay, but the woman you became [amazing]...I'm destroyed."
Hartsfield's older sister, Lauren, told the Free Thought Project she believes police are hiding facts about her little brother's death.
"My brother was loving, funny, very intelligent," Lauren Hartsfield said. "Nothing that's being said... it couldn't be the truth. It's definitely some things that they're hiding... That was a piece of me and now that he's gone it's like a piece of me is gone."
One can only wonder how the incident would have transpired had Gunn not approached Hartsfield with such aggression and promises to shoot him. In an exclusive interview, Natasha Hartsfield told The Free Thought Project has she has known tragedy her whole life.
She said her mom, her dad, and now her brother have all been murdered. "My dad was a police officer and was murdered by a man," Hartsfield said. "My mom was murdered by her boyfriend. Now my brother. I just have my sister now." 
"She was off-duty when she approached him," Hartsfield said. "I'm not sure why she even approached him." She noted that drinking at a bar is not illegal. While her brother did not want to go to jail, she said he asked her not to shoot him.
"What was her reason for shooting him?" she asked. "I believe she knew him. He was a personal trainer at LA Fitness and they had mutual friends."
As the daughter of a former police officer, Natasha Hartsfield stated matter of factly, "Whoever trained those officers trained them poorly."
She also said the responding police did not assist or aid her brother in any way, and she concluded, "I think the whole scenario was done terribly wrong. They did not follow protocol at all. People resist arrest every day. That's not a cause to kill anybody."