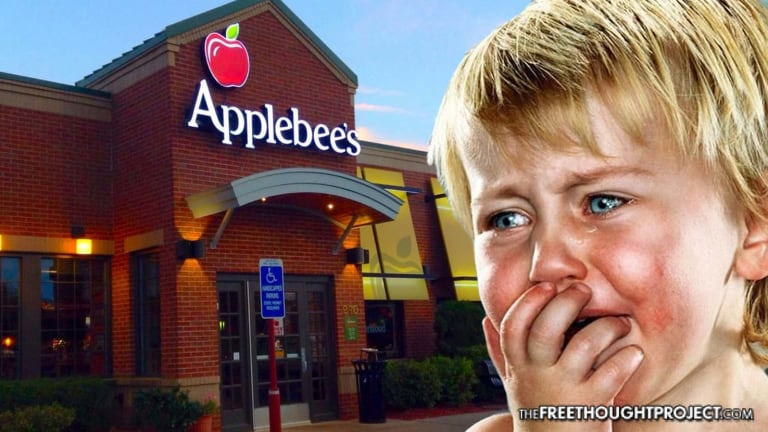 Cop Arrested for Showing Children His Penis in Applebee's - Still on Active Duty
Police have now charged one of their own for exposing himself to two children in a popular restaurant's bathroom — but he remains on active duty.
Pennsville Twp., NJ — Assuming her 9-year-old and 13-year-old sons would be safe in the bathroom of the Applebee's, a New Jersey mother had to call police after the boys rushed back to the table, saying a man had exposed his genitals lewdly — but she wasn't prepared for the shock when cops finally arrested 31-year-old Anthony J. Minguez.
BecauseAnthony J. Minguez — identified later by Pennsville Police — is an officer with the Penns Grove Police Department.
Worse than the appalling prospect an off-duty officer would spend time exposing himself to children in the public bathroom of a chain restaurant is Minguez — who came to the department in late June, 2011 — remains on active duty.
Minguez has been charged with lewdness.
According to authorities, the woman, whom NJ.com did not identify, claimed her young sons sprinted from the bathroom after Minguez exposed his genitals to them in a lascivious manner.
On Thursday, the furious mother signed complaints with the Pennsville Police Department against Minguez for lewdness and disorderly conduct.
"We have been advised that a citizen complaint was signed against one of our officers at the Pennsville Township Municipal Court," Penns Grove Chief of Police John T. Stranahan Sr. announced Thursday afternoon, as quoted by NJ.com. "We have not been provided a copy of any of the information from the complaint.
"As in any case involving an officer, this matter will be forwarded to our Internal Affairs investigator for criminal and/or administrative review. There can be no further comment by this agency until a review of all information is conducted via the Internal Affairs process and subsequently reviewed by the county prosecutor."
While Minguez must absolutely be considered innocent of the allegations for now — and the supposed crime occurred when he wasn't on duty — the fact the Stranahan has permitted the debauched officer to stay on the job has area parents and residents incensed.
"Community activist Walter Hudson called a press conference in the borough Thursday afternoon calling for Minguez to resign. He was joined by the boys' mother at the event,"NJ.com reports.
Despite contention over the alleged 'flashing,' president of the Salem County Fraternal Order of Police Lt. Bob Gant took a sterile tone in addressing the charges, stating,
"Our members are not above having charges filed against them just because they wear a uniform. They are entitled to a fair hearing and court proceedings as any other resident in Salem County. As with any charges filed against someone, these things need time to be sorted out through the proper channels."
One proper channel will be the Salem County Prosecutor's Office, in whose hands Minguez' fate now rests. His court date is slated for June 1, according to complaints.
For a cop to be charged with such a lecherous crime — one directly threatening to not just public, but children's safety and security — should be a far rarer occurrence than is actually is.
To wit, it was just this week veteran New York Police Department Detective Robert Francis peeped in his last window before being arrested by his colleagues for a string of incidents in which he allegedly shone his cell phone flashlight in people's windows and turned that light on his genitals.
"When police arrived," The Free Thought Projectreported, "they reportedly found Francis masturbating while peering through a child's window. Francis was arrested at 2:30 am on charges of public lewdness and endangering the welfare of a child."
As with Minguez, Francis remains actively employed — receiving no suspension or relegation to desk duty — and receiving a paycheck courtesy of taxpayers, despite behavior that, if true, should land him behind bars and a spot on the registry of sex offenders.
Apparently, allegations of child predation and prurience aren't as distressing to the Penns Grove Police and NYPD as such accusations are to the public — the public who will be forced to deal with the consequences should either alleged transgressor not refrain from apparent pedophiliac proclivities.
How residents local to either area are expected to feel secure in their homes or in public venues — when the police tasked with jailing criminals fail to err on the side of extreme caution by removing ostensive offenders from active duty — was not made clear by either department.