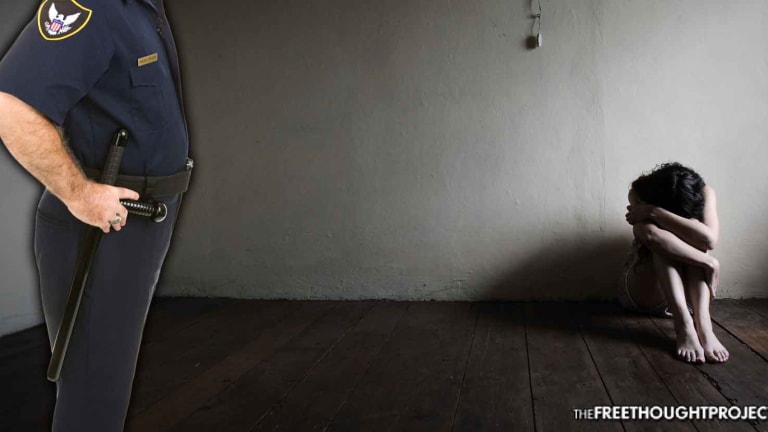 "Sickening & Horrific": Cop Repeatedly Raped Woman In Front of Her Disabled Child
A former officer who pled no contest to charges of sexual assault is now being sued for civil rights violations by one of his several victims.
Bakersfield, CA — After enduring years of sexual assault and abuse — including at least one incident which took place in the presence of her disabled child — a mother of three filed a lawsuit against her former probation officer.
Ben Meiselas, the unnamed woman's attorney, toldCourthouse News the repetitive assaults the victim endured were "sickening and horrific."
"We filed this lawsuit because [Doe] was brutally sexually assaulted over the course of several years by a now former-parole officer who held a position of trust and control and abused that authority," Meiselas explained. "It's clear to us that the parole office was complicit and turned a blind eye to the brutal sexual abuse."
Courthouse News reports former Kern County probation officer Reyes Soberon Jr. pled no contest to the sexual assaults of the mother, who will not be named in this report to protect the identity of her children, and two other victims, late last year.
Soberon received six months in jail and three years probation "for touching a person intimately against their will for sexual arousal."
Court documents claim the former officer "brutally" and "methodically" assaulted the woman beginning around April 2012, and didn't cease until June 2015.
"Soberon would mislead [Doe] into coming into the probation office and would take [Doe] to a corner where he would digitally penetrate her vagina and anus while sticking his tongue down her throat, moaning: 'I want you to make me cum in my pants,'" the woman's 10-page complaint states.
"In one horrific instance, Soberon sexually assaulted [Doe] in her home in front of her disabled son suffering from cerebral palsy as he lay helpless, crawling on the ground."
Soberon, the woman claims, threatened to "put her in jail for the rest of her life" if she rejected his unwanted advances — which caused her to fear for life and those of her three children.
Assaults continued until one day in 2015, when the woman received an unexpected visit from a female probation officer who sought to arrest her for violating orders to perform community service — a violation which should not have occurred, as Soberon had vowed to allow an extension.
Upon confiscating the woman's phone, however, the officer discovered Soberon's text messages calling her "sexy mamacita" and "baby doll" — and abruptly left without further comment, according to the complaint.
"Soon afterward,"Courthouse News reports, "Soberon started calling the woman and threatening to kill her. Emboldened despite this escalation, she told the probation department what was going on. But instead of taking her seriously, she claims the department tried to dissuade her from reporting him and let Soberon continue supervising her probation though he was not officially assigned to her.
"Worse yet, the department's internal affairs officials told the woman she could not hire an attorney, talk to the media or contact the FBI about her report or the assaults, according to the complaint."
Throughout the duration of her ordeal, the woman says the now-former officer repeatedly invented excuses to be in her presence and continue the sexual assaults. Seemingly left without recourse to stop the ongoing abuse, she says she "lived in constant fear, believing that Soberon was free to continue molesting her."
It wasn't until the woman was subpoenaed to appear at Soberon's criminal case she learned he had been arrested months before in December 2015.
As Meiselas described, simply attempting to bring the woman justice by filing appropriate documentation with the court exposed startling obstacles — in particular, the treatment of sexual assault victims and the rejection of the woman's status as disabled from the trauma suffered.
According to Courthouse News, Meiselas says his client "first filed a government late claim two months after the deadline. Though she has post-traumatic stress disorder from being raped, the county denied her petition for a late file though the Government Tort Claims Act states the county must permit a filing if the individual suffers a disability or did not file due to excusable neglect."
"One of the biggest scandals here is that a Kern Superior Court commissioner found that PTSD from rape does not equal a disability," the attorney asserted. "Lawyers who file late can get a pass, but sexual assault victims get thrown in the gutter? That ruling shocks the conscience."
Kuge and other officials not only knew about Soberon's wrongdoing, but tried to cover up the scandal by pressuring her not to tell anyone what was happening, the complaint states.
Courthouse News notes that as of Monday, Kuge was no longer listed as the chief probation officer on the department's webpage. Officials declined to comment, telling the outlet the woman's complaint had not yet been reviewed.
Kern County, the Kern County probation department, former officer Reyes Soberon, Jr., and Chief Probation Officer David M. Kuge are all named in the lawsuit.
For this gross violation of her civil rights, the woman seeks general, special, and punitive damages through the lawsuit.
This egregious case shows not only a horrendous violation of trust between law enforcement and the public, but, as described in the suit, an inexcusable attempt to cover up wrongdoing — while re-victimizing a mother of three, and potentially others, in the process.