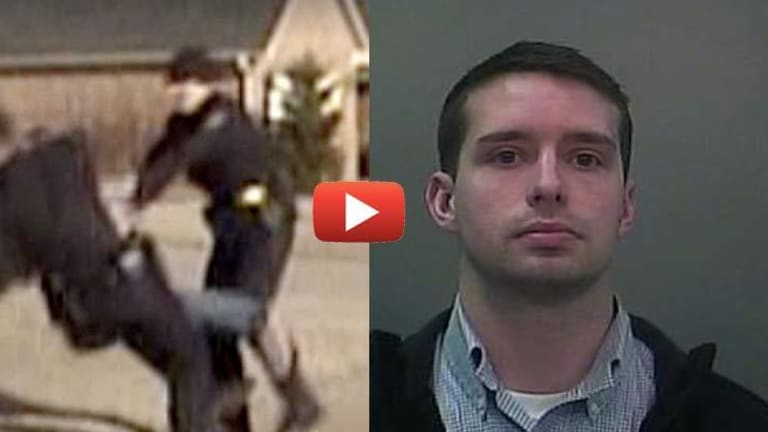 BREAKING: Video Shows Cop Brutalizing Innocent Grandpa on a Walk, Left Him Paralyzed
At first police claimed the man was looking in garages...but this was a lie. The dash cam footage has led to the officer being fired and arrested.
Madison, AL-- Madison police officer Eric Parker is facing charges of third-degree assault after brutally attacking a 57-year-old man who could not understand the officer's instructions due to a language barrier. and was left hospitalized on the morning of Friday, February 6.
The run in with Parker left this innocent man hospitalized on the morning of Friday, February 6.
The Indian citizen, Sureshbhai Patel, had just come to the United States about a week prior to the incident to help his son, Chirag Patel, and his wife care for their new baby. Sureshbhai Patel was staying with them at their new house in Madison so Chirag could pursue his master's degree in electrical engineering. Each morning, the grandfather would take a walk, which apparently threatened one of the neighbors.
The neighbor called the police and described the gentleman as, "a skinny black guy, he's got a toboggan on, he's really skinny." The Zimmerman-like neighbor told the operator that he was following him, as he was supposed to be on his way to work. However, he was apparently so threatened with this peaceful grandfather out taking a morning stroll, that he didn't want to leave his wife home alone.
Eric Parker and his trainee Andrew Slaughter arrived at the scene around 8 am. What happened next, left this innocent man paralyzed. The attack was caught on dash cam.
"Where you heading?"

"Where?"

"I can't understand you, sir."

"Where's your address?"

"Do you have any ID?"

"India?"

"Do you live here."

"Sir, sir, come here."

"Do not jerk away from me again, or I will put you on the ground. Do you understand?"
This unjustified harassment escalates at this point, just as another patrol car pulls up to the scene. Parker throws him to the ground withholding his arms behind his back, leaving him unable to break his fall.
After throwing the man to the ground, the officers begin trying to get him up. They were seemingly baffled that someone who does not speak English would not obey commands they could not understand.
"He don't speak a lick of English."

"I tried to pat him down but he tried to walk away from me."

"I don't know what his problem is but he won't listen."

"He was trying to walk away."
Patel was left temporarily paralyzed and hospitalized with fused vertebrae, all because he could not understand what the officers were saying to him. The man had simply been out for a walk and had committed absolutely no crime.
"This is broad daylight, walking down the street. There is nothing suspicious about Mr. Patel other than he has brown skin," Hank Sherrod, the family's attorney told AL.com.
By Monday, the police were in damage control, seemingly victim blaming Patel and implying he had been looking in garage windows. Something that never occurred.
"They didn't do that on Monday," said Sherrod. "On Monday they were trying to blame Mr. Patel. On Monday they were minimizing this. I'm glad they apparently are starting to do the right thing. But why weren't they doing this on Monday? With those videos."
Thankfully, on Thursday, the police had seemingly come to their senses, apologized to the family and arrested Parker. The FBI is also conducting an inquiry as to whether there were any federal violations. Parker has been released on a $1,000 bond.
Below is the entire uncut interaction caught on the officer's dash cam.