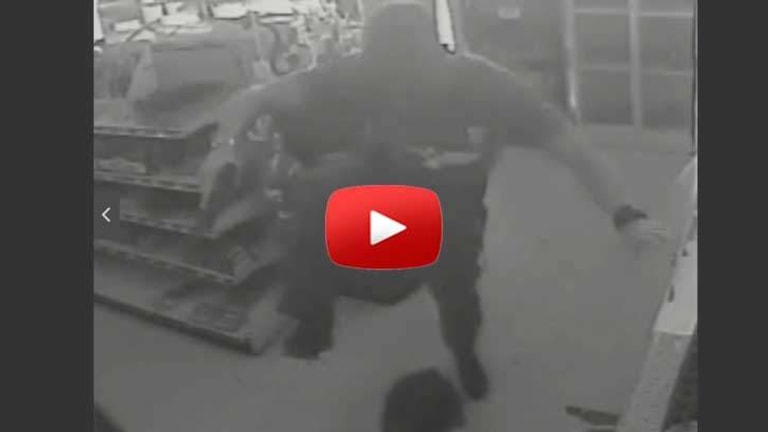 Officer Claims he Stomped Teen's Face In Because of Nationwide Threat to Police
A Phoenix cop said he had to stomp a young man's head into a convenience store floor because cops are threatened nationwide.
Phoenix, AZ-- In yet another disturbing scene captured on camera, a Phoenix Police Officer was caught on surveillance video brutally stomping 18-year-old Patrick D'Labik's face into the ground, knocking out several of his teeth.
The incident took place in December when the Officer Kevin McGowan attempted to stop D'Labik allegedly to question him about a homicide suspect. Fearing the officer and having marijuana in his pocket, the teenager ran; ditching the plant as he fled.
McGowan caught up to D'Labik inside a convenience store where the teenager was on the phone with his father. The officer told him to get down and pulled his gun on the young man. D'Labik is seen with his hands up in compliance and was in the process of getting down on the ground when the officer is seen stomping his face into the floor of the store.
"I just tasted the blood, as soon as I spit, I realized my teeth was out," D'Labik told ABC.
McGowan was fired due to the incident and has now filed an appeal to get his job back, blaming his disgusting actions on an imaginary nation-wide threat to police officers. No charges were filed against the officer for the assault as the department deemed the force unnecessary, but an independent review decided it was justified..
"McGowan told investigators that he had a heightened sense of awareness of violence towards police because of what's happening across the nation," the local ABC affiliate reported.
Interestingly, as of writing this, 43% fewer cops have been shot by suspects this year than last year. With only 8 cops being killed by a suspect since January 1, that averages out to every 390 hours. In comparison, 412 people have been killed by police in the same time frame, or another person killed by police every 7.5 hours. Who is actually the danger here?
"The use of excessive force will not be tolerated by the Phoenix Police Department, but because this case is currently being appealed we cannot discuss the specifics and will respect the civil service process." saida statement from the department regarding the appeal.
McGowan has received multiple complaints of excessive force over the years but was only reprimanded for one, after he shoved someone for "getting in his personal space."
"Officer McGowan is a decorated 17-year veteran of the Department. He earned dozens of commendations and has no significant prior discipline. The video obtained by the media does not show the complete series of events related to this detention/arrest.

The entirety of this incident, including the video, was reviewed by an independent expert and by a panel of attorneys at the Maricopa County Attorney's Office.

These reviews resulted in a determination that no crime was committed by Officer McGowan. Officer McGowan filed an appeal of his termination and is looking forward to being reinstated to complete his career with the Phoenix Police Department.

Officer McGowan will not be giving any interviews related to this incident, and this will be the only statement he will give related to this matter, as his appeal is currently pending before the Civil Service Board." a statement from McGowan's attorney read.