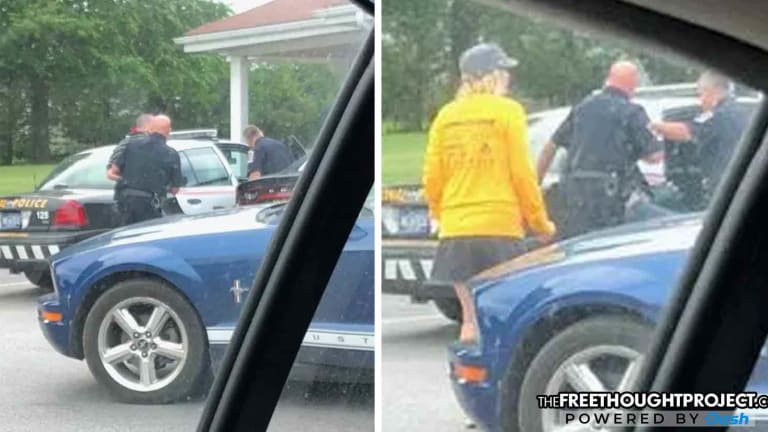 Officer Charged After 'Accidentally' Shooting a Handcuffed, Mentally Ill Man
Spring Grove Officer Stuart Harrison is facing a second degree assault charge after claiming he 'accidentally' shot a handcuffed, mentally ill man.
UPDATE: Six months after police shot 32-year-old Ryan Smith, while he was handcuffed in the back of a police car, an officer has been charged. Officer Stuart Harrison is facing a second degree assault charge after claiming he 'accidentally' shot Smith in the leg. Hanson stated that he thought he was holding his taser while attempting to force Smith's leg into his cruiser.
Spring Grove, PA — Spring Grove Police are being tight-lipped about a shooting that occurred Wednesday afternoon in which a man was shot while taking him into custody. According to a witness, who says she saw the entire arrest, police put him in the back of the cruiser and as he sat there, a cop pulled out his gun and shot him.
Amanda Cozio took photos during the arrest as well, which document her claims.
"He didn't even warn him," the 25-year-old woman said. "He pulled his gun out and shot ... No warning, nothing. The guy didn't do anything. He was sitting there ... For him to be handcuffed and sitting down, why?"
Police have admitted to shooting 32-year-old Ryan Smith. However, when asked if he was in handcuffs at the time of the shooting, they chose to remain silent.
While Southwestern Regional Police were there, "an officer fired his service pistol and struck the subject." The man was then taken to York Hospital for treatment, state police said, according to the Evening Sun.
"At this time, we're not confirming any information. It's still an active investigation," Trooper James Spencer said Thursday, when asked if the man was handcuffed.
According to Southwestern Regional Police Chief Greg Bean, the two officers involved in the shooting have been placed on administrative leave and an outside agency is now investigating.
"Because of a department officer has used force, those cases are turned over to an outside agency to investigate," Bean said. "In this case it's the state police and so any questions just have to be directed to them because they are taking the lead here."
In the images above, it appears that there is no struggle and the man appears to be cooperating.
According to police, and the 911 call below, officers responded to a disturbance call of a man who apparently refused to leave the bank.
Pennsylvania State Police issued a statement noting that "responding officers encountered a male subject inside of the bank that resulted in a confrontation."
After engaging the man, officers are seen escorting him out, apparently without any trouble.
"I seen them bring a gentleman out in handcuffs," Cozio said. "They walked him over to the car, slammed him on the side of the police cruiser and searched him."
As the Evening Sun reported, Cozio said she did not see police seize anything from the man. Although the man was not physically resisting police, everyone was yelling — the man, the two police officers and a woman who was standing just feet from them.
The woman seen in the photo above was apparently yelling at the police, "He's not in his right state of mind, you don't understand," Cozio said.
According to Cozio, after the brief spat of yelling, the man was placed in the back of the police car, but with his legs our and his feet on the ground. The car door was open, and the officer shot him.
"And they shot him," Cozio said. "They shot him in the back of the car ... while he was sitting down in the back of the cruiser ... I don't understand how this could happen."
Moments later, according to the 911 scanner, the officer then radioed in "shots fired," indicating that he'd shot the man in the leg. Police then asked dispatch to send EMS.
According to police, the man was shot in the leg and the bullet hit an artery, causing severe bleeding.
After he was shot, the man fell to the ground causing the woman who was with him to go into full panic mode. The woman began yelling, "You didn't have to shoot him, why did you shoot him? He's not in his right state of mind," according to Cozio.
After watching this scene unfold, Cozio says she decided to step in and help the woman out so they didn't shoot her too.
"I worried about, 'Let's get (her) back, so they don't shoot her," Cozio said. "She was crying and shaking."
That woman then called York County 911 and asked for "regional police," according to Cozio.
As the Evening Sun notes, a man then arrived and asked, "Who shot my son?" Cozio said she pointed to an officer and said, "Him right there." The man then approached the officer and asked him, "Why did you shoot my son in handcuffs?" but the officer did not say anything, she said
The man was taken to a nearby hospital where he is in stable condition according to police. His charges, or what he did to get arrested, remain a mystery.
"Whatever he did inside the bank wasn't right, but he didn't deserve this," Cozio said.
While we are not jumping to conclusions about all the facts to this story, it does make one wonder if some of these other instances of handcuffed individuals—shooting themselves in the head while handcuffed in the back of the police car—are true.
As TFTP reported in 2014, Victor White III, 22, reportedly "committed suicide," while in handcuffs, in the back of a police vehicle, by shooting himself in the back.
"You can't make me understand how my son took his left hand, when he was handcuffed behind the back, and shot himself. I don't believe a thing they're saying at this point," Rev. Victor White II, the deceased's father, said at the time.