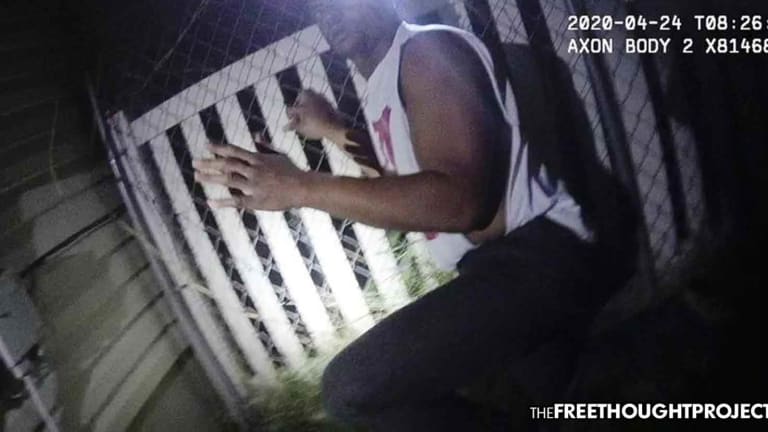 After Video Released, Cop Arrested for Forcing K-9 to Maul Kneeling Man with His Hands in the Air
A cop is facing 15 years in prison after he forced his K-9 to maul a man who was not running, was compliant, was on his knees, and had his hands in the air.
Salt Lake City, UT — An alleged argument with his wife led to Jeffrey Ryans getting mauled by a police K-9 while on his knees with his hands in the air. Prior to the body camera footage going public, the police officer faced no accountability and the taxpayers of Salt Lake City were told they would be held accountable instead. However, this week, in a rare more, Officer Nickolas Pearce, 39, was charged with aggravated assault for ordering his K-9 to attack the entirely compliant Ryans.
As TFTP reported, Pearce faced zero accountability for his gruesome attack on Ryans. Only after media outlets published the video and showed the world the horrific act was Ryans suspended. And now, he's facing charges.
Ryans "wasn't resisting arrest," Salt Lake County District Sim Gill said of the officer's "unlawful force." "He certainly wasn't posing an imminent threat of violence or harm to anyone and he certainly wasn't concealed. He was fenced in an area and was being compliant."
As you may have guessed, the police union disagrees and is fully behind the cop who sicced his K-9 on an entirely compliant man.
"We believe his actions that evening were justified and in the bounds of the law," Steven Winters, the president of the Salt Lake City Police Association, said. "Officer Pearce is an excellent officer and is without question a good dog handler. We're hopeful that the criminal justice system will [run] its course and take care of this manner."
The Salt Lake City Police Department said in a 
Press Release: Statement Regarding Charges Being Filed Against SLCPD K-9 Officer pic.twitter.com/h4iitZxbX0
— SLC Police Dept. (@slcpd) September 16, 2020
" target="_blank" rel="noopener noreferrer">statement on Wednesday that it "takes the district attorney's decision" seriously and that its own internal investigation into the incident is ongoing.

The idea of an internal investigation leading to any accountability is laughable considering no mention of it was made until the body camera footage became public last month.
As TFTP reported, Ryans' nightmare began in April when a neighbor called police after hearing him argue with his wife in his backyard. The body camera footage released this week shows Ryans in his backyard, smoking a cigarette and preparing to leave for his job as a train engineer when cops show up.
All of the sudden, cops with flashlights begin yelling at Ryans as their dog barks at him.
"Get on the ground!" one officer yelled, as his police dog barked. "Get on the ground or you're going to get bit!"
As the Salt Lake Tribune reports, Ryans recalled in an interview that he was confused. He didn't know where to go or what to do: One officer was yelling for him to come to him, while another screamed to get on the ground. He was worried if he did the wrong thing, he would get shot.
"I wasn't running," he recalled. "I wasn't fighting. I was just cooperating. We've been through this. We've seen this. Always cooperate with the police, no matter what."
But the fact that he was cooperating, surrendering, and posing no threat whatsoever was of no concern to the sadistic officers who were chomping at the bit to watch this man get mauled by their K-9 in his own back yard.
Without justification or provocation, Pearce then released the dog, who tore into Ryans' body like he was a rag doll.
Even as one cop sat on top of Ryans and put him in handcuffs, Pearce instructed his dog to "hit" and the dog responded by tearing into the man's body even more.
"Why are you doing this?" Ryans yelled, according to the video. "Why are you biting me?"
"Good boy," the officer said to his dog, as it tore into Ryans' flesh.
"I felt like a chew toy," he said. "I didn't know why this was happening to me. That's what was going through my mind. Why?"
Ryans was then arrested and charged for violating a protective order that was already in the process of being lifted. According to the report:
Ryans said his wife had told him that the protective order was lifted, and he had been back in their home for weeks before the police were called in April. He didn't know that her request to have the protective order lifted was still pending — so he was technically in violation of it at the time of his arrest.

Ryans now faces a charge of violating that protective order, but no court dates have been set.
As the Salt Lake Tribune reports, Ryans has taken the first steps toward filing a lawsuit against the Salt Lake City Police Department. In a notice of claim, which is required before a suit can be filed, his attorneys, Daniel Garner and Gabriel White, allege that the officer's use of force was unnecessary — and has caused an injury that could have been avoided if the officer "performed the appropriate actions" while arresting Ryans.
Ryans, who is black, and his attorney allege that the officers treated him differently because of the color of his skin. Ryans' attorney, who is white, said he's been in similar situations where he's had an argument with his wife or been in his backyard in the middle of the night letting his dog out. But the police never come, especially not with a K9 dog.
"What's different between the two of us that could make this happen to him, but I couldn't imagine happening to me?" he said. "No one's ever shown up at my house."
"People need to know Black lives matter," he said. "Everybody matters, but you can't just treat people differently because of their religion or their skin color. I developed myself to get to where I'm at right now. I should have the same respect as others. We don't get it."
Pearce was charged with second-degree felony aggravated assault, and faces up to 15 years in prison if convicted.