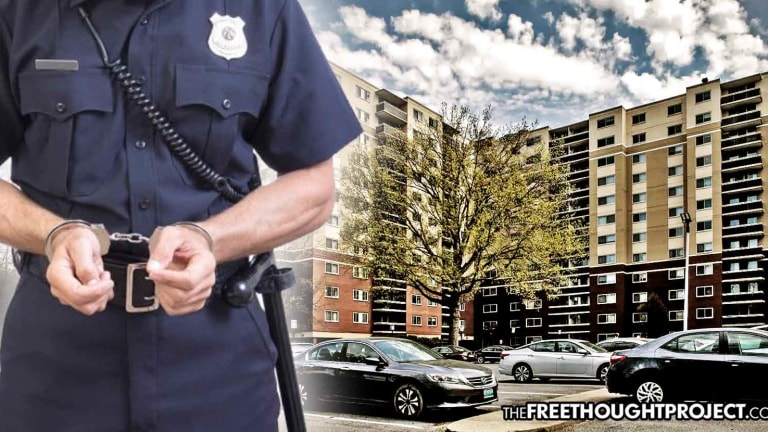 BREAKING: Cop Charged With Murder for Killing Two People He Accused of Breaking Into Car
A police officer in Maryland has been arrested and charged with murder for killing two people he claimed were breaking into a car.
Takoma Park, MD — On Wednesday, the nation was shocked when hearing the news that an unnamed Pentagon Police Officer opened fire on two unarmed individuals, killing them. That officer allegedly thought the two victims were breaking into a car. For two days, the system protected the officer, but times are changing and his protection has run out.
On Friday morning, Officer David Hall Dixon was identified as the killer cop and was arrested and charged with second-degree murder for killing Dominique Williams, 32, of Hyattsville and James Lionel Johnson, 38, of District Heights.
The incident unfolded on Wednesday morning when Dixon claimed Johnson and Williams were breaking into a vehicle. Apparently, without warning, Dixon opened fire on the two individuals who then fled in their vehicle. Dixon also faces charges of reckless endangerment because he continued shooting at the vehicle as it drove away.
The men then drove themselves to the hospital after being shot, but apparently it was too late and they died shortly after they arrived.
After killing the two individuals — who may be entirely innocent — Dixon told police he thought they were breaking into a car. However, according to NBC 4, police haven't accused the victims who were killed of crimes in news releases, nor announced charges against the man driving the car who brought them to the hospital.
A Department of Defense spokeswoman told to WUSA9 that the off-duty Pentagon officer involved in the shooting had been employed with the agency since July 2019. Prior to that, a spokeswoman said, he had served as a federal police officer from 2009-2019 and also as a U.S. Army military policeman and in the U.S. Air Force as a combat crewman.
The spokesperson also pointed out that Dixon should not have engaged the men as their off-duty law enforcement authority is limited to only a "serious breach of the peace (when violence is being committed or immediately threatened) including assault and threats to kill, injure or maim."
Even if Johnson and Williams were actually committing a crime, it certainly did not rise to the level of immediately harm.
What's more, the PFPA policy states that officers cannot fire at moving vehicles either, unless "an employee has a reasonable basis to believe that the vehicle poses an immediate threat of death or serious bodily harm to the employee or others." This was clearly not the issue either.
Friday morning, officers with the Takoma Park Police Department arrested Dixon, who was taken into custody without incident.
The charges as well as the quickness with which they came cannot be understated in this case. It is extremely rare for officers to face murder charges for shootings like this one. What's more, it is even more rare that the charges come so quickly.
It took weeks for officer Amber Guyger to be charged even after admitting she walked into the wrong apartment and murder Botham Jean.
As TFTP has reported, despite horrifying police killings, many of which were captured on video and have rocked the nation, the arrest rate for cops who kill people in official capacity remains as low as ever. According to reports, since 2005, just 126 police officers have been arrested for murder or manslaughter in relation to an on-duty killing.
Of those 126, just 44 have been convicted, with 31 of their cases still pending, and just seven cops total have been convicted of murder. The other 37 cops were convicted on charges ranging from manslaughter to official misconduct, with many of them receiving no jail time.
Though Dixon was off-duty at the time he killed Johnson and Williams, he was acting in his official capacity as a police officer up to and including shooting the two men with his department-issued weapon.