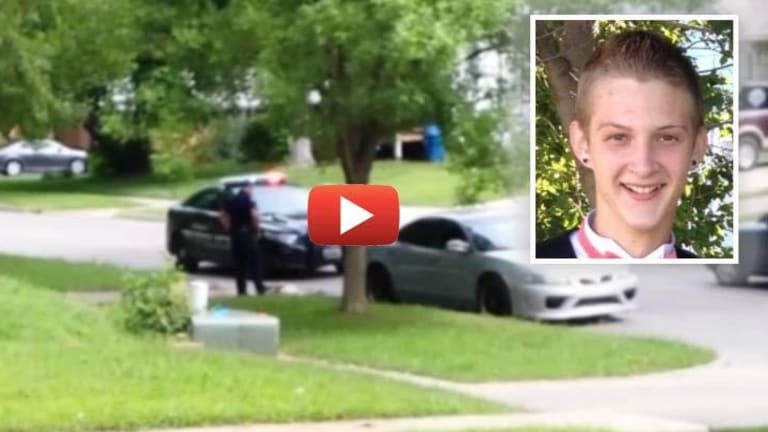 Cop Indicted for Tasering a Teen, Leaving him in a Coma, for Asserting his Rights During Stop
A federal grand jury has returned an indictment against officer Timothy Runnels for violating the constitutional rights of Bryce Masters in an incident that resulted in the teens cardiac arrest and left the 17-year-old in a medically induced coma.
Independence, Mo. - A federal grand jury has returned a four-count indictment against a former Independence police officer who tasered 17-year-old Bryce Masters during a traffic stop in September. The incident resulted in Masters going into cardiac arrest and eventually being put into a medically induced coma.
The indictment stems from an FBI investigation into whether officer Timothy Runnels used excessive force after pulling over Masters on September 14th, 2014.
Runnels is charged with two counts of depriving Masters' constitutional rights based on his alleged use of excessive force. He's also charged with filing a false report and giving false statements to investigators afterward.
After the hearing, the Masters family released a statement saying that they have a unique perspective of what police officers face daily, as his father is a cop. But Masters was not treated reasonably by law enforcement.
"This was evident during the traffic stop itself, the nebulous reasons for the contact, and by the lack of adequate medical care thereafter," the statement said. "Bryce was exercising his right to politely ask questions regarding his detention."
After the incident initially happened, police attempted to claim that the car Masters was driving was stopped due to the car's license plates being associated with a woman wanted on warrants.
This information proved to be untrue as his family volunteered that the car was properly registered to Masters' parents and that he nor the vehicle had any warrants associated with them.
The police also alleged that Masters was combative with officer Runnels, which eventually resulted in Masters' injuries. These allegations were thoroughly refuted by eyewitnesses to the incident, as well as cell phone video, taken by eyewitnesses, which captured the tail end of the encounter.
The video is hard to watch as it shows Runnels standing on the teenager as he seizes in cardiac. Masters is dragged around and eventually ends up under the officer's foot like a trophy kill. No aid whatsoever is given.
The reality of the situation is that officer Runnels became abusive when Masters decided to record his interactions with the officer on his cell phone.
This simple act, meant to keep himself safe, sent the officer into an authoritarian rage that resulted in him brutalizing a frail teenager doing nothing other than attempting to exercise his constitutional right to film an officer in the carrying out of his official duties.
For this, Masters was left cuffed on the ground in a pool of his own blood, suffering from cardiac arrest, and Runnels refusing to render any medical aid.
Masters sustained brain damage after he went into cardiac arrest, with doctors placing him into a medically induced coma that included lowering his core body temperature.
Masters continues to receive physical therapy and his condition is slowly improving, according to Masters' family attorney, Daniel Haus.
If convicted, Runnels faces up to 10 years in prison and a $250,000 fine for each of the two constitutional rights violations, and up to 20 years in prison and a $250,000 on each of the other counts.
Jay Syrmopoulos is an investigative journalist, freethinker, researcher, and ardent opponent of authoritarianism. He is currently a graduate student at University of Denver pursuing a masters in Global Affairs. Jay's work has previously been published on BenSwann.com and WeAreChange.org. You can follow him on Twitter @sirmetropolis, on Facebook at Sir Metropolis and now on tsu.