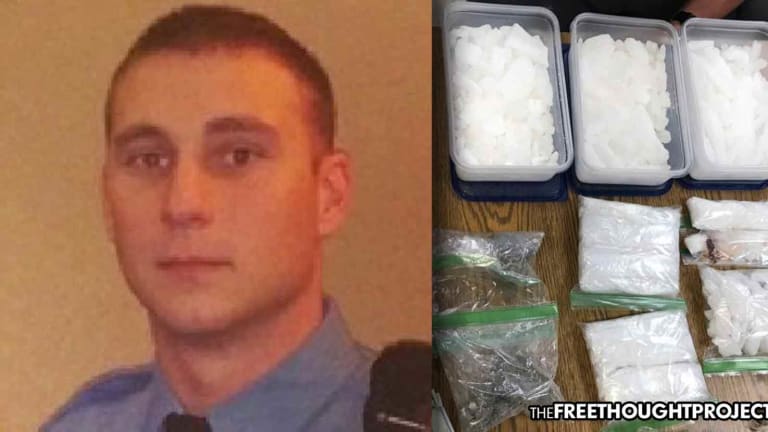 Cop Charged for Targeting Drug Dealers to Steal Their Meth and Heroin for Personal Use
A cop has been indicted on multiple charges for robbing people of their meth, heroin, and other drugs while on duty and using them for himself.
Minneapolis, MN — In May of this year, the rest of the world got an inside look into the rampant corruption and criminal behavior inside the Minneapolis police department after the death of George Floyd. While deadly force was certainly a problem within their ranks, a recent indictment shows the corruption spanned far wider than just excessive force.
Ty Raymond Jindra, 28, was indicted this month on accusations that he ran a drug extortion racket for over two years. Jindra now faces 11 counts for abusing his position as a street cop to steal meth, heroin, oxycodone and other drugs for personal use during the course of his duties.
According to the grand jury indictment unsealed in Minnesota U.S. District Court Friday, Jindra was using his badge to steal meth, heroin, and oxycodone by means of "deception, extortion, and conducting unconstitutional searches and seizures."
According to the indictment, Jindra would confiscate drugs during busts and never report them. He also would pocket drugs turned in by concerned citizens and skimmed small amounts from all drugs he put into evidence. In one instance, according to the indictment, Jindra showed up to a call for an overdose and stole all the heroin and meth from the scene.
Jindra also illegally detained individuals and violated their 4th Amendment rights by searching them without cause and then stealing their drugs, according to the indictment.
Naturally, Jindra's attorney denies any wrongdoing by the officer, and they have pleaded not guilty.
"I've been working with Ty for a year now. He's a good man. He's presumed innocent. And that's the whole story," Jindra's attorney Peter Wold said after the hearing.
But these claims ring hollow given Jindra's past and the details of the case. In fact, the investigation began, not over stealing meth and heroin, but from excessive force. In his 7 years with the department, Jindra has been the subject of 15 complaints, eight of which are still open.
According to the Star Tribune, 
Jindra came to the attention of department officials after being named in three excessive force complaints in a short span of time, sources familiar with the investigation said.

In the process, the department also reviewed footage that appeared to show Jindra pulling a small quantity of what appeared to be drugs from his backpack, a source said.

The charges say Jindra found ways to hide his behavior from his partner and other police officers, such as placing the contraband into his gloved hand, folding the latex glove over the drugs and then stashing them in his personal duty bag or some other location inside the squad car. Jindra turned off his body-worn camera at opportune moments during searches and failed to disclose key details in police reports, such as the seizure of pills he stashed away for personal use, according to the charges. He told his partner he planned to dispose of meth that he kept for his own use.
Jindra is also the son of Jeffrey Jindra, who is a cop on the Board of Directors of the Police Officers Federation of Minnesota. Like his son, Jeffrey has a massively tainted past.
As TwinCitiesgdc.com reports, 
Jindra is a guy who's been accused of improperly cuffing a 14 year old, and the day after he was acquitted on that charge, was accused of forcing a suspect facedown and handcuffed on the floor. While there, "Jindra kicked him in the head until his jaw was broken. Other officers present also purportedly assaulted him in the face and the abdomen." He's also been accused of raping suspects with a toilet plunger. (CP, MPD BLUES: JEFF JINDRA IS ACCUSED OF MISCONDUCT–AGAIN, Man who accused Minneapolis police speaks out, and Feds won't prosecute Minneapolis officers in plunger case )
Cops betraying their communities by extorting drug dealers, and stealing their products is most certainly immoral and deserves punishment. Jindra deserves to be held accountable for his actions. However, merely possessing and selling drugs to willing customers—should never end with anyone in a cage.
Criminalizing addiction and substance abuse has done nothing to curb use. People are literally dying in the streets at an increasing rate and no amount of police state can stop it. In fact, since the inception of the drug war, drug addiction and overdoses have gotten worse. Why is that?
To understand the answers to that question, we have to look at how the state has essentially created and facilitated the current opioid epidemic in which America currently finds itself.
For decades, the US government has waged a war on drugs while granting the monopoly on opioid production to the pharmaceutical industry. For years, people who would've never thought of trying heroin trusted their doctors who were being paid large sums of money to prescribe them dangerous and addictive opioids. In some cases, people were given fentanyl for a broken ankle.
As the crack down on opioids came to a head, all the 'legal' drug addicts were forced into the black market to continue supporting their addictions. Soccer moms, business professionals, and police officers alike quickly found themselves buying highly dangerous fentanyl and heroin on the black market to support their government-approved pharmaceutical industry-sustained addictions.
Instead of helping these people, who clearly have physical and mental addictions and need help, the government simply kept on locking them in cages when they caught them with it.
Research — according to many law enforcement officials — shows that the cost of incarceration, especially for repeat drug offenders, is far higher than simply treating their addiction. It is also far better for a society who values freedom.
Fortunately, this paradigm seems to be breaking apart and the recent elections highlights this as Oregon decriminalized all drugs while other states legalized cannabis.