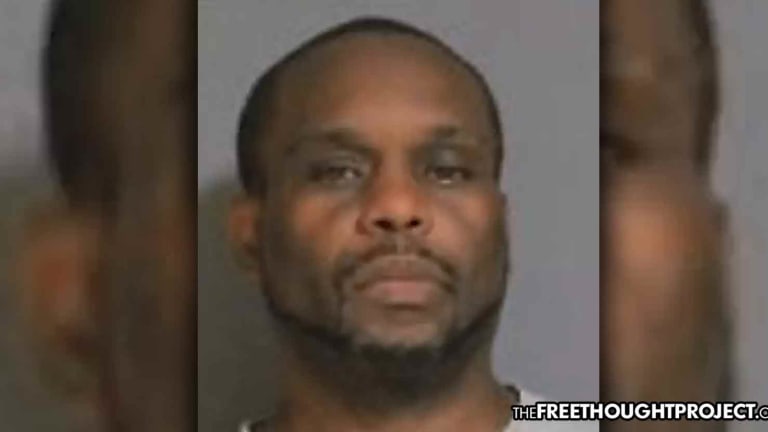 Officer Forced to Pay Victim $550k of His Own Money After Violent On-Duty Sex Assault
An officer who violently sexually assaulted a woman, including biting her body, was ordered to pay his victim $550,000 in damages.
As the Free Thought Project has reported extensively, police officers, even when found at fault for their abusive actions, are almost never held personally liable. It is the taxpayers who foot the bill. However, a trend in accountability seems to be happening more often, and will be massively more effective at curbing police brutality and criminal behavior than any system in place right now. Cops are being forced to pay their victims out of their own pockets.
The most recent case of a cop being held personally liable for his crimes comes from New York as a former officer is being forced to pay $550,000 to a woman he violently sexually assaulted while on duty.
Disgraced Bedford Hills Correctional Facility Correction Officer Jeffrey Green was ordered by a federal judge on Friday to pay $350,000 in compensatory damages and $200,000 in punitive damages for his "reprehensible" crimes against a female.
"Jeffrey Green, a former correction officer, sexually assaulted a female inmate serving time in a Bedford correctional facility. Incarcerated individuals, repaying their debt to society, are entitled to the same protections of the Constitution as the rest of us. For violating an inmate's constitutional rights, Green will serve time in prison himself," said acting Manhattan U.S. Attorney Joon H. Kim at the time of Green's conviction.
According to court documents, Green unlocked and opened the victim, identified as Jane Doe's cell and entered it alone demanding a "blow job." Green then grabbed her by her arms, held her against the wall of her cell, licked, kissed, and bit her neck, and fondled her breasts. After Jane Doe pushed Green away, he again grabbed her, pushed her against the wall of her cell, pulled up her shirt and bra and licked, kissed, and bit her neck, chest, and breasts. Green only stopped and left Jane Doe's cell when he was interrupted by the arrival of another correction officer.
"The assault itself was a painful, disgusting, humiliating experience. Officer Green is older, decidedly unattractive and foul smelling," the inmate said in a sworn statement filed in court.
According to the victim, the psychological affects afterward were worse than the original attack.
"I had to sleep the night with his body fluids on me because I needed proof of the assault," Jane Doe said.
After the victim came forward with the complaints, she was subsequently labelled a "snitch" by other guards who tormented her, making her life a living hell for the next two years of her sentence. According to court documents, she couldn't sleep for years after the attack and attempted suicide to "deaden the pain" of what Green had done to her.
"There is something particularly reprehensible about a law enforcement officer assaulting an inmate under his care," Magistrate Judge Ona Wang wrote in his decision to have the cop pay out damages.
"This award acknowledges the immense and lasting damage of this type of attack. Sexual abuse of inmates occurs far too often and correction officers need to know that the consequences of abusing inmates will be severe," Jane Doe's attorney Daniel McGuinness said.
Though it is unlikely that Jane Doe will ever see the full payment, this is s step in the right direction in holding bad cops accountable.
As TFTP has previously reported, although police officers being held personally liable is fairly rare, it is happening more and more.
Last year, a Hadley Police Officer was sentenced to 14 months in prison and forced to pay a man $2,204 in restitution. In 2017, Hadley Police Officer Christopher Roeder broke a man's nose on video. He was found guilty of deprivation of rights under color of law, and falsifying his police report involving the 2017 arrest. As part of his sentence, he was forced to use his own money to compensate his victim.
Also last year, a former NYPD cop, Michael J. Reynolds was ordered to pay $1 million by a federal judge for breaking down the door to an innocent family's home and terrorizing them in the middle of the night.
Palm Beach County Sheriff's Deputy Adam Lin's case is another example of cops coming out of pocket to pay for their crimes.
In 2013, Lin spotted 19-year-old Dontrell Stephens in a "high-crime area" — the man's own low-income neighborhood — riding a bicycle in a manner the deputy found suspicious.
Lin stopped the youth, who dismounted the bike with a cell phone in his hand and slowly approached the officer. Just outside the range of dash cam video, the officer shot Stephens four times — claiming he was in fear for his life — but footage and evidence clearly showed the claim to be baseless.
Three of the bullets remain lodged in Stephens' body, according to the Sun Sentinel — two in his arm and one in his spine, which left him paralyzed and dependent on a wheelchair for mobility.
In 2017, Stephens won a massive $22.4 million settlement and U.S. Magistrate Judge Barry Seltzer ruled that Lin should foot at least a portion of the bill. Two years ago, nearly everything this officer owned was seized to pay back Stephens — including everything from his furniture to his clothing.
Lin will most assuredly think twice before shooting another unarmed teen.
Imagine, for a moment, the result of all police officers being held personally liable for their actions and forced to pay their victims. In nearly every other profession on the planet, if someone hurts someone else while on the job, they are held liable — personally. Why can't cops carry personal liability insurance just like doctors?
As instances of police brutality and police killings continue to be exposed, there is no doubt that the US is in dire need of reform. The simple requirement for police to be insured for personal liability is an easy fix -- especially to remove repeat offenders from the force.
All too often, when a tragic death such as George Floyd occurs, months later we find out that the officer should have never been given a badge and a gun in the first place because of their past. However, insurance companies, who can't fleece the taxpayers to pay for problem cops, would have to come out of pocket to pay for them and would make sure that these officers are uninsurable.
If the officer becomes uninsurable, the officer becomes unhirable -- simple as that.