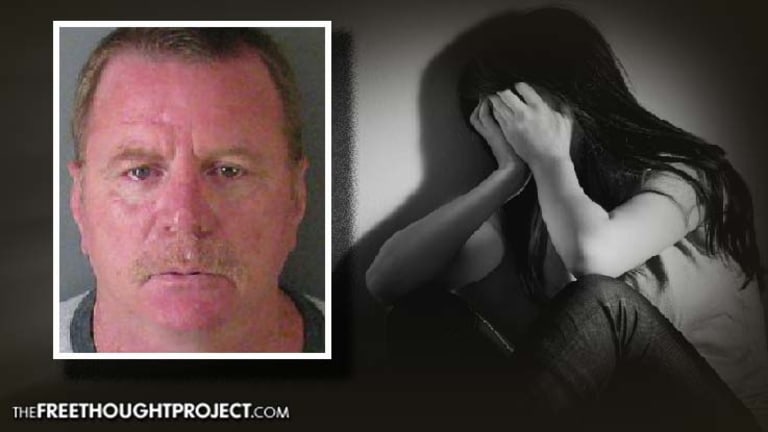 Pedophile Cop Pleads Guilty to Raping & Impregnating Child He Was Mentoring
A veteran pedophile cop (51) pleaded guilty to raping and impregnating a 14-year-old girl whose mother he told he was mentoring.
Lowell, NC — On Thursday, a fifty-one-year-old Lowell, NC police officer, James Blair, pleaded guilty to felony statutory rape of a child under 15. He could spend the next 19 years in prison for impregnating a 14-year-old girl he was supposed to have been mentoring. As The Free Thought Project first reported in September, Blair confessed his sin to the girl's mother and begged her forgiveness. At the time of our first story, Blair was awaiting trial and had been on medical leave from his position since June.
In an interview with the mother, immediately following the guilty plea, she told WSOC-TV 9 that the whole incident, "destroyed my family." "He manipulated my daughter. He manipulated my family. I would have never thought that an officer would have done this," she said describing the hurt and pain they've been through.
"Like I said, my family is upside down, but we're trying to pick up the pieces and we're trying to move on. She told reporters that the teenager would carry the baby full term and that it would become part of their family. She stated she was a religious woman and abortion was not even a consideration. Yet she was very happy to hear the judge tell Blair to have no contact with her daughter as he was previously doing from jail. "We've got this new baby coming. We're going to love this baby," the mother told reporters.
Lowell, NC is a small town, located in Gaston County, and lies just outside Charlotte city limits. The sleepy little town was quite possibly unaware one of their boys in blue was bedding a 14-year-old girl and getting away with it, until the unnamed girl's mother discovered the officer's criminal actions. After learning her daughter was pregnant, she read some of her text messages. The messages revealed Blair was the father of the baby and that he'd begged the teen to get an abortion.
The mother filed a criminal complaint against the officer and turned the matter over to the SBI which investigated the allegations only to find the unthinkable was true. The veteran police officer had used his position of authority to engage in felonious sexual relations with the teen both in his squad car and at his home.
It all started when, to gain the mother's trust, Blair told the mother he wanted the chance to show her that all cops weren't bad and asked if he could mentor her. The mom reluctantly, and some might say naively agreed, and allowed the officer to spend more time with her daughter which, at some point in the relationship, included an overnight trip with her and her sister.
WSOC-TV's Ken Lemon first broke the story and said in a broadcast the State Bureau of Investigations (SBI) arrested Blair at the girl's home after investigating the matter. The mother, whose identity is being protected to keep hidden the identity of the teen, told Lemon in a phone call, "We've lived in fear for so long!" She was very reluctant to file the complaint against the officer but hesitantly went through the process.
It's important to understand how pedophiles operate. "There are family members, friends, and neighbors, even teachers, coaches and clergy who treat children better than most adults, listen to what they are really saying and strive to meet their emotional, physical and spiritual needs as a means of fulfilling their own sexual needs and desires. They're often in positions of authority: clergy members, coaches, or police officers," writes the National Association of Adult Survivors of Child Abuse.
They use their position to gain access to children and teens. Then they groom their victims by convincing parents to allow the to spend time alone. Later, the pedophiles find some area of vulnerability in the child (some insecurity) and begin to speak kind and flattering words, until the child lowers their inhibitions and allows the pedophile to sexually exploit the child. Worse yet, pedophiles are hardly every arrested, leave, on average, 80 victims in their wake, and if charged, very rarely see the inside of a jail cell.
The victim often doesn't see them self as such but have to be processed nonetheless. First, there's the rape kit collection process, a medical procedure which seeks to collect DNA evidence to later be used in court. The process can also be invasive if a speculum is used. Detectives are then brought in, and ask a series of undoubtedly uncomfortable questions which force the victim to go into graphic detail with each and every sexual encounter. Together, the two steps in the process can be as traumatic as the attack itself.
Often, as The Free Thought Project has reported, the general public likes to comfortably rely on cliche expressions such as, "There's only a few bad apples," to describe bad cops. But with police officers, society demands a higher standard of accountability, and behavior. We're happy the Lowell, NC mother was able to find some sense of peace and justice, but she herself is asking for other victims to come forward, believing the veteran officer has a history of sex crimes involving children. She says they should come forward and file a police report with the Lowell PD, or with any other department, or private event, the officer may have worked.
As Claire Bernish stated in our first coverage of this story, "A growing number of officers, like Blair, have been responsible for heinous crimes — such as beating a motorist in need of medical aid, lying about murdering another, killing a K9 officer by leaving it in a sweltering patrol car for 38 hours, and plenty more. Until police begin actually policing their own, or 'good' cops begin speaking out en masse against the errant and their ilk, less and less of the public will have reason to respect the oft-manipulated badge."