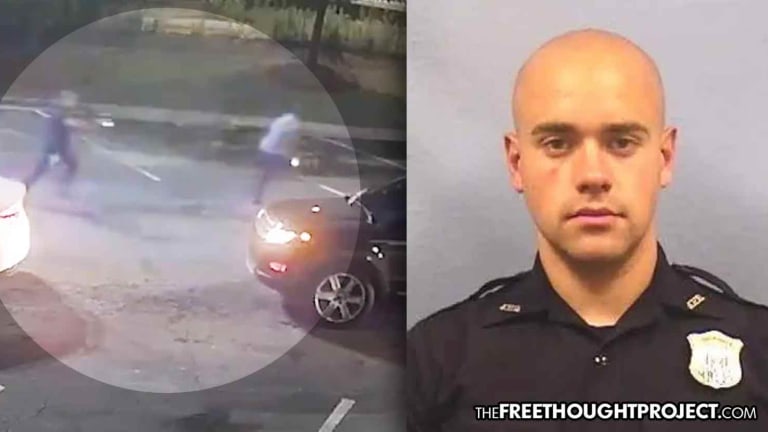 Cop Rehired After Waking Up Sleeping Dad, Shooting Him in the Back, Killing Him
Despite facing murder charges for killing the fleeing father, the officer who shot Rayshard Brooks was rehired and may receive full back pay.
Atlanta, GA — One would think that with the heightened tensions between police and the citizens during the summer of 2020, police would have attempted to tone down their escalation tactics. Sadly, however, one would be wrong. Days after George Floyd was killed, another black man was killed after he fell asleep in the drive-thru of a Wendy's restaurant.
The only solace the family had in the case was the fact that officer Garrett Rolfe — who shot Brooks in the back as he ran away — would not be a cop. But this shred of comfort came to a grinding halt this week as Rolfe was rehired by the department.
Rolfe is currently facing murder charges for his actions that fateful night and now he is back on the force, collecting his salary and may potentially receive full back pay.
"Due to the City's failure to comply with several provisions of the Code and the information received during witnesses' testimony, the Board concludes the Appellant was not afforded his right to due process," the Atlanta Civil Service Board said in its decision. "Therefore, the Board grants the Appeal of Garrett Rolfe and revokes his dismissal as an employee of the APD."
Others disagree and point out the fact that it is entirely acceptable to fire someone who was seen on video killing a fleeing man by shooting him in the back.
"Given the volatile state of our city and nation last summer, the decision to terminate this officer, after he fatally shot Mr. Brooks in the back, was the right thing to do," Mayor Keisha Lance Bottoms said in a statement Wednesday. "Had immediate action not been taken, I firmly believe that the public safety crisis we experienced during that time would have been significantly worse."
The death of Brooks, a 27-year-old father from Atlanta has already caused massive backlash in the city and this decision will likely cause further outrage. Amid immediate protests sparked at the time, Atlanta Police Chief Erika Shields resigned her position. Rolfe, who shot Brooks in the back twice as he ran away was fired the next day. The other officer involved in the encounter, Devin Brosnan, has been on administrative duty since then and was charged with aggravated assault and violating his oath. Lawyers for both officers have said their clients acted appropriately. Both are free on bond.
Though they have been charged, the DA has refused to indict the officers, instead passing the case off to the office of Georgia Attorney General Christopher Carr.
"There is a clear distinction between what you can do and what you should do," Bottoms said in a news conference at the time. "I do not believe this was a justified use of deadly force."
Neither do we.
After killing Rayshard, police released the body camera footage the next day. Several bystander cameras and surveillance camera footage was also released. They paint a disturbing picture, showing the last moments of Rayshard's life.
According to the Georgia Bureau of Investigation, Atlanta police responded to a call of a man asleep in the Wendy's drive-thru. Instead of simply trying to wake Brooks up, some "see something, say something" citizen decided to involve police — which proved to be fatal.
The first body camera video, worn by Brosnan, shows him approach the sleeping father of three in his car around 10:40 p.m. that night.
Brooks is apparently asleep behind the wheel, and Brosnan knocks on the window to wake him up. The officer opens the door and says to Brooks, "Hey man, you're parked in the middle of the drive-thru line here." At first, Brooks does not appear to respond.
When he does wake up, Brooks appears disoriented and incoherent. Brosnan asks whether he's tired and then tells Brooks to pull over into a parking spot. Eventually, Brooks moves the vehicle after some more prodding from the officer, who had to wake Brooks a second time.
Brosnan approaches Brooks' parked vehicle and asks him whether he's been drinking. Brooks tells the officer he had only one drink. As Brooks searches for his license, Brosnan radios to make several requests for another officer to conduct a DUI test.
Brooks appears to be disoriented and probably should not have been driving. He tells Brosnan that he is "visiting."
"Who are you visiting?" the officer asks.
"My mother's gravesite," Brooks says.
"Oh, I'm sorry to hear that," Brosnan says.
When officer Rolfe arrives on scene, he asks Brooks how he got to the Wendy's, but Brooks doesn't remember being in the drive-thru.
After Rolfe gives Brooks a Breathalyzer, Brooks admits to the officers that he'd been drinking because it was his daughter's birthday.
"I think you've had too much to drink to be driving," Rolfe says. "Put your hands behind your back."
At this time a struggle ensues and the two officers force Brooks to the ground. Brooks then grabs the taser from one of the officer's hands
"Hands off the f***ing Taser," one of the officers says. "Hands off the Taser."
Brooks then gets up and starts running away after hitting Rolfe in the face.
In the surveillance video released by the GBI, Brooks is seen running away as Rolfe follows him. Rolfe then switches from his taser to his handgun before Brooks turns and points the taser at him, a fatal mistake.
Rolfe fired three shots at Brooks, two of which hit him in the back and killed him.
Body camera footage also captured audio of bystanders yelling at the officers, with one telling them, "Both of your careers are definitely done, because you just shot a man, for no reason."
L. Chris Stewart, an attorney for Brooks' family, said the officers did not have to shoot Brooks, adding that a Taser is not a deadly weapon.
"If the officer had been a bit more empathetic and a bit less scared, we probably wouldn't have a dead client," Stewart said.
Below are several videos of the initial stop and field sobriety test.
Next is the fatal last moments from the Wendy's surveillance camera.