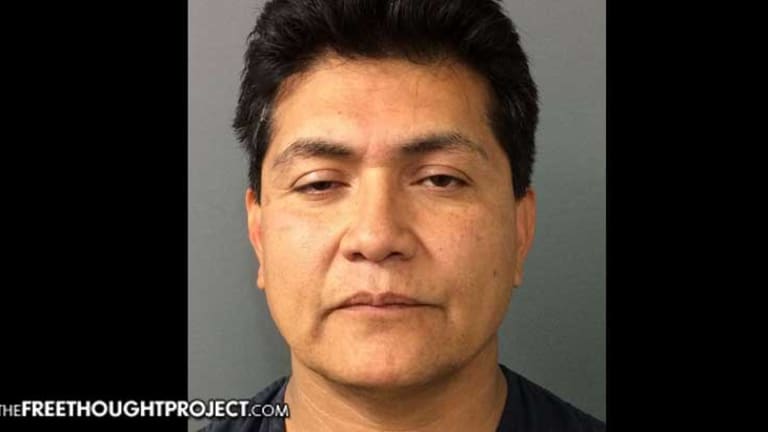 Cop Caught on His Own Body Camera Sexually Assaulting Domestic Violence Victim Who Called 911 for Help
A police officer has been arrested after responding to the home of a domestic violence victim and was accused of sexually assaulting her while wearing a body camera.
Pueblo, CO -- A domestic violence victim has found out the hard way that calling 911 for help is a crap shoot. After an unnamed victim had been beaten by a male assailant, who she had a restraining order against, she called the police. When police showed up, they arrested her attacker and left. However, hours later, Cpl. Benjamin Candelaria, 48, would return, cover his body camera, and sexually assault the victim, according to a recent arrest report. 
On Friday, Pueblo police arrested one of their own after he was was accused of sexually assaulting the victim he was supposed to be helping.
According to KOAA, officer Candelaria, along with other Pueblo officers, were called to a report of domestic violence between a man and a woman early Thursday morning. After a brief investigation, the officers arrested the man on domestic violence and violation of a protective order charges. Court documents say all of the officers left the residence, but Candelaria returned shortly thereafter to finish paperwork.
According to the arrest report, 'paperwork' was the last thing on Candelaria's mind. The next day, the woman went to Parkview Hospital and claimed that she'd been sexually assaulted by a police officer. However, her memory was limited because she'd been hit in the head with a wrench, beaten, knocked unconscious, and was intoxicated.
Amazingly enough, the Pueblo police department immediately opened an investigation and pulled officer Candelaria's body camera footage. Police quickly found that the body camera footage corroborated the victim's story.
The footage showed Candelaria showing up the to victim's residence, after the call was over, and then initiating a sexual conversation with the heavily intoxicated woman. According to the police record, Candelaria turned off his body camera for approximately 15 minutes.
In some of the footage, according to the police report, Candelaria is seen in the woman's dark bedroom, standing over her bed as she lay there unconscious. The woman remains unresponsive as Candelaria calls out her name.
At one point during the interaction, the woman is crying and naked from the waist down, according to the arrest report. Investigators also noted that when Candelaria's body camera was actually on, he repeatedly turned it away to conceal his actions.
According to the vehicle location records, investigators found that Candelaria returned to the woman's home a third time at approximately 6:45 am. This stop was made after Candelaria's shift had ended.
The next day, Pueblo police brought Candelaria upstairs, read him his Miranda rights and sat him down for questioning. He initially denied all contact. However, after telling Candelaria that they had evidence to the contrary, he admitted to sexually touching the woman -- and noted that what he had done was wrong.
Before investigators asked him, Candelaria claimed that he would have semen in his underwear, not from sexually assaulting a domestic violence victim, but from having sex with his wife prior to the call.
Candelaria has since been arrested and charged with sexual assault. He has also been placed on administrative leave.
Police officers showing up to help people and assaulting them instead is a far too common occurrence.
Former state trooper, 36-year-old Samuel H. McHenry II managed to get off with minimal jail time after raping a car accident victim and leaving her stranded afterward.
Officer Micah Meurer responded to a call at a 22-year-old woman's northwest Amarillo home last year when she was in distress. The officer was later fired after it was exposed that Meurer forced himself on her and raped her.
Karl Fields, a police officer from Chattanooga, Tennessee was accused of sexually harassing and stalking a rape victim that he claimed to be helping with a criminal case.
Fields reportedly stalked the woman, parking out in front of her house on numerous occasions, and contacting her on a frequent basis.
According to a lawsuit recently filed by the victim, Fields attempted to call her 73 times in one night, and would frequently text her, requesting nude photographs and making obscene demands.
[author title="" image="https://tftpstagingstg.wpengine.com/wp-content/uploads/2016/03/magorist-e1456948757204.jpg"]Matt Agorist is an honorably discharged veteran of the USMC and former intelligence operator directly tasked by the NSA. This prior experience gives him unique insight into the world of government corruption and the American police state. Agorist has been an independent journalist for over a decade and has been featured on mainstream networks around the world. Follow @MattAgorist on Twitter and now on Steemit[/author]