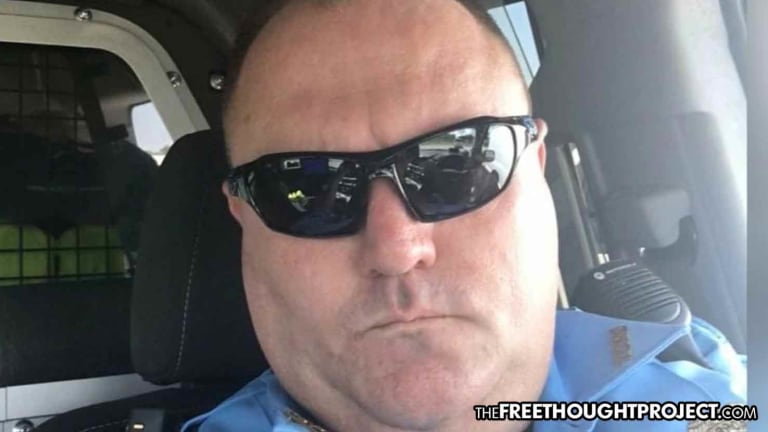 Cop Caught on Own Body Cam Stealing Dying Elderly Man's Money Instead of Helping Him—NO JAIL
Police have confirmed that a Texas cop was seen on his own body cam reaching into a dying man's pocket and stealing his Christmas money and he will not go to jail.
Texas City, TX — Officer Linnard R. Crouch was seen on his own body camera—not helping a 74-year-old man who was having a heart attack—but robbing him. The elderly victim, James Mabe had the cash to go buy Christmas presents for his grandchildren, but because the cop robbed him instead of helped him he'd never make it. The officer who stole a dying elderly man's Christmas money will not be going to jail.
With almost no news coverage, Crouch pleaded guilty to robbing the elderly dying man. Instead of being punished for his utter betrayal of public trust and despicable act, Crouch was given probation and will not spend one day behind bars.
But that's not all, Crouch has a history of corruption. Crouch was suspended prior to robbing a dying elderly man on Chirstmas after several complaints were filed against him, dating back to 2011.
The former officer failed to complete incident reports, left information out of other completed reports and failed to wear his body camera at all times while on duty, according to a 68-page notice of suspension and a list of official complaints included as an exhibit with Linda Mabe's lawsuit filed last year.
What's more, he was also facing an aggravated assault charge stemming from an incident involving a gun and his girlfriend, according to the Dallas Morning News. But as part of the plea deal, that charge was dismissed.
On Dec. 19, 2016, Linda Mabe gave her husband the money to buy Christmas presents for the family, a task he reportedly loved.
"Linda and James loved the Christmas Season with the family tradition for more than 45 years being that Linda and James would host a huge Christmas meal followed by the exchange and opening of Christmas gifts," a lawsuit filed last year states.
Shortly after embarking on his present buying adventure, however, Mabe pulled his truck to the side of the road after he began to have chest pains. Texas city police received a call of a stopped vehicle and that is when Crouch showed up. Instead of helping the dying man, however, Crouch would rob him.
"After opening James' locked truck door, Officer Crouch then reached into James' right front pocket and removed James' $2,400 in Christmas present money and other money," the complaint states. "Officer Crouch never reported the $2,400 and other money [and] instead gave back less than $300."
A police department memo from January corroborate those allegations.
"I have reviewed Officer Crouch's body camera video and have observed Officer Crouch to have removed money from Mr. Mabe's right front pocket he appears not to have reported," according to the memo written by Assistant Chief Joe Stanton to Police Chief Robert Burby.
Crouch then had the nerve to visit Linda in the hospital as her husband died and give them back just $300. Crouch met with Linda and her son, Michael Mabe, at the emergency room to return James' personal belongings and he handed them a baggie with a few hundred dollars inside and allegedly told them that the money was the only personal possession he had found on James.
"At a time when seconds could mean life or death, as my husband clung to life, a police officer who is charged by law to protect and serve robbed my husband when he needed help the most," Linda Mabe said.
Now, the officer who robbed her husband of his money and arguably his life will not be held accountable in any meaningful way—a travesty of justice indeed.