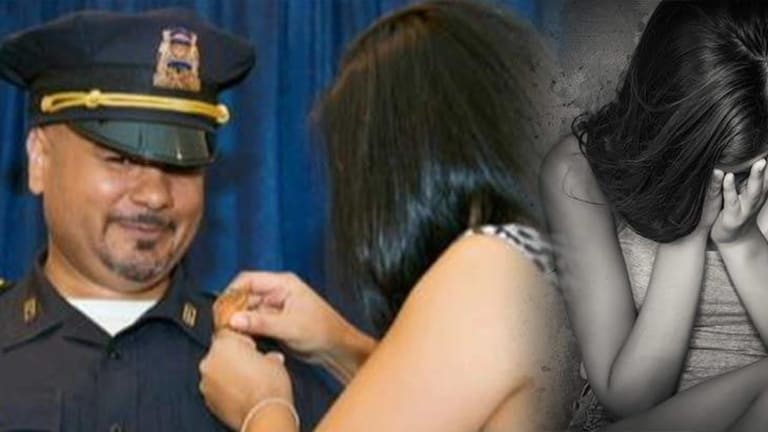 'Officer of the Year' Caught Sexually Preying on Young Girl, She Thought of Him as a "Father Figure"
A young girl's trust in a Boston cop was betrayed after he started sexually pursuing her on social media.
Boston, MA -- A decorated Boston police officer, and "Officer of the Year" award recipient, has been accused and charged with lewd conduct with a minor.
38-year-old Boston Police Sergeant, Edwin Guzman was charged in November, but news of the incident has been kept hush-hush by the department. It took the alleged victim, bravely going to the local news station before anyone was told about these accusations.
At the same time he was being honored for his "great work" Guzman was allegedly sending explicit Facebook messages to a 16-year-old girl.
The teenager tells FOX Undercover she considered him a family friend and a father-figure until things took a strange turn on Facebook.
She says Guzman wrote: "You're really pretty. You deserve to be spoiled."
The victim said that Guzman offered to buy her a phone, but she had to keep it secret. When she told Guzman that she wanted to tell her mom about getting a new phone, Guzman told her not to, reminding her that that's the point of a secret.
"All I'll have to do is when he wants to hang out with me is touch him the way he wants, and I would have to let him touch me also," said the teenager. "I kind of got scared because I'm like is he offering me a phone just so I can do stuff to him?"
She said that Guzman then began asking her about her experience with sex. He then sent her a naked photo of himself, according to the girl.
After receiving the photo of this naked cop, the young girl immediately deleted it. She eventually became scared enough that she told her mother several weeks later about their conversation on social media.
"The first thing I started doing was crying. I started crying," said the teen's mother. "She's a little girl. Why would she have to go through this?"
They first went to report the incident to Randolph police station as it's near their home and then to the Boston police headquarters.
During their meeting with Boston cops, Guzman sent the following message to the girl, "Hey we need to talk. It's important."
Getting this message while they were meeting with the BPD suggests that someone must have tipped Guzman off to their report. However, it was too late for the blue curtain to be pulled shut. Guzman was arrested and charged with sending obscene matter to a minor and accosting and annoying a person of the opposite sex.
The victim's mother was also upset about the lack of publicity about this case.
"I think they're keeping it quiet because of who he is," said the mother. "I don't want this to be swept under the rug."
The alleged victim and her mother say Randolph police told them they have been able to get the conversations from Facebook. If they find the naked picture of Guzman, he faces up to five years in prison for the first charge and 6 months in prison for the second.
This is the second case, within the span of a week, in which an "Officer of the Year" has been exposed for lewd acts.